12 Best Places to Mountain Bike Around Asheville
Dive into Asheville mountain biking with our detailed guide! Find top trails and scenic routes for an unforgettable biking experience in North Carolina.
There's a good chance that affiliate links are scattered throughout this post. If you click on one I may receive a small commission at no extra charge to you and I'll definitely be using it to buy bike gear.
The mountain biking scene around Asheville, North Carolina is pretty impressive. Not just in how good it is, but also in much singletrack there is to explore. I spent three months in the area and still didn't ride everything!
Asheville mountain biking covers hundreds of miles of trail and ranges from gnarly downhill tracks to lift-served bike parks to machine-built flow. There truly is something for every rider.
Most mountain bikers have heard of Pisgah National Forest near Brevard south of Asheville, but there are a number of other trail networks worthy of checking out as well. Some are located within a short drive of the city while others are more of a day trip.
So whether you're visiting for a few days or you're a local just getting into mountain biking or you recently moved to the area, this post shares the best places to mountain bike around Asheville plus a few tips to help you get out on the trails.
Why plan a mountain bike trip to Asheville?
The city of Asheville has a lot going for it. It's a fun little town with lots of great restaurants, shops, shows, bars, and nightlife (or so I've heard…)
But if you're like me, the magic of Asheville really shines outside of the city boundaries. To be honest, I was a bit blown away by the beauty and ruggedness of Western North Carolina. It's absolutely stunning with gushing waterfalls, rainforest-like surroundings, countless swimming holes, and, of course, great riding.
Here are a few reasons to plan a mountain bike trip to Asheville, North Carolina:
Where to ride & route recommendations
Below are 12 great places to mountain bike around Asheville. Some do require driving a bit since most of the 'best' singletrack is in the mountains surrounding the city.
Note: I use TrailForks for my recommended routes. It's free on desktop or $30-something per year for the app. If you are a mountain biker and ride places outside your home trails, you should have TrailForks on your phone.
Asheville mountain biking map
1. Bent Creek
Location: About 15 minutes south of Asheville
Difficulty: Beginner/Intermediate
e-bikes allowed? No
Highlight trails: Green's Lick, Ingles Field Gap, Wolf Branch
Suggested route: Bent Creek Loop
Bent Creek is the trail network closest to Asheville. It's located just 15 minutes south of the city (depending on traffic…) and it's definitely the local's place for a post-work ride or weekend spin.
But while Bent Creek does get busy, it's also one of the tamer places to mountain bike around Asheville, at least in Pisgah National Forest. The mountain bike trails are well-worn and there's really not a whole lot of tech to be found here. (That's not to say it isn't fun).
Bent Creek a good place to start if you're new to mountain biking in Western North Carolina so you can get a taste of what it's like. It only gets steeper and rougher from here! Try to hit it on a weekday morning to avoid the crowds.
2. North Mills River
Location: 35 minutes south of Asheville
Difficulty: Intermediate/Advanced
e-bikes allowed? No
Highlight trails: Fletcher Creek, Spencer Branch, Trace Ridge, Big Creek Trail (requires a shuttle or big 17+ mile day accessed via Laurel Mountain Trail)
Suggested route: Spencer Upper + Fletcher (I recommend parking down on Yellow Gap Road so you can finish with Lower Trace Ridge Trail and jump right in the river).
Moving south from Bent Creek is the North Mills River network. This area is also part of the Pisgah National Forest and it's definitely a step up from Bent Creek in terms of difficulty and climbing.
North Mills River is actually my favorite place to ride out of all these networks. I found that it was a great mix of challenging terrain that also had some flow (which is hard to find in Pisgah…) and the climbs aren't too terrible.
It's also beautiful with a great swimming hole at the bottom near the parking. The North Mills River Campground is located at the base of the trails if you want to camp.
Mountain Bike Packing List
Below are a few of my favorite pieces of mountain biking gear and recommendations for your mountain bike trip or ride:
3. Pisgah Ranger District
Location: 45 minutes south of Asheville in Brevard
Difficulty: Advanced
e-bikes allowed? No
Highlight trails: Black Mountain (middle and lower), Avery Creek, Bennett Gap
Suggested route: Black Mountain + Sycamore Cove (this is an intro to Pisgah loop and a good place to start if it's your first time there).
Pisgah… I have a love/hate relationship with this place. It's by far the most challenging and technical of the Pisgah National Forest networks with steep descents, loose terrain, rough rock gardens, narrow sidehill, long gravel climbs, and other features to keep you on your toes.
What the locals love about it is that it is raw. You won't find manicured mountain bike trails here and you'll most likely need to get off your bike at least once (or many times more) during your ride.
There are river crossings with no bridges, sections of trail filled with baby head rocks, downed trees, mud pits, you get the picture.
But, it is beautiful and unique and there's a reason the annual Pisgah Mountain Bike Adventure Race is such an iconic event.
It's worth doing at least one ride here so you can 'experience Pisgah'. And stop by The HUB post ride for a beer or beverage!
4. Big Ivy
Location: 35 minutes northeast of Asheville
Difficulty: Advanced
e-bikes allowed? No
Highlight trails: Old Ranger Road, the bottom third of Bear Pen, Staire Creek
Suggested route: Big Ivy 10 Miles
I really liked Big Ivy. It's not a huge network of trail, but what's there is really fun. Staire is an old-school black that is very steep and chunky. It passes by a cool cave, which is definitely worth stopping to check out.
The route above climbs up Bear Pen for a bit before dropping into Staire. It's a fast, flowy section of trail with some jumps and features. It's not really worth going all the way up, though.
5. DuPont State Forest
Location: An hour south of Asheville
Difficulty: Beginner/Intermediate
e-bikes allowed? No
Highlight trails: Ridgeline, Cedar Rock, Big Rock, Burnt Mountain, Reasonover Creek, Turkey Knob
Suggested routes: DuPont Fave (this is a great ride, but it does have a pretty good river crossing), DuPont Full Imaging Loop (a classic route)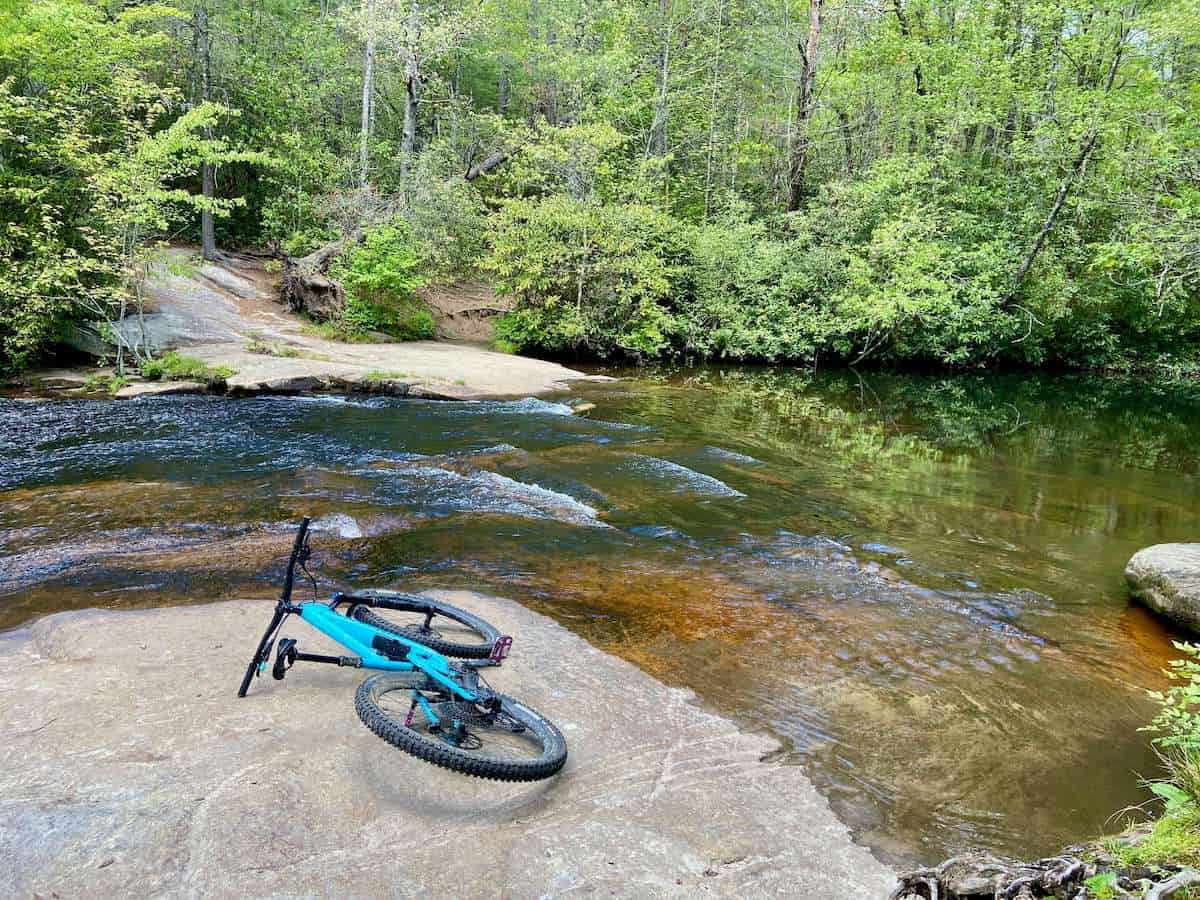 If your idea of mountain biking is not Pisgah (or you need a break from all the gravel climbs and techy descents) head over to DuPont State Forest.
I really loved the riding here. There's a little bit of everything from long cross-country rides to short and punchy descents, some on incredible rock slabs.
The highlight trail in DuPont, though, is definitely Ridgeline. It's a 2-mile machine-built flow trail that is a blast and a great way to end your ride back at the parking area.
DuPont does get really busy, though. If you want to avoid the worst of the crowds, park over on the Fawn Lake Access side and start your ride from there.
6. Buffalo Creek Park & Weed Patch Mountain Trail
Location: An hour southeast of Asheville near Lake Lure
Difficulty: Intermediate
e-bikes allowed? Yes
Highlight trails: Weed Patch Mountain
Suggested route: Weed Patch Mountain shuttle
Weed Patch Mountain Trail is kind of a hidden gem when it comes to Asheville mountain biking. It does require a self-shuttle (unless you want to pedal uphill for 8 miles and 3,000ft…) but it was one of my favorite rides I did in North Carolina.
The views at the top are incredible and the descent is a perfect blend of tech and flow with some tight switchbacks and open sidehill. It's a blast!
There is a 3-mile machine-built loop at the bottom called Buffalo Creek Park. I wouldn't go out there just for this loop, but it's a great way to finish Weed Patch.
7. Old Fort & Kitsuma Trail
Location: 30 minutes east of Asheville
Difficulty: Beginner to Advance
e-bikes allowed? No
Highlight trails: Kitsuma, Bernard Mountain, the Gateway Trails
Suggested route: Kitsuma Lap, All The Downs
Old Fort is an up-and-coming mountain bike destination with about 25 miles of trail already in place and another 40 miles planned and ready to be built.
One of the unique things about Old Fort is its diverse range of singletrack and terrain. Kitsuma (and Heartbreak Ridge) are the 'downhill' tracks while the Gateway trails are perfect for families or newer riders. The new Bernard Mountain trail caters to cross-country lovers and each of the new trails in the master plan that will be built in coming years has a specific 'purpose' whether that be downhill-oriented, xc, or something else.
This is a town to watch!
8. Chestnut Mountain
Location: 30 minutes west of Asheville
Difficulty: Beginner to expert
e-bikes allowed? No
Highlight trails: All of them 🙂
Suggested route: You don't really need one
Chestnut Mountain, located in the Chestnut Mountain Nature Park, is a bike park-like network of trail west of Asheville that is perfect for working on your skills and indulging in some new school fun. There's not a ton of mileage here, but there are some cool features like drops, jumps, wall rides, skinnies, and more.
Most of the trails are downhill, so be sure to read signs and use the uphill return trails to get back to the "Flight Deck".
9. Kanuga Bike Park
Location: 50 minutes south of Asheville
Difficulty: Beginner to expert
e-bikes allowed? Yes
Highlight trails: All of them
Suggested route: You don't need one
Kanuga is a pedal-accessed bike park (although it does allow e-bikes) located about an hour south of Asheville. It's gained a reputation for being one of the best bike parks in the southeast with tons of jumps and machine-built flow.
The climb to the top is about 500 ft, so an e-bike definitely comes in handy if you plan on doing a few laps.
I didn't get the chance to visit when I was in NC (I was too busy suffering through Pisgah…) but I'd love to check it out next time – with an e-bike. Learn more about Kanuga here.
10. Ride Rock Creek Bike Park
Location: 50 minutes south of Asheville
Difficulty: Advanced
e-bikes allowed? No
Highlight trails: All of them
Suggested route: You don't need one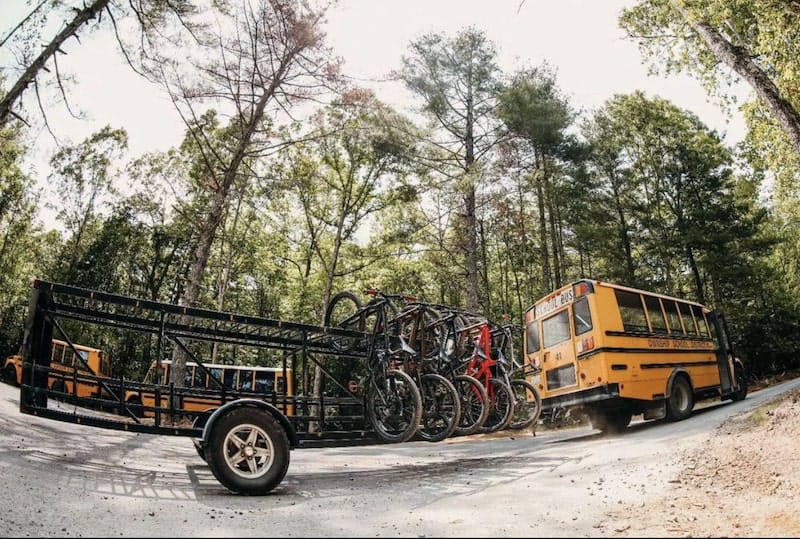 Ride Rock Creek is a relatively new shuttle-accessed bike park in Zirconia, North Carolina. It's a bit of a step up from Kanuga with rowdier trails and more natural terrain.
There is a shuttle bus that runs Friday through Sunday and the trails are ONLY open during this time (you can't pedal Ride Rock Creek on your own). You can learn more about the park here.
11. Sugar Mountain Bike Park
Location: An hour and a half northeast of Asheville
Difficulty: Beginner to Advanced
e-bikes allowed? No
Highlight trails: All of them
Suggested route: You don't need one
If you need some lift-serve action for your Asheville mountain biking adventures there are two bike parks within a two-hour radius of Asheville.
Sugar Mountain is a small bike park with half a dozen trails ranging from beginner flow tracks to more advanced terrain.
The lifts run Friday through Sunday but vary depending on time of year so be sure to check the schedule.
12. Beech Mountain Bike Park
Location: An hour and 50 minutes northeast of Asheville
Difficulty: Beginner to advanced
e-bikes allowed?
Highlight trails: All of them
Suggested route: You don't need one
Beech Mountain Bike Park is a bit bigger and more varied than Sugar Mountain plus it has a network of pedal-accessed trails to explore when the lifts aren't running.
The bike park is open Thursday through Sunday during the summer and visitors can also check out the brewery onsite and restaurant and they often do live music and other events.
Planning Tips & Resources
Planning a mountain bike trip to Asheville and beautiful Western North Carolina? Here are a few resources and tips for planning your visit:
Best time to visit
Asheville can technically be ridden year-round since it doesn't get much snow in the winter, but the best times to ride are spring and fall.
Spring (May-June) is magical with blooming wildflowers and flowering trees like the mountain laurel and rhododendrons. The forest feels like a fairy garden. It's incredible!
Fall (Sept-Oct) is also a great time to visit for cooler temps, changing fall foliage colors, and fewer crowds.
You can ride in the summer, but temps are pretty warm (although not as hot as you would expect) and the humidity is quite high. But, there is usually a nice, cool swimming hole not far away.
Where to stay
There's no 'perfect' location to set as a home base since all the trail networks are spread out a bit. I honestly wouldn't recommend spending your whole time staying in Asheville (a few nights is fine) because you'll be dealing with traffic and probably driving more than you'd like.
Brevard is a great place to base yourself. Pilot Cove would be my top pick for lodging or there are lots of great VRBO's available.
For camping, there is free dispersed camping in Pisgah National Forest on most of the dirt roads (no dispersed camping in DuPont).
There are also a number of paid campgrounds including:
(Cell service is very limited in rural areas in WNC. The first three campgrounds do not have cell service).
Don't miss
Mountain biking isn't the only fun thing to do around Asheville. If you're planning a trip, be sure to check out these highlights as well:
The Biltmore – Tickets are pricey, but it's worth it!
The HUB & Pisgah Tavern – Great place to grab a drink post-ride. It's also a full-service bike shop.
Oskar Blues – Fun place to hang out, especially for live music on the weekends.
The Blue Ridge Parkway – So beautiful! Craggy Gardens was a highlight.
Waterfall chasing – There are so many stunning waterfalls around the Asheville area. Check out some of them while you're there.
Final Thoughts
The singletrack trails around Asheville, North Carolina are worth the attention of any mountain biker. Sure, the riding in Pisgah is rugged and intense, but there are networks that are better suited for newer riders or those looking for some new-school flow – like Ride Kanuga bike park.
I spent over three months exploring the area and came away with a deep appreciation for the beauty of Western North Carolina and the diversity of terrain found there.
If you're looking for a unique mountain biking destination, I highly recommend adding Asheville to your bike-it list. Be sure to save time to explore all the other great things to do in the city and beyond!
Looking for more two-wheeled adventures in the southeast? Check out these related blog posts:
Have you explored the mountain biking around Asheville, North Carolina? What did you think? What are your favorite networks and trails? What questions do you still have? Leave a comment below!
Was this post helpful?
buy me a coffee!