Old Fort Gateway Trails: Pisgah's New School Flow
Discover the awesome mountain biking at Old Fort Gateway Trails in NC. Explore the trails' history, routes, and the best time to visit.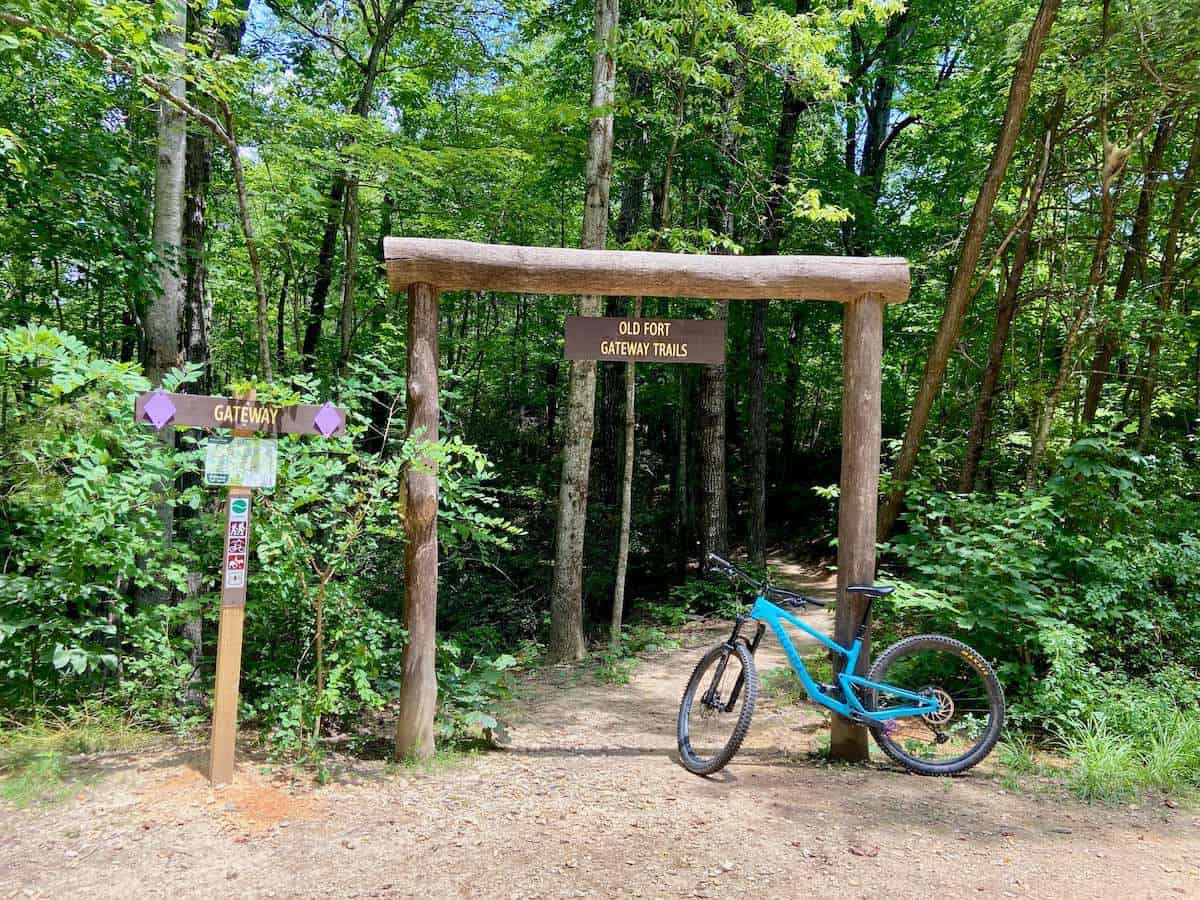 There's a good chance that affiliate links are scattered throughout this post. If you click on one I may receive a small commission at no extra charge to you and I'll definitely be using it to buy bike gear.
Nestled in the heart of North Carolina's Blue Ridge Mountains and iconic Pisgah National Forest lies the historic town of Old Fort. Over the past few years, the town residents and stakeholders have come together to plan and build a mountain bike network that has since grown into a pretty awesome destination. And the best part? This trail development is just getting started with big trail-building plans still in the works.
Currently, the Old Fort Gateway Trail System along with the more rugged Kitsuma Peak and Heartbreak Ridge offer about 20 miles of trail and some of the best riding in Western North Carolina. There are purpose-built flow trails, rowdy descents, and cross-country pedaling all set against the backdrop of Pisgha's majestic mountains and lush forest.
Unlike many of the other rough and raw mountain bike trails in the area, Old Fort carters to newer mountain bikers as well or those who prefer a bit more flow over tech (although you can definitely find that in Old Fort, too).
In this blog post, I share everything you need to know about mountain biking the Gateway Trails in Old Fort including important things to know, route recommendations, and tips for making the most of your trip.
Important Things to Know
Mountain biking the Gateway Trails in Old Fort, North Carolina is great, but there are a few things to know before hitting the trail:
The History & Future of Old Fort
Before I get into the trails and route recommendations, it's interesting to learn a bit more about where Old Fort came from and what's planned for the future.
the past
Dating back to the late 18th century, Old Fort was established as a western outpost. The Fort became an important trading post between settlers and Native Americans before the arrival of the Western North Carolina Railway in 1869.
Like many small mountain towns, though, Old Fort lacked the infrastructure and business to thrive.
To save a dying town, in 2019 the G5 Trail Collective was formed and began collaborating with local residents, environmentalists, and – yes – mountain bikers to come up with the idea for a 42-mile trail expansion around Old Fort (that means 42 miles of NEW trail).
The purpose was twofold: to provide locals and visitors with a means to explore and enjoy the beautiful areas surrounding Old Fort and to stimulate the local economy through tourism.
Want to learn more? Read about how the G5 Trail Collective is creating community in Old Fork.
The future
Phase 1 of the expansion was completed in the summer of 2022 with 6 miles of machine-built singletrack at the beginner-friendly Gateway Trail System closest to town. These trails are some of the most accessible and user-friendly trails in Pisgah National Forest, which is primarily known for its rugged and gnarly terrain.
Phase I is only a small part of the bigger picture for Old Fort, though. There are still over 35 miles of new trail planned and ready to be built over the next few years.
The G5 Trail Collective has already planned and mapped out the new trails, which will include more challenging downhill-focused mountain bike tracks as well as cross-country trails and more machine-built flow trails.
Want to help? In order to build the remaining 36 miles of trail around Old Fort, the G5 team needs $500,000 a year for the next 6 years. Show your appreciation by throwing them a few dollars and help make this a reality! You can also sign up for a volunteer trail day.
Watch Jeff Kendall-Weed Explain how the trails came to be in Old Fort
The Trails & Route Recommendations
The trails around Old Fort can currently be broken up into four 'sections' and each trail or trail network is quite different from the others.
Here's an overview of what to expect on each section of the Old Fort trails plus a few route recommendations if it's your first time visiting.
Old Fort Trail Map
Gateway Trail System
on
Trailforks.com
The Gateway Trails
The Gateway Trail System is the network closest to Old Fort. The singletrack here is all machine-built with very little tech but the trails are fast and flowy and fun to spend an hour or two exploring.
While fun and worth visiting, keep in mind that the Gateway Trails were built to be accessible and user-friendly. If you ride a lot, don't expect them to blow you away. I found them to be quite tame and uneventful. That being said, it is nice to have these trails alongside the more challenging Kitsuma and Heartbreak Ridge. Also, as I mentioned above, the G5 Trail Collective has plans to build more difficult and challenging trails as part of its expansion initiative over the next few years.
The Gateway Trails are bi-directional, but I definitely got the feeling that they were built with the idea that most people would pedal up the gravel road. I did a combo of both (pedaling up the trails and pedaling up the gravel road) and I think the road is the way to go for maximum downhill fun.
You don't really need to follow a specific route when exploring the trails in the Gateway network, but if you want to hit them all as downhills, the route below is (in my opinion) the best way to link everything up.
Gateway Trails Route recommendation
>> All The Downs
If you only have a day to explore the Gateway Trail System and you want to make the most of your time there, this route hits all the trails as downhills.
If you want a shorter day, see below for the trails I recommend skipping.
Route directions: Gateway Trailhead Parking > Jarrett Creek Road > Forager > Gateway > Jarrett Creek Road > Jarrett's Run > Gateway (climb) > Betty's Run > Gateway > Jarrett Creek Road > Foundation > Jarrett Creek Road > Oak Hollow > Salt Gap
Do less: If you want a shorter ride, climb up the road to the top then descend Forager to Gateway. Climb halfway back up the road and finish your ride with a descent down Foundation. This route will be about 9 miles and 960 ft of climbing.
Bernard Mountain Trail
Bernard Mountain is the newest addition to the Old Fort mountain biking scene. It's completely machine-built like the Gateway Trails and I personally thought it was more fun. It has more elevation gain/loss and a (tiny bit) more technical terrain and features.
I'm not sure what the plan is for Bernard Mountain Trail in the grander scheme of Old Fort's trail plans, but currently, it can be ridden three ways:
As an out and back – this is how I rode Bernard Mountain Trail and I thought it was pretty fun. The climb is moderate and never too steep and the downhill is fast and flowy. Just watch out for mountain bikers bombing down.
As a downhill via Point Lookout Trail Greenway – If you want the 'easiest' (but not shortest) climb to the start of Bernard Mountain Trail, pedal up the paved Point Lookout Trail Greenway. When you hit Mills Creek Road, take a right and ride down the road to the Bernard Mountain Parking area. From there you have a bit more climbing on gravel doubletrack to the start of the trail. This route is longer and has more climbing than the out-and-back, but it's not as strenuous.
As a downhill via Mill Creek Road – You can also access the Bernard Mountain Trail via the paved Mill Creek Road and then the dirt Mill Creek Road. I haven't done this route, but it's probably the fastest way up.
Kitsuma
Kitsuma is another trail in the Old Fort area, but it is very different from the Gateway Trails. Kitsuma is a steep, non-machine-built, downhill-oriented trail off of Kitsuma Peak. You can shuttle it or pedal to the top via the paved greenway or Bernard Mountain Trail if you're up for a big day.
You can read more about how to ride Kitsuma and what to expect in my detailed trail guide.
Heartbreak Ridge
I have not ridden Heartbreak Ridge yet, but I've heard really great things about it. Like Kitsuma, it's not manicured like the Gateway Trails. It's technical, challenging, and supposedly a grind to get to if you don't shuttle.
Heartbreak Ridge to Kitsuma is a classic shuttle route or you can make it a huge day by pedaling to the top via the Old Mitchell Toll Road.
Rostan
Rostan is kind of a weird addition to the Old Fort Gateway Trails. It's closed from Memorial Day (May) to Labor Day (September) every year for Camp Grier season, so you really can't ride it during the summer.
I guess if you're visiting in the winter it could be ridden as an out-and-back or as a connector over to Bernard Mountain.
Old Fort Packing List
Below are a few of my favorite pieces of mountain biking gear and recommendations for your trip to the Old Fort Gateway trails:
Planning your Old Fort Trip
While still a small town with a local's vibe, Old Fort is becoming a destination for mountain bikers. Here are a few tips for planning your trip:
Getting there
Old Fort is located on Route 40 about 30 minutes east of Asheville or 1 hour and 45 minutes northwest of Charlotte. It's a small town, but it does have a grocery store, gas station, and some restaurants (see below).
Best time to visit
The trails around Old Fort can be ridden year-round, but the best time to visit is spring and fall for cooler temps and beautiful wildflowers and mountain laurel (spring) and autumn colors (fall).
Summer is also a good time to visit as well, although it can get really hot and humid. I rode the Gateway Trails in July and while it was pretty warm, I did find that the tree cover provided good shade and there was a nice, cool breeze.
If you're visiting in winter, check the weather as it can be a bit chilly and even snow on occasion.
Where to eat
Despite its small size, Old Fort has some great places to eat and drink:
Where to stay
There aren't many hotels in or around Old Fort, but there are some cool property rentals or you can book a room at the quaint Inn on Mill Creek, which has great access to Bernard Mountain Trail.
For camping, there are free dispersed campsites along Curtis Creek Road. If you want a campground with facilities, there's the Curtis Creek Campground and the Catawba Falls Campground, which also has two cabin rentals.
Final Thoughts
I've mountain biked the Old Fort trails several times now (the Gateway Trails, Kitsuma, and Bernard Mountain Trail), and each time I've left really impressed.
What the G5 Trail Collective, volunteers, and trail crews are doing to transform this area into an outdoor recreation hub is really awesome.
There's a little bit of everything for every type of rider from the beginner flow trails at Gateway to the slightly more advanced Bernard Mountain Trail to the technical and challenging Kitsuma and Heartbreak Ridge.
And they're not even close to being finished with their master plan. I'm excited to see how the future 36 miles of trail will shape up!
Looking for more North Carolina adventures? Check out these related blog posts:
Was this post helpful?
buy me a coffee!