9 Top Women's Mountain Bike Clothing Brands
I was listening to a podcast the other day about how, not that long ago – like the 80s! – women basketball players were expected to wear hand-me-down jerseys from the men's team. (Here's the podcast if you're interested). Thankfully, we've come a long way since then. In my sport of choice – mountain biking…
There's a good chance that affiliate links are scattered throughout this post. If you click on one I may receive a small commission at no extra charge to you and I'll definitely be using it to buy bike gear.
I was listening to a podcast the other day about how, not that long ago – like the 80s! – women basketball players were expected to wear hand-me-down jerseys from the men's team. (Here's the podcast if you're interested).
Thankfully, we've come a long way since then. In my sport of choice – mountain biking – there are actually a lot of great options for women's mountain bike clothing brands that make apparel that actually fit women's bodies.
Whether you're looking for a feminine cut and like bright, fun colors or you prefer looser fits and subdued tones, there are options for you.
No longer do we have to tolerate the "shrink it and pink it" attitude, but instead women shredders can wear clothing that is actually designed to fit their bodies and be functional, flattering, and durable to boot. What a novel idea.
Below are my favorite brands that make awesome women's mountain bike apparel.
Women's-Specific Mountain Bike Brands
1. Ride Force
GREAT FOR: Riders who want a loose fit in a more traditional mountain bike jersey style
SIZE RANGE: XS-XXL
AVAILABLE ITEMS: Jerseys
Where to Shop
Ride Force is a new women's mountain bike clothing brand based out of Jackson Hole, Wyoming.
Taylor-Ann, the founder and a graphic designer, wanted women's-specific clothing that matched the loose, simply designed jerseys that she saw the guys wearing.
She didn't want the bright colors and loud patterns that many women's brands offer, so she created her own line.
I really love the lightweight and airy feel these Ride Force jerseys have and the simple yet bold designs. They're super breathable, loose-fitting, and awesome! I can't wait to see what else Taylor-Ann comes up with.
2. SHREDLY
GREAT FOR: Women who like a little color and sass in their wardrobe
SIZE RANGE: XS-XXL & 00-14
AVAILABLE ITEMS: Jerseys, shorts, pants, liners
Where to Shop
SHREDLY was one of the first women's mountain bike clothing brands to emerge on the scene and they did so with a punch. SHREDLY is known for its bold prints, loud colors, and quirky designs.
Not everyone will love these styles, but if you do, you have a ton of different options to choose from including long and short shorts, elastic waistband options (comfy!), mountain bike pants, and different sleeve-length jerseys.
I've owned a few SHREDLY mountain bike shorts over the years and I can attest to their quality and durability on the trail.
3. Wild Rye
GREAT FOR: Women who want fun patterns and colors on their shorts
SIZE RANGE: 0-18
AVAILABLE ITEMS: Jerseys, shorts, pants, liners
Where to Shop
Wild Rye is another women's mountain bike clothing brand that offers bold colors and prints on their shorts.
They have a smaller line of shorts and jerseys than SHREDLY, but they're very similar brands in other respects.
Wild Rye also uses sustainable and eco-friendly materials and they support grassroots programs dedicated to getting more women into the outdoors.
If you're a skier or snowboarder, Wild Rye also makes great women's baselayers for the slopes.
4. Revel Rider
GREAT FOR: Lady shredders looking for more traditional-style mountain bike clothes with a women's cut
SIZE RANGE: XS-XL
AVAILABLE ITEMS: Shorts, pants, jerseys, outerwear
Where to Shop
Revel Rider is a female-owned and designed brand out of Bend, Oregon that makes women's mountain bike clothing for the lady shredders that just want to shred.
Their style is more traditional with loose-fitting jerseys and shorts (that cover the knees!) and a color palette that does not include pink.
Revel Rider has three different collections to shop from: Downhill Inspired, Trail Inspired, and MTB Lifestyle.
5. Kaden Apparel
GREAT FOR: Women looking for high-quality casual-style mountain bike apparel with a slim, flattering fit
SIZE RANGE: XS-XL
AVAILABLE ITEMS: Jerseys, shorts, liners
Where to Shop
Kaden hails from my home state, Vermont! The brand was started in 2013 by Chelsea Camarata who was frustrated with the lack of selection in the women's mountain bike clothing category. So, she set out to design and make her own line.
Kaden puts a strong emphasis on the details of their clothing from thoughtful design to US-made apparel and high-quality fabrics. They even have a maternity chamois, which is the first I've seen!
The Gryla jersey has quickly become one of my favorite everyday ride jerseys because it's super comfortable, soft, breathable, and flattering.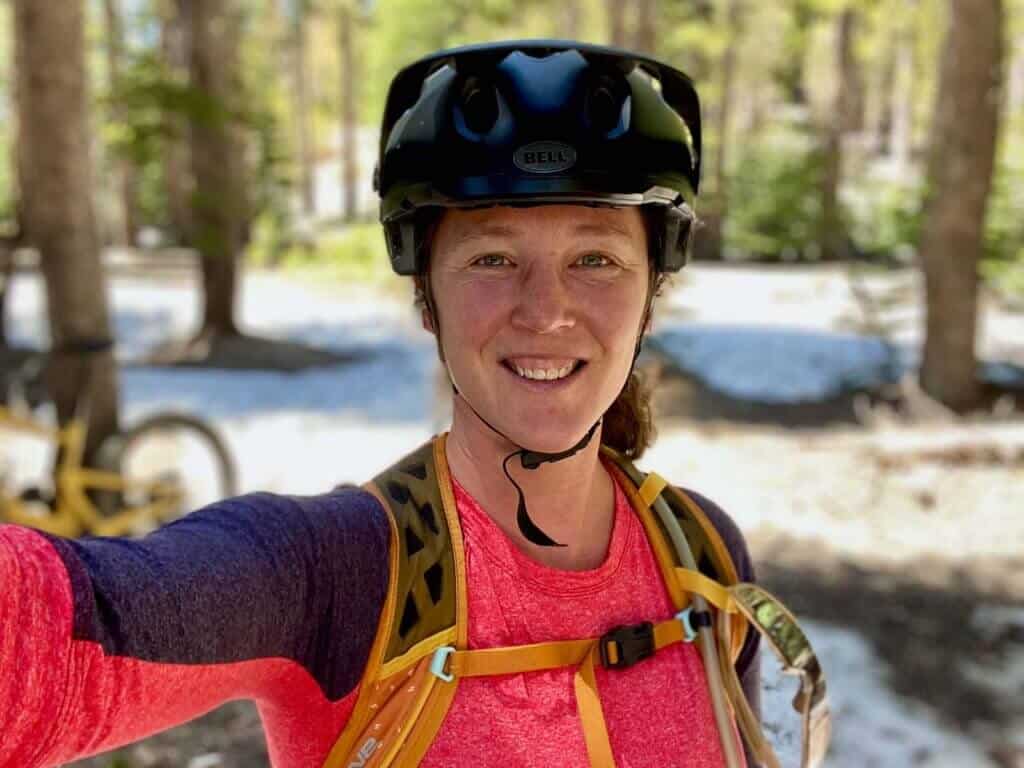 6. Machines for Freedom
GREAT FOR: Fashionista mountain bikers
SIZE RANGE: 24-40 (Euro sizing)
AVAILABLE ITEMS: Jerseys, shorts, liners, bibs
Where to Shop
Machines For Freedom has a small line of women's mountain bike clothes, but they're more known for their cycling and gravel riding apparel.
The brand was started by Jennifer Kriske in 2014 after she realized that women's cycling clothing didn't have the same offerings or thought-out design that men's cycling apparel did.
One thing that really sets Machines For Freedom apart is their "shape-inclusive sizing" model that includes sizes from XS to XXXL.
They also have more of a 'fashionable' style, which may or may not appeal to every rider.
Non-Women-Specific Brands (That Are Still Great!)
Women's mountain bike clothing isn't just limited to women-specific brands. I love and support the brands I mentioned above, but below are a few more companies that make great women's mountain bike apparel.
7. POC
GREAT FOR: Mountain bikers and cyclists looking for high-quality and well-engineered gear that lasts
SIZE RANGE: XS-XL
AVAILABLE ITEMS: Jerseys, shorts, pants, helmets, glasses/goggles, backpacks, outerwear, body protection
Where to Shop
My all-time favorite mountain bike shorts are the POC Essential MTB Women's Shorts. I've tried on dozens of different baggy mountain bike shorts and these are the only ones that I really, truly love.
I have three pairs of them!
Now, they're probably not for everyone because they do have a very long inseam so shorter women might find them too long, but if you're tall (I'm 5'8) and have a curvy, athletic lower half, they may be a great fit.
What about POC's other women's gear? It's also awesome. Their women's clothing is cut to fit women's bodies and their jerseys are a good mix of colors for all preferences.
POC's gear is known to be super high quality, durable, and built to last. It's one of my favorite brands! For snow sports lovers, POC also offers a wide range of ski and snowboard gear.
8. Troy Lee Designs
GREAT FOR: Racers and all-around mountain bike lovers
SIZE RANGE: S-XL
AVAILABLE ITEMS: Jerseys, shorts, pants, helmets
Where to Shop
I recently tested out some Troy Lee Designs clothes, and I was really impressed. The jersey's fit really nicely and are just loose enough to allow for movement, but still have a flattering look.
They'll definitely make it into my regular rotation.
But the piece of gear I loved the most was the Luxe Pants!
I'm typically not a pants-girl when it comes to mountain biking, but these pants I didn't want to take off. They are super comfortable, loose in all the right places, and ready for any trail.
I'll be opting for Troy Lee Designs clothes more often from now on.
9. Fox Racing
GREAT FOR: Women who want a mainstream mountain bike brand and fit
SIZE RANGE: XS-XL
AVAILABLE ITEMS: Jerseys, shorts, pants, helmets, body protection
Where to Shop
For a mainstream mountain bike clothing brand, I actually think Fox does a good job with their women's apparel line.
They have definitely upped their game over the last few years to include more variety and styles for female riders.
I do find that their fit is on the slim side, so if you prefer a baggier look (like me), you might want to pass.
Looking for more specific women's mountain bike gear recommendations? Check out these related blog posts:
What are your favorite women's mountain bike clothing brands? Do you have a go-to pair of shorts or jerseys? Let us know in the comments!
Shop my favorite mountain bike gear
Was this post helpful?
buy me a coffee!