8 Favorite Women's Mountain Bike Jerseys That Combine Style, Performance, & Comfort
Discover the best women's mountain bike jersey and learn how to choose a jersey that fits your needs for comfort and style on the trail
There's a good chance that affiliate links are scattered throughout this post. If you click on one I may receive a small commission at no extra charge to you and I'll definitely be using it to buy bike gear.
If you're like me, finding well-fitting mountain bike clothing is a full-time job. Fit, style, material, and even color, play a big part in how we – or at least I – feel and perform on the trail. No one wants to feel self-conscious or uncomfortable when bombing down a mountain, right?
I will be the first to say that I'm very picky when it comes to bike gear – including women's mountain bike jerseys. I want the fit to feel good, the fabric to be comfortable, and a choice of colors in case I don't want to wear pink.
I've tried and tested dozens of different jerseys and in this post, I round up my favorites. Keep in mind that everything in life is subjective, so what I love may not be for you and what I turn down might just be your favorite jersey ever.
Best Women's Mountain Bike Jerseys At A Glance
I've been wearing my Kaden Apparel Gryla 3/4 sleeve jersey for several seasons now and it has quickly become my go-to jersey for most rides.
What's so great about it? The fabric! This jersey is incredibly soft and a great weight for moderate temps – not too lightweight so that it feels flimsy, but not too thick so that it doesn't breathe well.
I also love the flattering cut and while I was initially skeptical about the 3/4 sleeve length, I've really grown to love this style (if you want a short sleeve, check out the Florence).
Another reason to try out this jersey is that Kaden Apparel is a small, women-owned mountain bike clothing brand based out of Vermont (my home state!).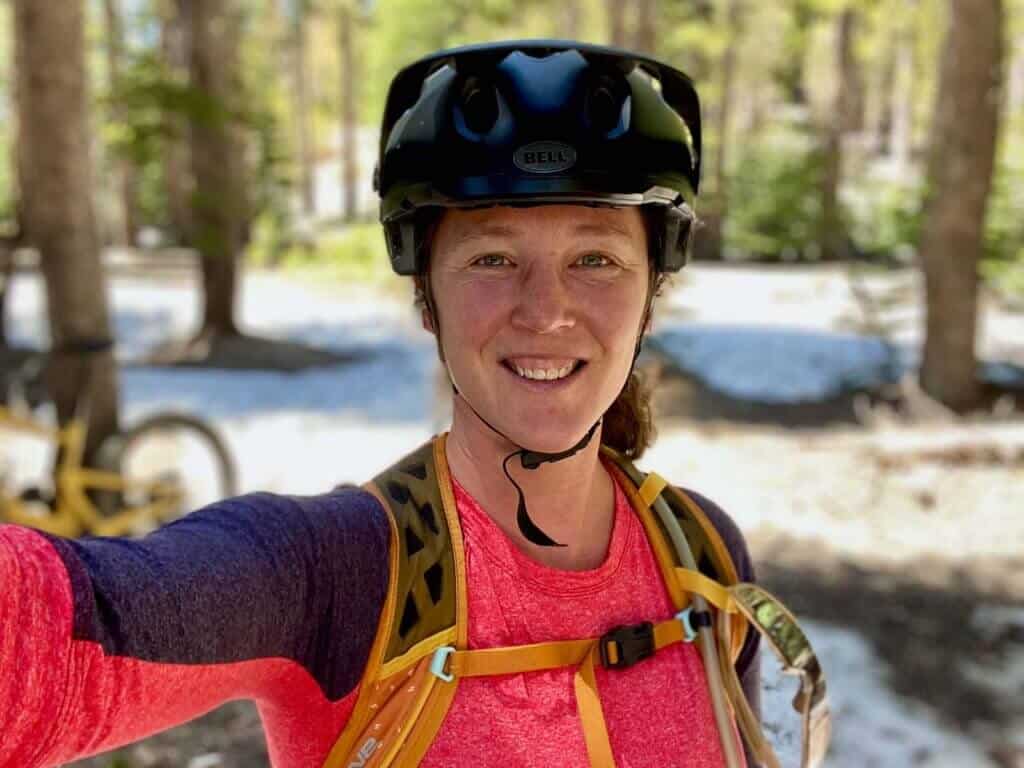 2. Troy Lee Designs Lillium
TWW long-sleeve favorite
Great for: Cooler days, bike parks
What I like: Perforated holes throughout for ventilation, flattering fit, long sleeves and torso, customize it with name and race number
What I don't like: This is purely aesthetic, but I don't love the TLD logo
The Troy Lee Designs Lillium jersey is a newer addition to my mountain bike wardrobe, but it's fast becoming my favorite for cooler days and gravity-focused riding.
I love the loose yet flattering fit that is actually designed for female riders. It features longer arms and a drop tail to keep you covered no matter your position.
For ventilation, the Lilium has little perforated holes throughout the material, which I haven't experienced in any other jersey. It keeps you nice and cool on warm days, but the long sleeves also provide a bit of warmth in cooler temps.
For women who like to spend their days on the bike park lifts, the Troy Lee Designs Mischief jersey is designed with a more relaxed fit so you have plenty of room to move around when you're bombing down the mountain.
The 3/4 sleeve jersey also has nice wide arms if you want to use elbow pads and the drop trail keeps your lower back covered when you're crouched down in ready position.
If you buy directly from Troy Lee Designs you can earn loyalty points for discounts off future purchases.
My brother wears the men's version of the Fox Flexair Jersey and loves how lightweight and breathable it is, especially during the hot and humid Vermont summers.
The Flexair is made out of quick-drying TruDri® fabric that wicks away moisture almost as soon as it forms, keeping you cool and dry.
It's also designed with perforated holes on the sleeves for even more ventilation and the slit hem allows you to move freely even on those steep, rugged descents.
The Flexair also comes in a long-sleeve.
Ride Force is a relatively new mountain bike apparel brand based out of Jackson Hole, Wyoming. I had the honor of participating in a little photoshoot for them and I fell in love with their jerseys!
Ride Force jerseys are unisex, but they're designed by female owner, Taylor-Ann, to be simple and loose-fitting, yet still flattering. And also not 'female-looking'. (Taylor-Ann has a background in graphic design and she's done a great job with the patterns and logo).
One of the features that sets Ride Force apart from other women's mountain bike jerseys is the fabric. Sourced from Italy, this Ventimo fabric is incredibly lightweight and breathable with an almost ethereal feel. It's amazing!
While this fabric is perfect for warm bike park days, I do find that it's a bit too lightweight for cooler days unless you wear a layer underneath.
Another added bonus is that Ride Force jerseys come in a wide range of sizes from XS to XXL.
POC is my go-to brand for mountain bike shorts. I love their Women's Essential MTB Shorts (in fact, these are pretty much the only shorts I wear) and their MTB Pure women's mountain bike jersey is just as good.
I think one of the main reasons I jive with POC products so much is that they're great for taller women. I'm 5'8 and this jersey falls past my hips, which I don't get with a lot of other brands. I like looser fitting and full-coverage apparel when it comes to mountain biking.
I also love the waffle-like knit with its high breathability and moisture-wicking capabilities. I did find that the fabric was a little coarse at first, but it broke in after a couple of wears and washes.
While the style isn't for me, a lot of women like to wear button-up mountain bike jerseys. If that's your style, check out the Club Ride Bandara.
Made from lightweight, stretchy, and breathable fabric, I see a ton of these jerseys out on the trails. They come in great colors and patterns, so you're sure to find something you like.
They also have a hidden rear zippered pocket that provides convenient storage for snacks, keys, or other small items, which you won't find on many other women's mountain bike jerseys.
The Patagonia Dirt Craft women's mountain bike jersey doesn't 'look' like a traditional mountain bike jersey, so it's a great option if you want a shirt that can be used for other activities like hiking or playing on the water.
The tapered cuffs are a bit unique and designed to wick sweat, deflect brush, and keep your arms covered from the sun. The back panel is highly breathable to keep you cool as you work up a sweat.
True to Patagonia fashion, the Dirt Craft jersey contains recycled materials and is fair-trade sewn.
Tips For Choosing A Women's MTB Jersey
Not sure where to start? Here are some tips for choosing the right jersey for your rides:
Fabric choice
Women's mountain bike jerseys tend to come in two different fabric options: close-knit and loose-knit.
Close-knit
Close-knit jerseys are going to be more like the everyday t-shirts and shirts that you wear. The fabric weave is tight and the jerseys tend to be super soft and comfortable.
However, on the flip side, close-knit jerseys don't dry as quickly as loose-knit ones and they tend to be warmer.
Loose-knit
Loose-knit jerseys are typically more performance-based with high moisture-wicking capabilities and they are much faster to dry than a close-knit jersey.
Sleeve length
You can find women's mountain bike jerseys in four different sleeve lengths:
Tank top (no sleeves)
Short-sleeve
3/4 sleeve
Long-sleeve
Whichever jersey length you choose really comes down to personal preference. Take into consideration what type of riding you'll be doing, what the weather/climate is like, and what you feel most comfortable in.
Personally, I don't wear tank tops when mountain biking, because I almost always have a hydration pack on and I don't want the straps to rub into my shoulders.
For bike park days I'll typically wear a long-sleeve jersey because it provides a bit more protection – from the sun and crashes – than a short-sleeve jersey.
If I'm out for a pedally ride on a warm, sunny day, I'll wear a short-sleeve or 3/4-sleeve jersey.
Fit
Mountain bike jerseys fall into two categories: a fitted look similar to what road cyclists wear or a looser fit, which is more traditional for mountain bikers.
There's no one right answer when it comes to fit. Again, it comes down to personal preference and what you feel most comfortable in.
I personally prefer a looser, relaxed fit for my mountain bike jerseys and mountain bike shorts.
Final thoughts
I hope this post helps you choose the best women's mountain bike jerseys for your riding style and fashion preferences.
There are a lot of options out there, so take your time shopping around to find the right fit for you.
Happy trails!
Looking for more women's mountain bike gear recommendations? Check out these related blog posts:
Do you have a favorite women's mountain bike jersey? What is it and what do you love about it? Leave a comment below