Mountain Biking in Ely, Nevada: The Best Trails, Route Recommendations + More!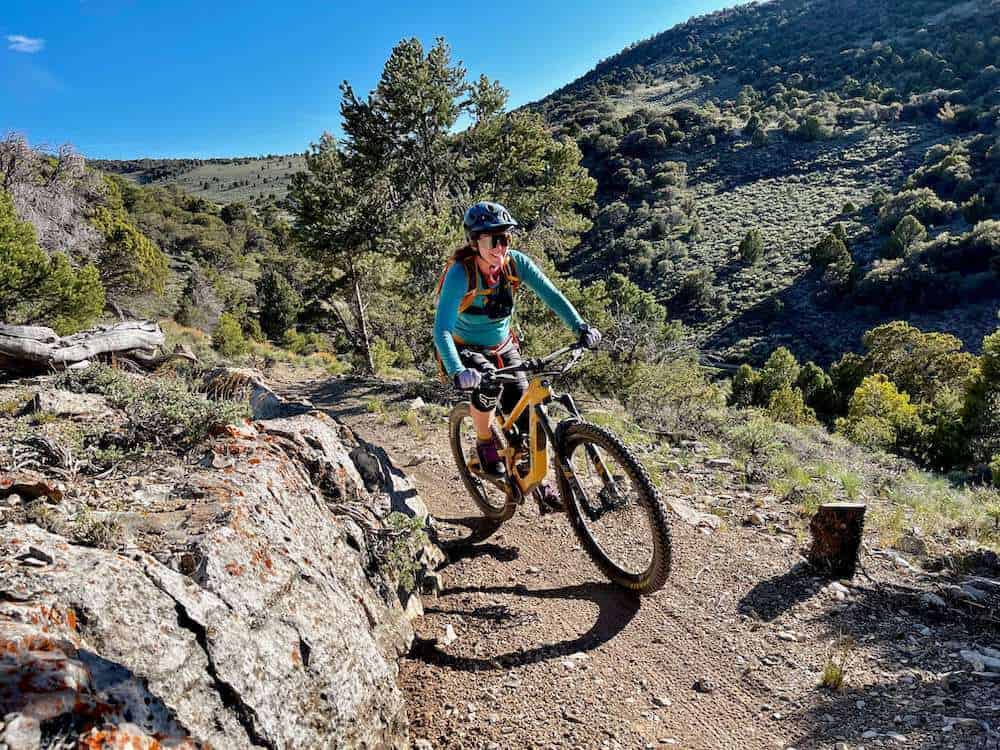 There's a good chance that affiliate links are scattered throughout this post. If you click on one I may receive a small commission at no extra charge to you and I'll definitely be using it to buy bike gear.
Ely, Nevada is a small, historic mining town located in the eastern part of the state near Great Basin National Park. What most people don't know about Ely, though, is that it's home to some great mountain biking.
I recently spent a few days exploring the trails and networks around Ely and came away pretty darn impressed with what I saw. I was also excited to learn about all the plans for future trail building and development that are already in the works for the next 5+ years.
Ely may not be known as a world-class mountain biking mecca, but it certainly should be on your radar if you're looking for a unique, up-and-coming destination with lots of great riding and potential.
Start planning your Ely, Nevada mountain biking trip with this complete guide including the best trails, route recommendations, & more!
Thank you to White Pine County Tourism & Recreation for hosting me!
Why mountain bike in Ely?
Close your eyes and conjure up an image of Nevada in your head. Go ahead, do it! You probably envisioned either the bright lights of Las Vegas or Reno or a vast expanse of sage brush-studded desert with dry, rocky mountains in the distance.
Now scrap all that and picture a small western town surrounded by 11,000-foot peaks, pinyon-juniper forests, a quaint main street filled with colorful mural art, and endless opportunities for outdoor adventure – that's Ely, Nevada. It's definitely not the Nevada most people picture in their minds.
But what about mountain biking? It's great, too! And it's just going to keep getting better. Over the past few years, there's been a big push by the White Pine Tourism Board – thanks in part to Kyle Horvath, who I had the pleasure of getting to know during my visit – to expand recreation in White Pine county, including Ely.
The town has received thousands of dollars in grants to build new trail, update old ones, and maintain what they already have. There are currently about 70 miles of trail already in place and ready to ride with 40+ more miles planned out over the next 5+ years.
In addition to great riding, Ely also has some awesome camping – both in paid campgrounds and free dispersed sites – as well as a number of fun and unique things to do around town to make the most of your visit (See 'Other Things To Do in Ely' below).
One final reason to plan a visit to Ely is its location. Ely sits on highway 50 near Great Basin National Park and it's a convenient place to stop on your way to bigger mountain bike destinations such as Las Vegas, Hurricane/St. George, Salt Lake City, Moab, and Sedona.
Important Things To Know About Mountain Biking In Ely
The elevation
The town of Ely sits at just over 6,400 feet and many of the trails are up at 7,000-8,000 feet. I definitely felt the altitude when I visited! Start with one of the mellower rides like the G Loop and work your way up from there.
E-bikes are allowed
E-bikes are allowed on the trails around Ely. Please be kind and courteous to each other – we can all get along! If you're newer to riding an e-bike, just be sure to follow good trail etiquette.
Check the weather
The mountains surrounding Ely get snow in the winter and weather can be variable during the shoulder seasons (see 'Best Time to Mountain Bike in Ely' below). Always check the weather before heading out and be prepared with a lightweight layer since temps higher up can drop fast.
The trails are not well marked
Outside of the Cave Lake network, which does have good trail signage, the mountain bike trails in Ely are currently not well marked. While I recommend having TrailForks downloaded to your phone for every ride, but it's pretty much essential here. You can also pick up a trail map at the White Pine Tourism Center, but it may not be up-to-date.
4 Mountain Bike Networks in Ely to Check out
Ely has four main mountain bike trail networks. I've listed them in order of relative difficulty with Ice Plant being the easiest and Squaw Peak being the hardest.
Ice Plant
Ward Mountain
Cave Lake State Park
Squaw Peak
1. Ice Plant
Ice Plant is the trail network closest to town and is home to some of the best mountain biking in Ely, especially if you don't want to work too hard for your downhill reward. The trails are mellow and slowly gain elevation until you hit the steeper slopes of Ward Mountain where you can then turn back around for a fun, fast descent.
The local kids love this area because there are lots of features to play around on like little kickers, drops, berms, and whoops (The Whoops trail is a must!).
2. Ward mountain
Above Ice Plant are the Ward Mountain trails, which can be accessed via the Ward Mountain Campground or shuttling up Ski Hill Road. For a nice warm-up pedal, the 5-mile G-Loop is a good intro to Ely mountain biking before tackling some of the higher-up terrain.
I will say that, currently, a shuttle is kind of necessary if you want to do longer descents off of Ward Mountain. The trails Powderberry, Tokey-Dokey, and Total BS all end near town and you either need to pedal back to your car (which would be a hefty climb) or take a second shuttle vehicle back up.
There are plans to expand the Ward Mountain trails in the next few years, so this will add more options for non-shuttled rides.
3. Cave Lake
If you only have one day to ride in Ely, spend it at Cave Lake. The trails here are a great mix of cross-country pedaling, stiff climbs, and super fun, flowy descents. The views are also amazing!
Cave Lake – a reservoir – is currently drained (as of spring 2022) to repair the dam, but it's absolutely still worth checking out this trail system. There are even two campgrounds at Cave Lake where you can base yourself from.
4. Squaw Peak
Looking to get rowdy? Squaw Peak on the other side of town from Ward Mountain has several raw, rugged DH lines that are great for riders who like loose, old-school trails with rocky features and plenty of chunder. They are definitely not for the beginner or even intermediate-level rider.
These trails are a bit challenging to access because the only road to the top of the mountain (West Squaw Peak Access Road) is quite steep and washed out in places and should only be attempted in a high clearance, 4×4 vehicle. Seriously. These trails are also not marked at all and not ridden as much as the other Ely trails, so trail-finding can be a challenge.
The Best of Ely, Nevada Mountain Biking
5 Best Mountain Bike Trails in Ely
The Whoops (Ice Plant, Beginner)
Total BS (Ward Mountain, Beginner/Intermediate)
High Roller & Twisted Pines (Cave Lake, Intermediate)
Powderberry Divide (Ward Mountain, Intermediate+)
Rob's Knob (Squaw Peak, Expert)
4 Route recommendations
Note: I did not include route recommendations for the Squaw Peak trails for several reasons: first, the road up is seriously rugged and requires a 4×4 high clearance vehicle, and second, these trails are for experienced DH riders only. If this sounds like you, Whorehouse Downhill and Rob's Knob are super fun!
The G Loop on Ward mountain is an easy, mellow warm-up ride and a good introduction to Ely mountain biking, especially if you aren't used to the elevation. There's a short grunt of a climb at the start, but then it mellows out into rolling singletrack before ending a fun, fast descent back to the parking area.
Make it Longer
If you want to add some miles and elevation to your ride, do an out-and-back on Rope Tow and Making Pancakes before finishing the G Loop back to the parking area. This will add about 3.5 miles, 250 ft of climbing, and a fun descent.
ROUTE STATS
Route difficulty: Easy
Trail network: Ice Plant
Mileage: 4.4 miles
Elevation gain/loss: 588 ft
Route directions: Ice Plant Parking > Ice Plant > Badger Hole > Upper Slalom > Tin Pan Alley > Ice Plant > The Whoops
Map/GPS: TrailForks
Ice Plant is the mountain bike playground network in Ely. There's not a whole lot of elevation gain or loss here, but the trails have some super fun features like rollercoaster whoops on The Whoops, drops and kickers, a few man-made obstacles, and more. It's a great place to take the kids or do a few laps if you're short on time.
Make it Longer
The Ice Plant trails connect into the Ward Mountain trails, so if you want to extend your ride, you can keep climbing up Ice Plant either to Mid-Mountain Cut-off or alllll the way to the top where you can then descend down Total BS which is super fun. Be prepared for a hefty climb, though!
ROUTE STATS
Route difficulty: Intermediate
Trail network: Cave Lake
Mileage: 11 miles
Elevation gain/loss: 1,729 ft
Route directions: Lower Cave Lake Parking > Success Summit Rd (or Steptoe Creek Trail, but it's nice to spin the legs on the road before climbing) > Fire Road 574 > Cave Overlook Loop > Twisted Pines > High Roller (counterclockwise) > High Roller/Overlook Connector > Twisted Pines
Map/GPS: TrailForks
If you only have a day to ride in Ely, this is the ride to do. There is some stout climbing, but the views and descent down Twisted Pines at the end makes the grind absolutely worth it.
It's best to ride High Roller counterclockwise unless you're up for some steep switchbacked climbing.
Make it Shorter
To cut off about 3 miles and a lot of climbing, you can skip the High Roller Loop and just continue on Twisted Pines back to the parking area.
4. G Loop to Powderberry Divide
ROUTE STATS
Route difficulty: Intermediate+
Trail network: Ward Mountain
Mileage: 8.3 miles
Elevation gain/loss: 1,159
Route directions: Ward Mountain Recreation Area Parking > Ward H Loop (or G Loop) > G Loop > Rope Tow > Making Pancakes > Powderberry Divide
Map/GPS: TrailForks
This is a shuttled ride, so you will need two vehicles. Powderberry Divide is a steep, loose descent off of Ward Mountain with lots of tight switchbacks. It's definitely the most challenging trail in this network, but doable if you like raw terrain and loose riding. There are a few log drops/rollers, but no overly technical features aside from loose terrain. Did I mention that it's loose?
Make it Easier
If you prefer machine-built trails over old-school tracks, you'll enjoy the descent down Total BS more. This will spit you out at Ice Plant where you can then take The Whoops back to town.
Make it Shorter
If you start at Ward Mountain Campground as this route suggests, there's a bit of a grinding climb at the start. You can skip this first climb by parking at Ward Mountain Parking instead. You'll still need to climb up Rope Tow Flow and Making Pancakes, but this will cut off about 560 ft of initial climbing.
Best Time To Ride In Ely
Since Ely is situated at 6,500 ft and the trails are above town, it's one of the few mountain bike destinations in Nevada that is great for summer riding. For spring, trails typically melt around around mid-to-late April and can be ridden late into September or October.
I rode in Ely during late May and the temps were perfect and the landscape was super green and beautiful.
If you're looking for a challenge, head to Ely in June to participate in the Fears, Tears, and Beers race. It's the oldest Enduro mountain bike race in the US and a day to remember for sure!
What Gear To Pack
For a complete list of what mountain bike gear to pack for your trip to Ely head over to my Complete Mountain Bike Trip Packing List and Mountain Bike Pack Essentials posts.
Here are a few items specific to mountain biking in Ely, Nevada
Ely Mountain Bike Shops
There is currently one bike shop in Ely – Sportsworld. While it's not biking specific, they do have a mechanic available and they sell a good selection of spare parts and gear.
Where To Eat & Drink In Ely
Despite its size and remote location, Ely actually has some great places to eat and drink.
Taproot Coffee Shop: A great little coffee shop that serves really good coffee and baked goods. Their homemade biscotti are amazing!
Mr. Gino's: Also known as Mr. G's, this is a good place for Italian food and hearty servings.
Shorty's Food Truck: The only food truck in town, Shorty's offers great sandwiches served with a daily soup.
Cellblock Steakhouse: I didn't get to eat here, but Cellblock is the only fine dining place in town and it gets great reviews. It's located in the Jailhouse Hotel.
Where To Stay In Ely
Ely Camping
There is both free dispersed camping in Ely and paid campgrounds. The paid sites are:
Ward Mountain Campground: This is a really nice campground with 33 sites, pit toilets, picnic tables, fire rings, and easy access to the G-Loop and other mountain bike trails on Ward Mountain. There is water, but no showers.
Elk Flat Campground & Lakeview Campground: These campgrounds are located out by the Cave Lake trails. Elk Flat is a bit more private while Lakeview is close to the water and tends to be busier. Both campgrounds have showers, toilets, water, and other amenities. (Note that Cave Lake is drained as of 2022 and construction is being done on the dam).
For free dispersed camping around Ely, there are numerous fire roads on Forest Service land that have dispersed sites. Ski Hill Road, which is the shuttle road for the Ward Mountain trails, has several sites.
Ely bike-friendly hotels
I stayed in the Jailhouse Motel during my visit to Ely and it was simple, but clean and quiet. They have non-smoking, ground-floor rooms, comfortable beds, and great water pressure in the showers! Jailhouse is also home to the Cellblock Steakhouse and a small casino if you feel like trying your luck at the machines.
Other Things to do in Ely, Nevada
If you have some time to spend in or around Ely, there's actually quite a bit to do despite its small size:
Take the guided art walk. Ely is home to over a dozen wall murals depicting historical events, people, and ways of life. Each mural has an audio recording so you can learn more about the history of this mining town.
Ride the Nevada Northern Railway. I really wish I'd had time to take a ride on the coal-powered train during my visit. The 90-minute train ride takes passengers along 100+-year-old tracks and provides a glimpse into what life was like a century ago. If you don't have time to ride the train, you can still visit the depot and small museum.
Visit Great Basin National Park. This is one of the least visited National Parks in the US and it's located only an hour from Ely. Explore the Lehman Caves, hike up Wheeler Peak, or experience some of the best night skies in the world.
What questions do you still have about Ely, Nevada mountain biking? Did you know Nevada had this kind of landscape? Leave a comment below!
Pin it for later!
Was this post helpful?
Consider 'buying me a coffee!'