A Mountain Biker's Guide to DuPont State Forest in NC
Learn everything you need to know about mountain biking at DuPont State Forest in western North Carolina including the best trails, route recommendations, and more!
There's a good chance that affiliate links are scattered throughout this post. If you click on one I may receive a small commission at no extra charge to you and I'll definitely be using it to buy bike gear.
After spending several weeks exploring the mountain biking scene around Brevard, North Carolina, DuPont State Forest quickly become one of my favorite places to ride.
Nearby Pisgah, which most people associate with the 'best' mountain biking in Brevard, was too much of a sufferfest on the climbs and while North Mills River and Bent Creek were better, still… the climbing! 🥵
But DuPont? It was a perfect mix of everything I love about mountain biking: fast flow, chunky tech, unique terrain, beautiful surroundings, and decent climbs for the downhill reward (very important).
To help you make the most of your time at DuPont, I've put together this guide featuring the best trails to hit, a few route recommendations, planning tips, and more.
Let's go!
Why plan a trip to DuPont State Forest?
DuPont State Forest has a lot going for it when it comes to mountain biking. Riders can expect:
In fact, DuPont's natural landscapes are so special that DuPont State Forest was the location for several scenes in The Hunger Games and Last Of The Mohicans.
So, basically, you'll be riding through a movie set!
Important Things to Know
Mountain biking at DuPont State Forest is awesome, but there are a few things to know before hitting the trails:
Best trails & route recommendations
There is a lot of great riding in DuPont. When writing these guides I try my best to discover the 'best' trails and put together the 'best' routes. Keep in mind this is highly subjective, but I do try to cater to most mountain bikers.
Below are what I consider to be the top trails and routes in DuPont State Forest.
DuPont State Forest mountain biking map
8 best trails at DuPont
Route recommendation
1. Mitch's DuPont Ride
This is a great introduction to DuPont with several options to make it shorter or longer depending on how you're feeling. You'll hit DuPont's most famous trail – Ridgeline – for a sweet finish at the end.
Route directions: Lake Imaging Parking > Jim Branch > Isaac Heath > Locust > Hilltop > Buck Forest Road > Sky Valley Road > Rocky Ridge > Sky Valley Road (briefly) > Ruffed Grouse (briefly) > Rifle Trail > Hickory Mountain Road > Hickory Mountain Loop > Ridgeline
Route notes: This route is pretty straightforward. You will need a GPS track or TrailForks downloaded to your phone for navigation.
Do more: Climb back up and do another lap on Ridgeline!
Do less: Skip Rocky Ridge by taking Shoal Creek Trail, which will connect back into the route at Ruffed Grouse.
Route recommendation
2. DuPont Big Ride
I LOVED this route. However, it's not going to be everyone's cup of tea. There is a river crossing that is quite slippery and needs to be crossed twice. It may not be passable if there have been heavy rains.
If you want to skip the river crossing or make the whole route a bit more manageable, break the two loops into two different days. See below for more information on how to do this.
Route directions: Corn Mill Shoals Parking (no cell service) > Corn Mill Shoals Trail > Burnt Mountain Trail (clockwise) > RIVER CROSSING > Shoals Trail > Cart Trail (this is a hike-a-bike. You may want to try the parallel Laurel Ridge, which I haven't ridden so I don't know if it's any better) > Mine Mountain Trail > Reasonover Creek > Camp Summit Road > Airstrip Trail (EASY TO MISS) > Corn Mill Shoals > RIVER CROSSING > Little River > Cedar Rock Trail > Big Rock Trail (or Cedar Rock Trail which is really cool, too)
Route notes: This is definitely more of a rugged, backcountry route with river crossings and a wide variety of terrain. Be prepared for any mechanical and pack lots of snacks.
Skip the river crossing/make it shorter: If the river that connects the west loop with the east loop is too high to cross, I recommend splitting the route into two days.
On the first day, park at Corn Mill Shoals Parking and do the west side of the river. If you want more miles (and climbing) you can add a lap on the Cedar Rock Trail descent, which is super cool.
On another day, do the east side of the route by parking at the Fawn Lake Parking Area and riding the route clockwise.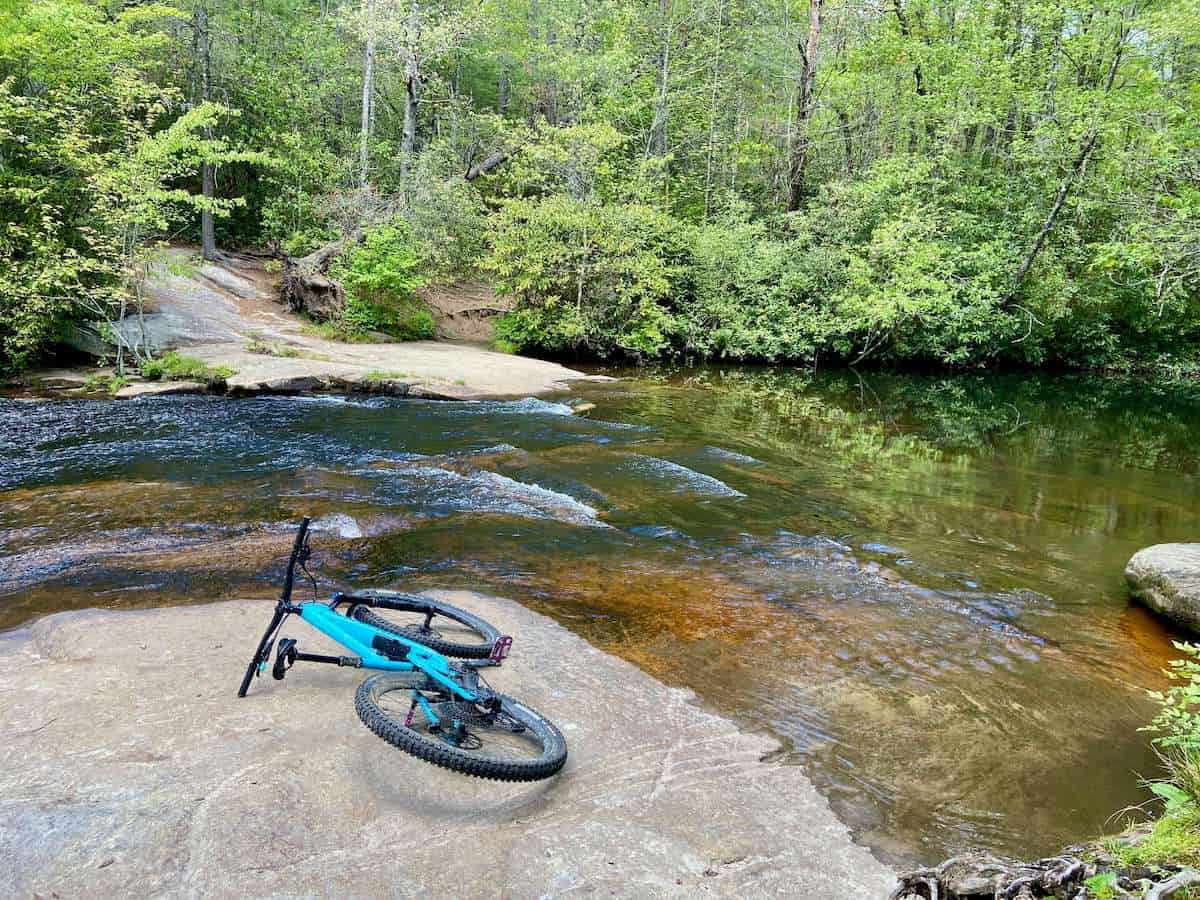 Best time to Ride DuPont
DuPont can be ridden year-round depending on the weather. Keep in mind that this area is a temperate rainforest, though, so expect there to be rain any month of the year.
I visited in spring (May) and the temps were perfect in the 60's and the spring wildflowers were in full bloom. I suspect fall would be a great time to visit, too, for changing fall foliage.
Summer can get really busy in Brevard, so expect to share the trails with hikers and mountain bikers (and get really sweaty!).
Winter temps fall in the 40s – 50s, so if you visit between November and February, be sure to bundle up in cold-weather mountain biking gear.
Camping at DuPont State Forest
There is no camping in DuPont, unfortunately. There are a few independent campgrounds outside of DuPont including:
Because this area is close to so many outdoor attractions and recreation, campgrounds typically fill up. I highly recommend making reservations ahead of time.
If you're looking for free, dispersed camping, head to Pisgah National Forest.
Other outdoor activities at DuPont
DuPont has almost endless opportunities for amazing outdoor recreation. In addition to mountain biking, visitors can also enjoy:
Final thoughts
I really enjoyed my time riding at DuPont State Forest. I found it to be the most "approachable" place to mountain bike in the Brevard/Asheville area (mainly because the climbs aren't so stinking long and hard!).
It's also absolutely beautiful with lush, temperate rainforest surroundings, tons of waterfalls, and some cool, unique rock features to play on.
If this is your first trip to the area, I recommend starting your two-wheeled explorations at DuPont so you get a feel for the terrain and riding. It only gets harder from here 🙂
Have you explored the mountain biking at DuPont State Forest? What are your favorite trails or routes? What questions do you still have? Leave a comment below!
Was this post helpful?
buy me a coffee!