Trail Guide: Mountain Biking The Whole Enchilada in Moab
There's a good chance that affiliate links are scattered throughout this post. If you click on one I may receive a small commission at no extra charge to you and I'll definitely be using it to buy bike gear.
The Whole Enchilada is probably the most iconic ride for mountain bikers in Moab. Almost every rider, including me, who makes their way to the red slickrock mecca of Moab does this 27-mile descent at least once (if not multiple times) because it's that good.
With incredible canyonland views, fast and flowy singletrack, tons of fun features to play around on, plenty of smooth slickrock, and much more, The Whole Enchilada is a must-ride for any avid mountain biker looking for a challenge.
Before you book your shuttle, though, it's important to know what you're getting into because TWE isn't for everyone. In this post, I cover tips on what to expect, options on where to start, shuttle services, the best time to ride it, and more.
What To Know Before You Ride
Before committing to The Whole Enchilada, here are a few things to know:
There is massive exposure in places
While the route doesn't take you super close to the cliff edges, there is definitely massive exposure on some parts of The Whole Enchilada.
I don't particularly like heights and I never feel unsafe when I ride TWE, but it's good to know that there are some major drop-offs.
Bring more water than you think you'll need
This is a serious one. Bring at least 3L of water and maybe even a bottle in the water bottle cage.
Since The Whole Enchilada doesn't typically melt out until late spring and can get snow in early fall, you'll probably be riding it in warmer summer temps.
Do not make the mistake of not bringing enough water! Almost the entire route is exposed to the sun and there is probably more climbing and hard technical riding than you'll expect. The desert is unforgiving and some mountain bikers have almost died from heat exhaustion and dehydration.
This is not a beginner or even intermediate-level ride
The Whole Enchilada is far from a walk in the park and should not be attempted by beginner or even intermediate-level riders.
There is a lot of technical riding and the 27-mile route is more challenging than a lot of people expect. You must have good bike handling skills, good fitness, and be ready for a backcountry adventure.
For more about this, see "how hard is The Whole Enchilada" below.
Watch This beautiful short film of twe presented by enve
The Whole Enchilada Trail Guide
The Whole Enchilada is a 27-mile mountain bike route that starts high up in the La Sal Mountains and plummets over 7,500 feet back down to the town of Moab.
Quick stats
Mileage: 27 miles from the start at Burro Pass + a 5-mile pedal back to town
Elevation gain: 1,269 ft
Elevation loss: 7,787 ft
Highest point: 11,177 ft
Route difficulty: Intermediate+/Expert
The Whole Enchilada Trail Map
>> TrailForks / MTB Project
Route recommendation
1. The Whole Enchilada
This is the full route. See below for options to make it shorter/easier.
Route directions: (Park at your shuttle provider – see options below) > TWE Beginning/Burro Pass > Hazard County > Kokopelli > UPS > LPS > Porcupine Rim > Bike Path
Route notes: There is a 5-mile pedal along a (flat-ish) bike path at the end. Most riders don't take this extra mileage into account – so really, the full ride is 32 miles.
Make it easier: You can cut out most of the hard-core technical riding by skipping LPS and Porcupine Rim. Instead, when you reach the start of LPS, take Eagle Eye trail to Falcon Flow to Sand Flats Road, which will drop you into Moab.
Do less: You can cut out a lot of climbing and miles by skipping Burro Pass and starting at Hazard County. Of course, some people will say that you didn't ride The Whole Enchilada if you didn't do Burro Pass, but hey, this is your ride. Any shuttle company will drop you at Hazard County.
Keep in mind, cutting out Burro Pass doesn't make the ride any less technical.
Trail breakdown
The Whole Enchilada is actually a link-up of several trails in the La Sal Mountain range above Moab. It includes Burro Pass, Hazard County, Kokopelli, UPS, LPS, and Porcupine Rim.
The 'official' route starts with a shuttle up to the Burro Pass trailhead at 10,500 ft where you'll then climb a few miles to over 11,000ft before plunging all the way down to the Colorado River.
Alternatively, you can choose to skip the massive 3-mile Burro Pass climb and instead book a shuttle to the lower Hazard County trailhead. See more information on start options in the shuttle section below.
Sorry for the lack of photos – it's too fun to stop!
Burro Pass
Burro Pass is the climb at the start of The Whole Enchilada and it is a beast, especially if you're not acclimated to the elevation.
From the shuttle drop-off point, the climb starts out pretty mellow with some easy pedaling and rolling terrain, but then you get right into it with a grinding climb that lasts f.o.r.e.v.e.r.
Keep in mind that you're close to 10,000 feet in elevation, so it's probably going to feel even harder.
BUT the views are stellar, especially once you make it to the top (yay you!). The backside of Burro Pass is super fast, steep, and loose with some tricky hairpin turns, so check your speed.
Hazard County
Once you make your way down the steep slopes of Burro Pass, you'll come to Hazard County.
This trail starts with a short climb (not nearly as bad as Burro Pass) and then opens up into fast-linked turns with precariously placed rocks to keep you on your toes.
This section can get pretty rutted out, but it's super fun with awesome views if you can manage to take your eyes off the trail ahead. There are also some sneaky gap jumps to the side if you're into getting air.
Jimmy Keen OR Kokopelli
At the bottom of Hazard, you have two options: either take the straight, fast and chundery route on the doubletrack Kokopelli Trail or turn off onto Jimmy Keen for 8 miles of hot, flat pedaling (with great views).
Most people keep going straight on Kokopelli, but if you're feeling like you want to add a few more miles to your ride – especially if you didn't do Burro Pass – take a left onto Jimmy Keen.
But remember that the whole route back to town without Jimmy Keen is 32 miles and the hardest, most technical sections are still to come!
UPS & LPS (Upper & Lower Porcupine Singletrack)
Now things start to get fun! The chunder of Kokopelli turns into the iconic red Moab slickrock and the trail skirts the edge of Porcupine Rim for amazing views of Castle Valley. T
here's a bit of everything on UPS and LPS including tricky drops, swoopy turns, rock ledges, and smooth slickrock.
About halfway down LPS you have a choice of staying straight on The Notch – perhaps the hardest feature on TWE – or taking a right into Snotch – perhaps the second hardest feature on the trail. Either way, you'll probably be walking this short technical stretch.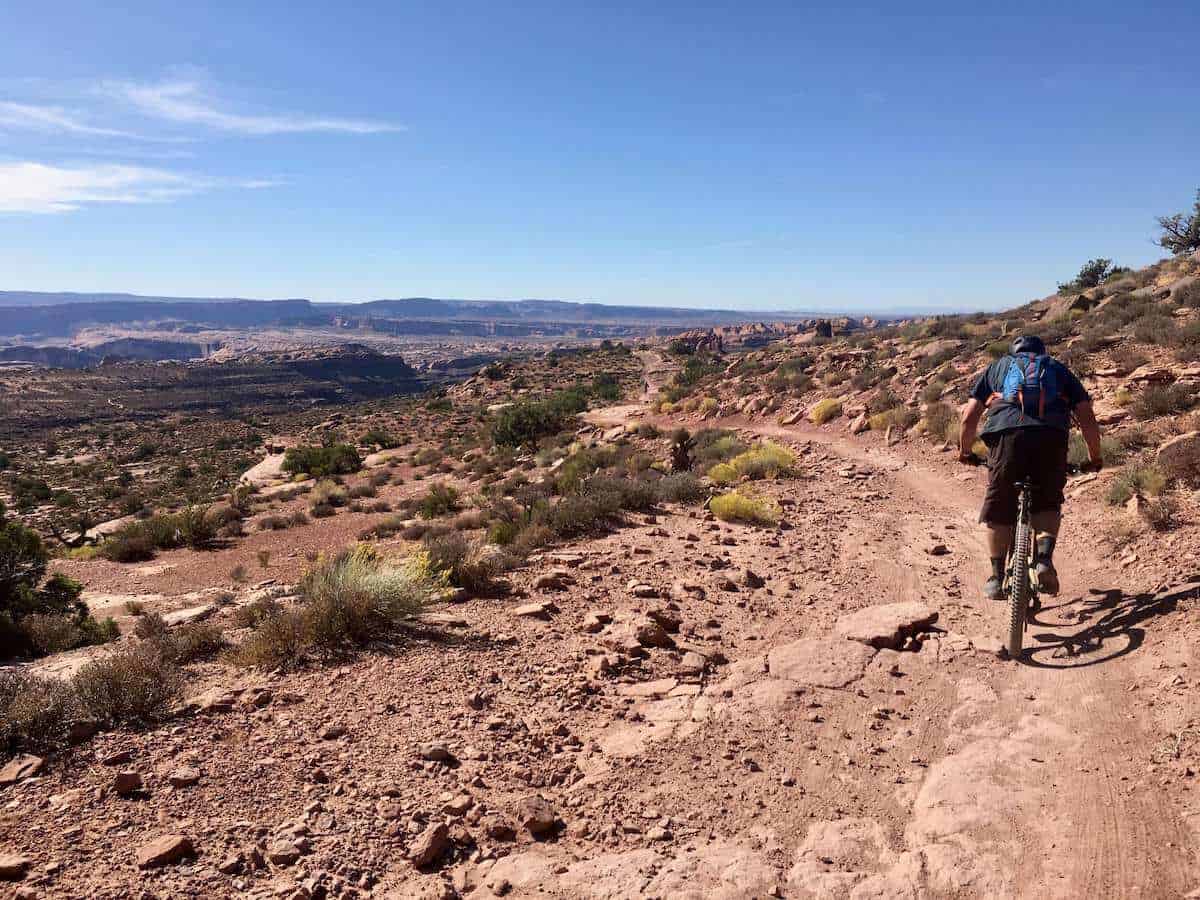 Porcupine Rim
My favorite part of The Whole Enchilada! The run-out of Porcupine Rim to the Colorado River is fast and flowy with technical slickrock features and gorgeous views of the river down below. It's really the best part of the whole shebang and it goes on for almost 11 miles (the last 4 or so are truly the best).
Look out for alt-lines on the sides of Porcupine Rim. There are little (and big) rock drops, ridges, kickers, and other fun features to play around on.
Colorado River Bike Path
Porcupine Rim spits you out right on the Colorado River and there's a paved bike path that will take you back into town. It's about 5 miles and mostly flat. If you need to cool off, take a dip in the Colorado River.
How Hard is It?
The Whole Enchilada is no walk in the park. The mileage itself (about 27 miles in total plus 5 miles back to town) is a huge day and you need to have the stamina and skills to complete the whole thing on a mountain bike, in warm temps, at high elevation (peak elevation is 11,000ft on Burro Pass) with pretty technical features sprinkled throughout the entire route.
The ride actually gets harder and more technical (and in my opinion, more fun!) the farther down you go.
The last 4 miles of Porcupine Rim down to the river is probably the most technically challenging with steps, drops, and high-stake rollers.
The good news is that most people start early in the morning (see shuttle options above) and make it a full-day, casual affair. You can take your time, walk tricky sections, stop for photos and lots of snacks, and truly enjoy what makes this ride so awesome.
I would say that The Whole Enchilada in Moab is definitely for the solid intermediate+ rider who can handle steep, loose pitches, rough rock gardens, some exposure, and narrow chutes. It is NOT a beginner ride.
For the more experienced riders, there are A TON of alt lines along the second half of the trail (i.e. UPS, LPS, and Porcupine Rim). T
ake your time exploring the drops, kickers, wall rides, and other features along the sides of the trail. Each time you ride TWE you'll probably discover a new alt line and when you link them all together TWE becomes a whole new trail!
TWE Shuttle Options
There are a handful of mountain bike shuttle companies in Moab that offer shuttles to both Burro Pass and Hazard County. If you choose Burro Pass you'll be doing the full Whole Enchilada while Hazard County cuts off about 6.5 miles and 1,500ft of climbing.
Keep in mind that Burro Pass may not be an option early in the season due to the snowpack.
Some shuttle companies offer two shuttle times per day and others only offer one. Similarly, some only shuttle to the top of Burro Pass (depending on conditions), and others offer the Hazard County option as well.
During peak season (October-November) shuttles tend to fill up, so book early!
Best Time To Ride The Whole Enchilada
The best time to ride The Whole Enchilada is between October and November. Before October, the temps can still be super warm and after November the La Sal mountains get dumped on with snow. Spring isn't a great time to attempt The Whole Enchilada either because the top of Burro Pass tends to retain snow until July.
If you're visiting Moab in the spring or early summer, you may be limited to riding from Hazard County down (which skips Burro Pass).
Many of the shuttle companies will offer shuttles to the top of Burro Pass in the summer (unless there's still snow) but keep in mind that temps in Moab can reach into the 100°s.
We rode part of The Whole Enchilada as part of our Telluride to Moab trip in August and the temps were brutal.
What To Bring
Bring what you would bring for a normal mountain bike ride, plus a little extra:
For a complete list of what mountain bike gear to pack for your trip to Moab, head over to my Complete Mountain Bike Trip Packing List and Mountain Bike Pack Essentials posts.
Shop my favorite mountain bike gear
Final thoughts
The Whole Enchilada is one of my favorite trails in Moab (and across the US!) for its unique terrain, challenging features, and all-day epic appeal.
But this trail should not be taken lightly. Bring more water and food than you think you'll need and respect your skill and fitness levels. This is not a trail for everyone. If you don't do it this year, hit it next time you're in Moab when you've honed your skills and fitness.
Have fun!
Looking for more great riding around Moab? Check out these related blog posts:
Have you ridden The Whole Enchilada in Moab? Did you choose Burro Pass or Hazard down? Do you think this trail lives up to the hype? Leave a comment below!
Was this post helpful?
Consider 'buying me a coffee!'