Ultimate Guide to Mountain Biking in Sedona
Discover the best mountain biking in Sedona including top trails to ride, how to link up trails, where to eat, bike shops, and more.
There's a good chance that affiliate links are scattered throughout this post. If you click on one I may receive a small commission at no extra charge to you and I'll definitely be using it to buy bike gear.
Sedona is hands-down one of my absolute favorite places to ride. The incredible landscape, vast network of trail, grippy red rock, and fast dirt make it a mountain bikers playground. Give me the option of riding anywhere in the US and I'd probably choose Sedona.
If it's your first (or even second or third) time vising Sedona to ride, knowing which trails to choose and how to link them up can be pretty overwhelming. In this post, I share my favorite routes and a few tips to help you make the most of your mountain bike trip to Shredona.
Why mountain bike in Sedona?
For so many reasons! Sedona is one of my favorite places to ride because it has so many awesome things going for it:
Just to name a few. I tell everyone I meet – if you can only ride one place out west make it Sedona. It's so good!
Watch Nate Hills ride some of his favorite trails in Sedona
Important Things to Know
Mountain biking in Sedona is awesome, but there are a few things to know before hitting the trails:
Mountain Biking Guide to Sedona
Now to the fun stuff! The riding in Sedona is broken up into five main mountain biking networks:
Village of Oak Creek
Dry Creek/Western Gateway
Adobe Jack
Broken Arrow/Schnebly Hill
Carroll Canyon
Village of Oak Creek
The Village of Oak Creek is not technically Sedona, but it's only a short 20-minute drive away (or hour-long slog if traffic is terrible…) VOC, as it is locally known, has some of the best mountain biking in Sedona and some of the best views.
You'll find the iconic Bell Rock here as well as the famous Hiline trail. If you only have a few days in Sedona, definitely start in the Village of Oak Creek.
Best trails to ride in VOC
VOC Route Recommendation:
1. Llama – Slim Shady – Easy Breezy
This route is a nice warm-up to mountain biking in Sedona. There's a little bit of everything from slickrock riding, moderate tech, and awesome views.
Route directions: Little Horse Parking > Bell Rock Path > Little Horse > Llama > Templeton > Hermit > Coconino > Slim Shady > Templeton > Easy Breezy > HT Trail > Bell Rock Path
Route notes: This loop is mostly a blue intermediate route, but it does have some challenging features that may need to be walked or sessioned.
Do more: Add a fun descent to this ride by taking a left onto Slim Shady from Coconino. This will be an out-and-back, but this descent down Slim Shady is super fun and flowy and the climb back up is pretty mellow. This out-and-back will add about 2.5 miles and 400 ft of climbing.
VOC Route Recommendation:
2. Hiline Loop
Hiline is one of the must-ride trails in Sedona for experienced riders. The climb is techincal with some exposure and the last quarter-mile has some steep, rocky riding.
Route directions: Yavapai Point Parking > Coconino > Hiline > Baldwin > Templeton > Hermit
Route notes: This route is only for experienced riders. Also, there is a not-so-fun climb to make it a loop. If you want to skip Templeton, you can take Valley Verde School Road back to the Village of Oak Creek.
Do more: If you want to extend your ride, take HT trail up to Llama on the other side of the highway
Alt route: This is another good way to link up Hiline if you want to make it a bit longer and end on a downhill.
Learn more: Head over to my Hiline trail guide to learn more about what to expect.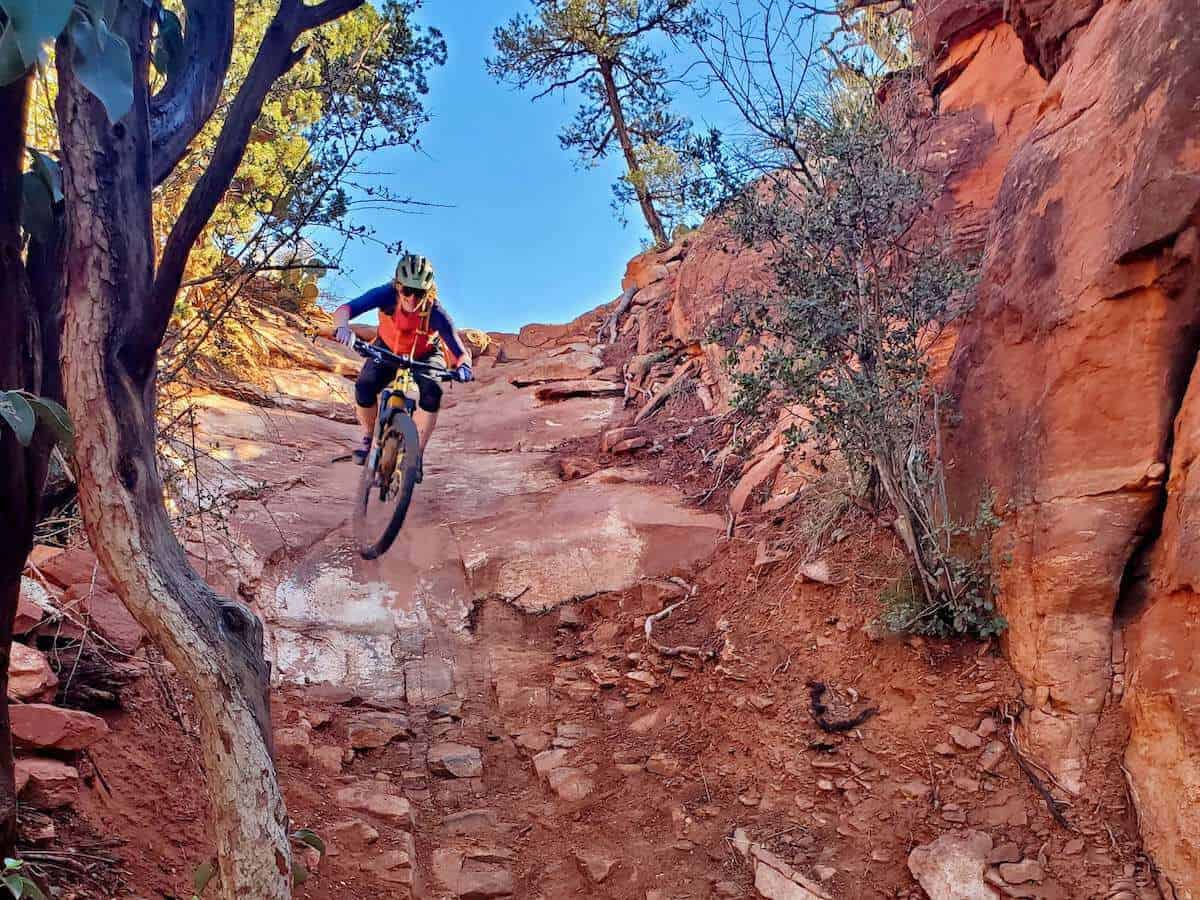 need help planning your trip?
Download a 5-Day Sedona MTB Itinerary
Get a detailed Sedona Mountain Bike Itinerary complete with:
Add To Cart
Dry Creek/Western Gateway
Dry Creek and Western Gateway are the trail networks northwest of town. This area is more cross-country and has less tech (although there's some of that here too). There has actually been a lot of recent trail development happening here in the last few years, including the new trail Bottom Out.
If you're looking for longer days out in the saddle or you're more of a beginner rider, I recommend heading to Dry Creek in the north.
If you're looking for a bit more tech, some of the Western Gateway trails are a bit of a step up.
Best trails to ride in DRy creek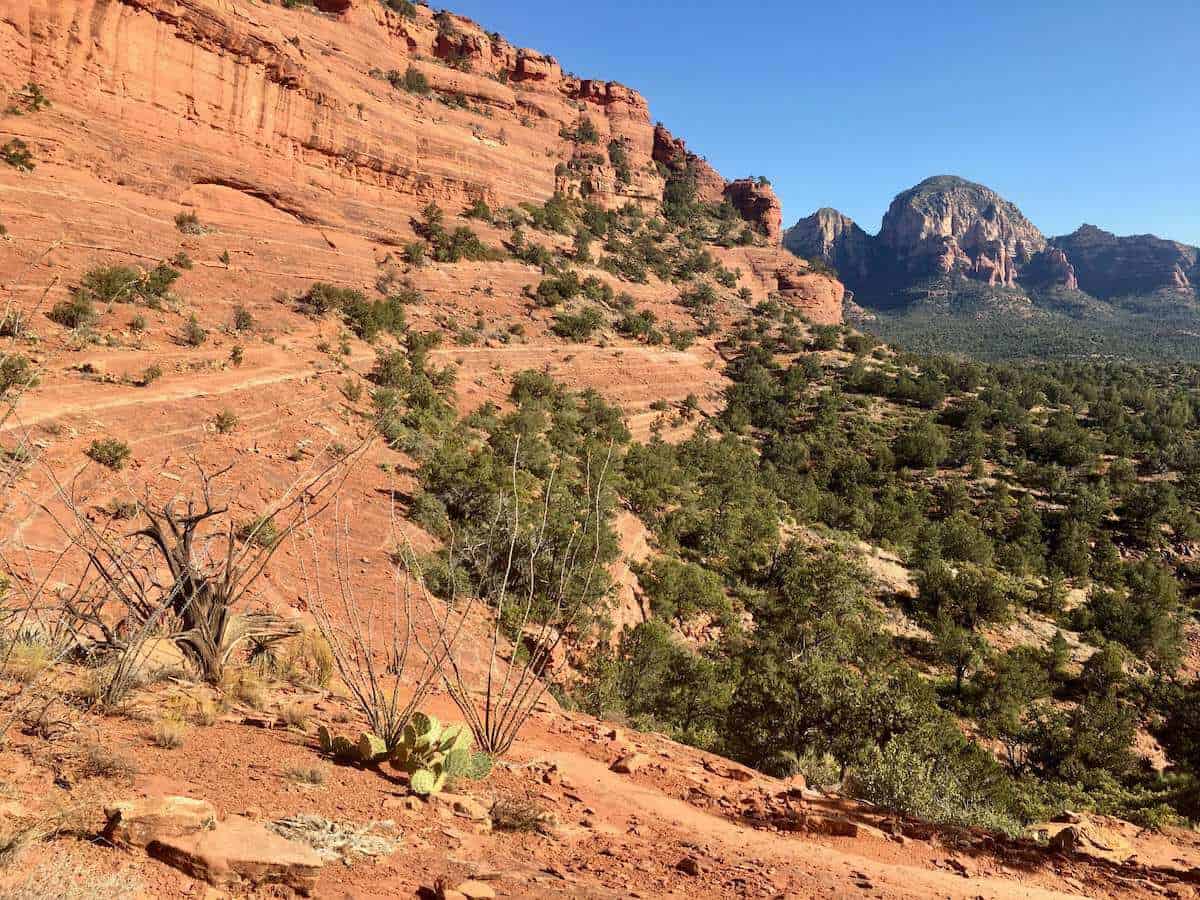 Dry creek route recommendation:
1. Mescal Loop
Mescal is one of my favorite trails for its beautiful views and slickrock riding. It's got a few technical moves, but nothing overly challenging for an intermediate rider.
Route directions: Dry Creek Trailhead > Chuckwagon > Mescal > Deadman's Pass > Aerie (lower) > Cockscomb > Dawa > Ok > AZ Cypress > Snake > Girdner
Make it easier: Skip the Chuck Wagon loop, which has a few techy bits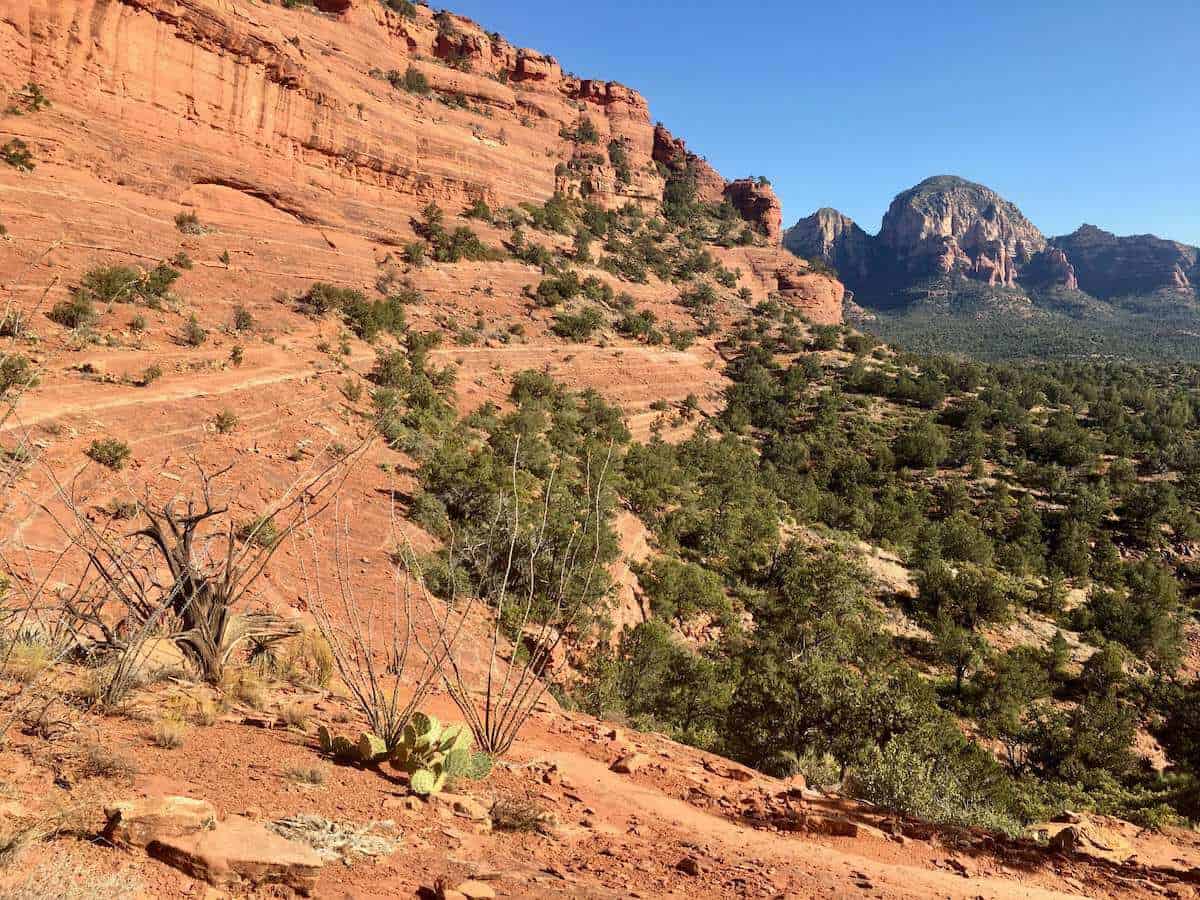 Western Gateway route recommendation:
2. NW Sedona Loop
I haven't ridden this exact loop, but I have ridden most of the trails in it. It's a good cross-country ride with the option to add some tech if you'd like. 17 miles is a big day in Sedona, though, so make sure you're prepared with lots of water, snacks, and repairs.
Route directions: Cultural Park Trailhead Parking > Girdner > Stirrup > Saddle Up > Girdner > Axis > Girdner > Axis > Rover > Rupp > Cockscomb > Outer Limits > (optional Ground Control) > Last Fronteir > Outer Limits
Make it easier: Skip Last Frontier and stay on Outer Limits
Make it shorter: There are lots of ways to make this route shorter:
If you want shorter and more technical, skip the fluff and focus on Ground Control, Last Frontier, and maybe add Bottom Out at the end
If you want shorter and less technical, take Girdner to Axis to Outer Limits
Adobe Jack
Adobe Jack is a great place for a quick ride or multiple loops if you want to lap Grand Central (so fun!) or Javelina. It's also a nice place to be when traffic in and out of Sedona is maddening.
The Sedona Bike Park is also located near Adobe Jack, so you can do a lap on Grand Central or Javalina and then hit up the skills park.
Best trails to ride in Adobe Jack
Adobe Jack route recommendation:
1. Central Sedona Rip
A 'spicy blue', this is one of my favorite rides. There are two climbs up Adobe Jack and two descents. Javelina is a bit mellower and a bit pedally while Grand Central is fast, flowy, and techy.
Route directions: Adobe Jack Parking > Adobe Jack > Jordan > Javelina > Grand Central/Coyote > Adobe Jack > Grand Central > Crusty
Do less: Do only one lap on either Javalina or Grand Central.
Broken Arrow/Schnebly Hill
These two networks aren't technically connected, but I'm mentioning them as one because they have similar very challenging riding. Broken Arrow is home to the Hog Trails, which are super fun, but very technically challenging with the potential for high consequences.
Nearby Schnebly Hill is home to Hangover trail, which is also an expert-only trail with extreme exposure.
If you're an advanced rider, these are two great trail networks. If you're newer to mountain biking, I recommend skipping them.
Best trails to ride in Broken Arrow
Broken Arrow Route Recommendation:
1. Broken Arrow to the Hogs
This is one of my favorite rides in Sedona. It's got a bit of everything from awesome views to a whole lot of tech. From Chicken Point, you can also see where the crazies ride the White Line.
Route directions: Broken Arrow Parking > Broken Arrow > Submarine Rock > Broken Arrow > Chicken Point > High on the Hog > Hog Heaven > Pig Tail > Peccary > Hogwash
Route notes: Don't estimate this ride. Even though the mileage and elevation gain are on the shorter side, it's quite technical and a bootcamp for the legs.
Do more: If you still have juice at the end, hop back on Hog Heaven and hit Pig Tail again!
Schnebly Hill Route Recommendation
2. Hangover loop
Hangover is pretty technical in places, but the thing to know most about this trail is that the exposure is no joke. There are a few places where you do not want to fall. Walk if you need to.
Route directions: Munds Wagon Parking > Munds Wagon > Cow Pies > Hangover > Munds Wagon
Alt option: The lookout at the start of Hangover is really beautiful, so you can just take the Munds Wagon trail (which honestly isn't that fun), to the saddle for the views, and then come back down Munds Wagon.
Carroll Canyon
Carroll Canyon kind of feels like the black sheep of Sedona mountain biking because it's not quite as well known or ridden. That being said, it's a locals favorite and there are some awesome trails.
If you've already hit the other trail networks or you're looking to get away from the crowds, head over to Carrol Canyon and ride Scorpion, Herkenham, and Ridge.
I honestly haven't found the best way to link up these trails. There isn't a good climbing trail, so if you ride here be prepared to work for your descents!
Carroll Canyon Route Recommendation
1. CRLCYN 4
I honestly haven't found the best way to link up these trails. This route hits two of the best descents: Pyramid and Ridge, but the climb up Old Post (twice) is…. questionably 'fun'.
Route directions: Schueman Parking > Scorpion > Pyramid > Old Post > Carroll Canyon > Ridge > Secret Slickrock > Ridge > Old Post > Skywalker
Make it shorter and easier: Another fun and less technical loop would be to take Scorpion (skip Pyramid) to Old Post to Herkenham, which is a really fun downhill. Finish by climbing back up Old Post or taking the road back to the car.
Getting Around
If you don't have a car while you're in Sedona, check out Sedona Shuttle and Verde Shuttle. Both lines have bike racks for three bikes and offer dropoffs at major trailheads, including the Village of Oak Creek.
If you do have a car, opting to take the shuttle will help cut down on traffic! You also won't have to pay the Red Rock Pass fees.
Flying in? Check out my guide for flying with a bike.
Best Time To Ride in Sedona
Sedona can technically be ridden year-round since it only occasionally sees snow. However, that being said, temperatures can be extreme during the mid-summer and mid-winter months.
It's not uncommon for summer temps to top 100° and Dec/Jan lows tend to be around 34°.
The best time to ride Sedona – in my opinion – are the shoulder seasons – March to May and September to November.
Looking for more fun things to do?
Check out these popular tours in Sedona
Final Thoughts
The mountain biking in Sedona is world-class. In fact, a lot of things in Sedona are world-class from the views, the food, the tucked-away spots, and more.
It's one of my favorite places to visit for mountain biking and I think you'll love it as well.
I hope this post helps you plan an unforgettable trip!
Heading out on a road trip? Check out these related blog posts on biking in Arizona:
What are your favorite trails to ride in Sedona? Do you have a favorite mountain bike link-up? Let us know in the comments!
Shop my favorite mountain bike gear