A Complete Guide to Mountain Biking in Sedona, Arizona
There's a good chance that affiliate links are scattered throughout this post. If you click on one I may receive a small commission at no extra charge to you and I'll definitely be using it to buy bike gear.
Sedona is hands-down one of my absolute favorite places to ride. The incredible landscape, vast network of trail, grippy red rock, and fast dirt make it a mountain bikers playground. Give me the option of riding anywhere in the US and I'd probably choose Sedona.
If it's your first (or even second or third) time vising Sedona to ride, knowing which trails to choose and how to link them up can be pretty overwhelming. In this post, I share my favorite routes and a few tips to help you make the most of your mountain bike trip to Shredona.
Important Things To Know
Trails are multi-use
Most trails in Sedona are open to mountain bikers, hikers, horses, and OHV's (on designated roads and trails). Please be courteous when passing and share the trails.
I actually find Sedona hikers to be some of the most accepting of mountain bikers, so let's try to keep it that way.
Most trailhead parking requires a day-pass
If you're driving to a trailhead parking area most – but not all – require a Red Rock Pass. There are self-serve fee stations at the parking areas where you can purchase your pass.
Red Rock Pass prices are:
– $5 per day
– $15 per week
– $20 for a year
The money goes back into the trails and maintaining the beautiful landscape of Sedona.
Traffic can be terrible
Like beat-your-head-against-the-steering-wheel, terrible. There are only two-lane roads coming in and out of Sedona and even though there are half a dozen roundabouts to keep traffic moving, the roads can still get backed up pretty badly.
If you're visiting on a weekend or holiday, expect to add at least 20 minutes (probably more) to your drive to/from the trailheads.
It gets very hot during the summer months
Summer isn't the best time to visit Sedona for mountain biking, but if you do, be prepared. Bring plenty of water, sunscreen, sun protection, and electrolyte drinks.
Sedona is actually at a pretty high elevation
Sedona is situated at 4,350 feet, which is relatively high depending on where you're coming from. Take it easy the first day or two and drink lots of water.
Know your skill level
Sedona definitely has some high-stake riding, so know and respect your skill level. There is potential for some high consequences. I'm sure many a mountain bikers have used the services of the local hospital.
Related: The Best Beginner Mountain Bike Trails in Sedona
When To Visit
Sedona can technically be ridden year-round since it only occasionally sees snow. However, that being said, temperatures can be extreme during the mid-summer and mid-winter months.
It's not uncommon for summer temps to top 100° and Dec/Jan lows tend to be around 34°.
The best time to ride Sedona – in my opinion – are the shoulder seasons – March to May and September to November.
Mountain Biking Guide to Sedona
The riding in Sedona is broken up into five main mountain biking networks:
Village of Oak Creek
Dry Creek/Western Gateway
Adobe Jack
Broken Arrow/Schnebly Hill
Carroll Canyon
Village of Oak Creek
The Village of Oak Creek is not technically Sedona, but it's only a short 20-minute drive away (or hour-long slog if traffic is terrible…) VOC, as it is locally known, has some of the best mountain biking in Sedona and some of the best views.
You'll find the iconic Bell Rock here as well as the famous Hiline trail. If you only have a few days in Sedona, definitely start in the Village of Oak Creek.
Best trails to ride:
Llama: A great pedally cross-country trail and a good introduction to mountain biking in Sedona. Most of Llama is pretty mellow pedaling but there are a few features that come up quickly and might need to be walked for newer riders. It also has great views of Courthouse Butte.
Slim Shady: Has one of the best descents in Sedona if you start from the north end. It's fast and flowy with lots of whoop-de-whoops to boost and play off of. This is also a great climb trail if you want to get up to Hiline.
Baldwin Loop: Located in a quieter area of Sedona (although 'quiet' is a relative term for Sedona) so it's a good place to head if you're looking to get away from the crowds. I only recently rode the full Baldwin Loop and I thought it was a blast. There are definitely some techy climbs to session as well as a chunky descent with multiple alt lines. A lot of mountain bikers do a section of Baldwin as part of their Hiline ride (see below), but this loop is great for those who aren't up for the Hiline tech or have already tackled it. The Baldwin Loop is best ridden counterclockwise.
Hiline: I love Hiline. The climb up is mellow(ish) and has some fun uphill rock gardens to session at the start. Try not to dab! The top of the climb ends at a flat plateau with amazing views out over Cathedral Rock. The initial descent from the top is a super fun slickrock riding that has great flow and speed. Then you get into the real stuff. The last quarter mile or so of Hiline is the most challenging with a steep, loose chute that leads into a gnarly rock ladder and boulder roll that took me a few times to get the courage to roll.
VOC Route Recommendation:
1. Llama – Slim Shady – Easy Breezy
Route directions: Little Horse Parking > Bell Rock Path > Little Horse > Llama > Templeton > Hermit > Coconino > Slim Shady > Templeton > Easy Breezy > HT Trail > Bell Rock Path
Route notes: This is a great intro loop to Sedona riding with awesome views and fun singletrack. Llama is mostly a blue intermediate trail, but it does have some challenging features that may need to be walked or sessioned.
Do more: Add a fun descent to this ride by taking a left onto Slim Shady from Coconino. This will be an out-and-back, but this descent down Slim Shady is super fun and flowy and the climb back up is pretty mellow. This out-and-back will add about 2.5 miles and 400 ft of climbing.
VOC Route Recommendation:
2. Hiline Loop
Route directions: Yavapai Point Parking > Coconino > Hiline > Baldwin > Templeton > Hermit
Route notes: Hiline is one of the must-ride trails in Sedona, but it's definitely got some challenging sections. That being said, really only the last quarter-mile of the trail that is the most technical.
Do more: If you want to extend your ride, take HT trail up to Llama on the other side of the highway
Dry Creek/Western Gateway
Dry Creek and Western Gateway are the trail networks northwest of town. This area is more cross-country and has less tech (although there's some of that here too). There has actually been a lot of recent trail development happening here in the last few years, including the new trail Bottom Out.
If you're looking for longer days out in the saddle or you're more of a beginner rider, I recommend heading to Dry Creek in the north.
If you're looking for a bit more tech, some of the Western Gateway trails are a bit of a step up.
Best trails to ride:
Mescal: I'll go out on a limb and say that Mescal is one of the most beautiful trails in Sedona. It runs along the base of Mescal Mountain and a good portion of it is on red slickrock. Take a few moments to look back from where you came from, the views are epic! Mescal is not super technical, but there is some minor exposure and tricky maneuvers that may need to be walked for beginner/intermediate riders. In my opinion, the best way to ride it is east to west, which is the opposite of what TrailForks suggests.
Canyon of Fools: Different from anything else in Sedona, Canyon of Fools is a narrow canyon that feels like a slalom course for bikes. Keep your speed up and get your flow on! There are a couple of offshoots throughout the canyon, but they all lead to the same place so choose your own adventure. Just don't head to Canyon of Fools after heavy rain or on a day when there is a flash flood warning.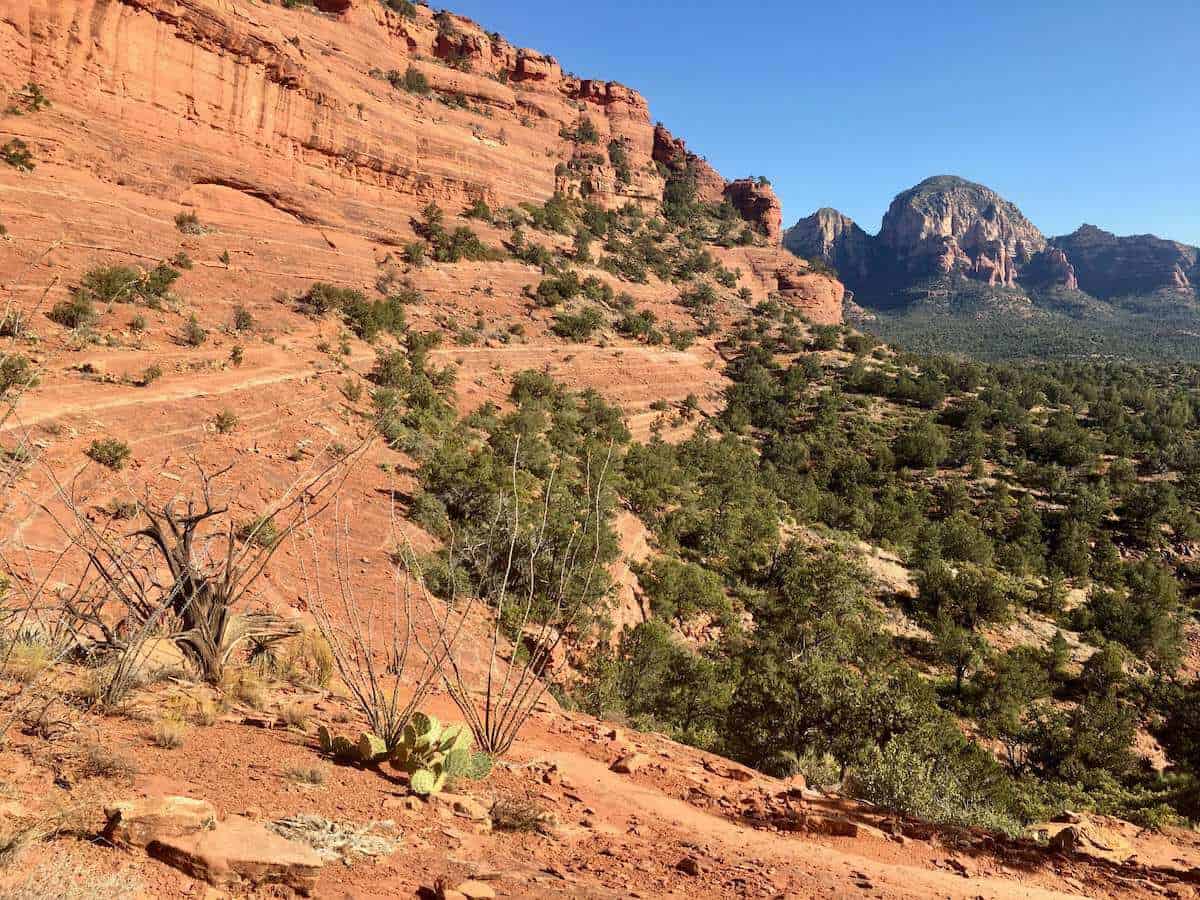 Dry creek route recommendation:
1. Mescal Loop
Route directions: Dry Creek Trailhead > Chuckwagon > Mescal > Deadman's Pass > Aerie (lower) > Cockscomb > Dawa > Ok > AZ Cypress > Snake > Girdner
Route notes: Mescal is one of my favorite trails for its beautiful views and slickrock riding. It's got a few technical moves, but nothing overly challenging for an intermediate rider.
Make it easier: Skip the Chuck Wagon loop, which has a few techy bits
Adobe Jack
Adobe Jack is a great place for a quick ride or multiple loops if you want to lap Grand Central (so fun!) or Javelina. It's also a nice place to be when traffic in and out of Sedona is maddening.
The Sedona Bike Park is also located near Adobe Jack, so you can do a lap on Grand Central or Javalina and then hit up the skills park.
Best trails to ride
Grand Central: This is one of my new favorite trails in Sedona. Grand Central has great views and an amazing descent for not much climbing effort (although the last bit up to the top is a grunt, but totally worth it). The descent is fast and flowy with a few techy rock gardens
Javelina: Another fun descent down from the top of Adobe Jack. It's a bit more pedaly and less technical than Grand Central.
Adobe Jack route recommendation:
1. Central Sedona Rip
Route directions: Adobe Jack Parking > Adobe Jack > Jordan > Javelina > Grand Central/Coyote > Adobe Jack > Grand Central > Crusty
Route notes: A 'spicy blue', this is a great favorite ride. There are two climbs up Adobe Jack and two descents. Javelina is a bit mellower and a bit pedally while Grand Central is fast, flowy, and techy.
Do less: Do only one lap on either Javalina or Grand Central.
Broken Arrow/Schnebly Hill
These two networks aren't technically connected, but I'm mentioning them as one because they have similar very challenging riding. Broken Arrow is home to the Hog Trails, which are super fun, but very technically challenging with the potential for high consequences.
Nearby Schnebly Hill is home to Hangover trail, which is also an expert-only trail with extreme exposure.
If you're an advanced rider, these are two great trail networks. If you're newer to mountain biking, I recommend skipping them.
Best Trails to Ride
Little Horse: Little Horse is a great descent down from the picturesque Chicken Point. It's not too technical aside from a few features, but it's beautiful and has awesome flow. The most challenging section is a little rock garden chute that may need to be walked or sessioned.
Submarine Rock: Submarine Rock is a great short out-and-back trail that ends at a huge slab of red rock with amazing views. Definitely pedal out there if you're riding the Broken Arrow trail up to Chicken Point. You won't be disappointed!
Hangover: One of the three "pro" trails in Sedona, Hangover isn't terribly technical in difficulty (although there are definitely some challenging features), but it does have the most exposure out of any trail in Sedona. There are some places where you do not want to fall. Fall = Die. Be prepared to walk some sections. If you are an advanced rider, this is a fun trail with incredible views and a really fun, long rock slab section at the end. (If you want to see the amazing views from the saddle at the start of Hangover, you can do Munds Wagon as an out-and-back. It's not that great of a climb, but the result is these views).
The Hog Trails (High on the Hog, Hog Heaven, Pig Tail): The Hogs are my second favorite trails after Hiline and I would argue that they're the most technical out of all the Sedona trails. High on the Hog and Hog Heaven are pretty challenging and they have some exposure, so only attempt them if you're a confident rider. That being said, these trails are super fun and you can link up a great loop from the Broken Arrow parking area (see below). Pig Tail is a fun jump line at the end that can easily be lapped.
Broken Arrow Route Recommendation:
1. Broken Arrow to the Hogs
Route directions: Broken Arrow Parking > Broken Arrow > Submarine Rock > Broken Arrow > Chicken Point > High on the Hog > Hog Heaven > Pig Tail > Peccary > Hogwash
Route notes: This is one of my favorite rides in Sedona. It's got a bit of everything from awesome views to a whole lot of tech. From Chicken Point, you can also see where the crazies ride the White Line.
Don't estimate this ride, though. Even though the mileage and elevation gain are on the shorter side, it's quite technical and a bootcamp for the legs.
Do more: If you still have juice at the end, hop back on Hog Heaven and hit Pig Tail again!
Schnebly Hill Route Recommendation
2. Hangover loop
Route directions: Munds Wagon Parking > Munds Wagon > Cow Pies > Hangover > Munds Wagon
Route notes: Hangover is pretty technical in places, but the thing to know most about this trail is that the exposure is no joke. There are a few places where you do not want to fall. Walk if you need to.
Alt option: The lookout at the start of Hangover is really beautiful, so you can just take the Munds Wagon trail (which honestly isn't that fun), to the saddle for the views and then come back down Munds Wagon.
Carroll Canyon
Carroll Canyon kind of feels like the black sheep of Sedona mountain biking because it's not quite as well known or ridden. That being said, it's a locals favorite and there are some awesome trails.
If you've already hit the other trail networks or you're looking to get away from the crowds, head over to Carrol Canyon and ride Scorpion, Herkenham, and Ridge.
MTB Gear I Love
Sedona Bike Shops, Rentals, & Tours
Thunder Mountain Bikes
Location: West Sedona
Mountain bike brands: Evil, Ibis, Juliana, Revel, Santa Cruz, Trek, Rocky Mountain, Liv
Kid's mountain bikes? Yes
Full-day rental price: $50-$120
Multi-day discount? Yes
Additional info: Also rent car racks and tailgate pads
Website: Thunder Mountain Bikes
Bike & Bean
Location: Village of Oak Creek
Mountain bike brands: Niner, Santa Cruz, Kona
Kid's mountain bikes? Yes
Full-day rental price: $60-$90
Multi-day discount? Yes
Additional info: In-house coffee shop
Website: Bike & Bean (their website rental check out is confusing, I would call to reserve)
Absolute Bikes
Location: Village of Oak Creek (also Flagstaff)
Mountain bike brands: Specialized, Marin, Pivot, Yeti
Kid's mountain bikes? Yes
Full-day rental price: $40-$90
Multi-day discount? Yes
Additional info: Bike rack and tailgate pad rentals, night before pick-up for $30
Website: Absolute Bikes
Enchantment Resort
If you're staying at the Enchantment Resort (lucky you!) you can rent a mountain bike from their Trail House.
Location: Boynton Canyon
Mountain bike brands: Pivot
Kid's mountain bikes? No
Full-day rental price: $135
Multi-day discount? No
Additional info: Must be a guest at the resort
Website: Enchantment Resort
Trail Lovers Sedona
Choose from a variety of tours from private, solo, and even night rights with local Sedona guides. They also offer hiking tours as well.
Website: Trail Lovers Sedona
Hermosa Tours
A fantastic mountain bike tour company with a branch in Sedona. They do day tours as well as self-guided trips with support options.
Website: Hermosa Tours
Sedona Mountain Bike Academy
Want to hone your mountain biking skills while in Sedona? The Sedona Mountain Bike Academy has got you covered with lessons, clinics, and group rides.
Website: Sedona Mountain Bike Academy
Getting Around
If you don't have a car while you're in Sedona, check out Sedona Shuttle and Verde Shuttle. Both lines have bike racks for three bikes and offer dropoffs at major trailheads, including the Village of Oak Creek.
If you do have a car, opting to take the shuttle will help cut down on traffic! You also won't have to pay the Red Rock Pass fees.
Where To Eat & Drink
Sedona has some great restaurants. Here are a few of my favorites:
Elote: The food is great, the hype is a bit overrated. Elote does serve amazing Mexican cuisine, but I feel like it's been 'discovered' and the hour+ wait (they don't take reservations) takes a chunk out of the experience
Pump House Station: The best burger in Sedona! Plus they serve homemade ice cream…
Tamaliza: An authentic tamale experience
Casa Sedona Restaurant: located in the Casa Sedona Inn, this breakfast joint serves amazing and hearty pre-ride fuel. Reservations are required if you're not staying at the Inn
Hiro's Sushi and Japanese Kitchen: really good and fresh sushi plus tasty Japanese dishes from the kitchen
Sedona Memories Bakery: the best sandwiches in town
Indian Gardens: located up Oak Creek Canyon, Indian Gardens is probably a little out of your way to visit, but it's totally worth it. They're only open for breakfast and lunch but they also have sandwiches and such to go. The closest trail is Hangover, so stop here on your way there.
Mountain Bike-Friendly Accommodations
Camping
Surprisingly, there's not a ton of camping in and around Sedona. Most of the best sites are up Oak Creek Canyon.
Dispersed Camping: There are numerous dispersed sites along Loy Butte Rd and Boynton Pass Rd. It does get pretty busy, but usually you can find a spot although you'll likely be sharing the area with someone else.
There is also dispersed camping on Schnebly Hill Road, which has quick access to Hangover Trail.
Pine Flat Campground: One of the most popular campgrounds in Sedona. Located up Oak Creek Canyon, it sits on the river and has 56 sites. Definitely make reservations ahead of time.
Manzanita Campground: A beautiful campground located up Oak Creek Canyon with 18 sites. Tents only. Open year-round. Make Reservations.
Cave Springs Campground: Another campground located up Oak Creek Canyon with spectacular views of the red rocks. 84 sites. Make Reservations
Hotels
The Red Agave is situated right at the base of Slim Shady and therefore central to many of the trails in the Village of Oak Creek.
Sedona Reāl is also mountain biker-friendly and they welcome furry friends, too.
Last but not least, Arabella Hotel is one of my go-to hotels in Sedona for its amazing hospitality and mountain biker-friendly staff.
Related posts:
What are your favorite trails to ride in Sedona? Do you have a favorite mountain bike link-up? Let us know in the comments!