How To Fly With a Bike & The Best Airlines to Choose
Learn helpful tips on how to fly with a bike including the best airlines to choose, tips for packing a bike bag, baggage fees, and more.
There's a good chance that affiliate links are scattered throughout this post. If you click on one I may receive a small commission at no extra charge to you and I'll definitely be using it to buy bike gear.
Do you have an awesome bike trip planned, but not sure how to fly with a bike? No worries, I've got you covered! Flying with a bike can be an intimidating experience if you've never done it before. But despite its potential pitfalls, it's much nicer to have your own bike on a trip rather than rent one, am I right?
I've flown with my bikes many times – across the US and internationally – and even though it can be a bit of a hassle, it's definitely worth it.
And truthfully, it's actually quite safe. Your bike probably sees more abuse from you riding it than it will from luggage handlers handling it (100% true if you're a mountain biker).
In this post, I share my top tips for flying with a bike including how to pack it safely, which airlines to choose, and what to do if something goes wrong.
Read next: Rather ship your bike? Learn everything you need to know about how to ship a bike.
How much does it cost to fly with a bike?
This is the burning question, right? I wish I could give you a straight answer, but your total cost of flying with a bike varies.
The total cost will really depend on several factors including:
Weight: The weight of your bike and bike bag/box together will be the biggest determining factor. Many airlines will waive the overweight fee for bikes under 50 lbs, but this depends entirely on the airlines (see airline fees below).
Dimensions: If a bike bag or box is considered 'oversize' you'll have to pay extra fees. Bike bags/boxes are measured in linear inches, which is Length + Width + Height.
The airline you're flying: Every airline has its own rules and feeds. Some are more bike-friendly than others.
Your destination: Depending on the airline, you may pay a different price whether you're flying domestically or internationally
How can I avoid Overweight fees?
Oversize and overweight fees when traveling with a bike can be brutal. While there's only so much you can do to avoid them, here are a few tips:
Don't use a hard-sided bike case. These are very heavy and will almost always result in overweight fees.
Only pack your bike in the bicycle bag to make it as light as possible. I used to pack clothes and tools in there as well but was always over the weight limit and had to pay overweight fees, which can be as high as $200 one-way!
Purchase extra baggage ahead of time. Some airlines offer discounts for purchasing your bags prior to arriving at the airport, which can help you save on fees.
Check two (or more) bags. It's actually usually cheaper to check multiple bags that are under the weight limit than a bike bag that is over. Remove as many bike components (like pedals) as you can and check them in a separate bag. You can also pack your wheels in their own wheel bag and check them separately, too.
Packing options: Bike Box or Bike Bag?
When taking your bike on a plane you'll need to back it in something – usually a cardboard bicycle box, a hard-shell bike case, or a soft-sided bike bag.
There are pros and cons to each:
Cardboard bike box
Soft bike bag
Hard-sided bike case
So which of these is better?
Personally, I used a soft-sided Dakine Bike Roller Bag and haven't had any issues throughout my travels – domestically and internationally. I also spend a good amount of time making sure it's packed well (see packing tips below).
Bike bags and cases are better for travel than cardboard boxes because they provide more protection and the wheels make them much easier to lug around.
Unless you're doing a one-way bike trip (in which case you'll need to discard a bike box upon landing and secure a new one before take-off), a bike bag is definitely the way to go.
How to Pack your bike for air travel
The key to a successful trip really comes down to how well you pack your bike. The more time and thought you put into preparing it correctly, the less likely you'll run into problems.
Here's a general breakdown for packing up your bike:
1. Disassemble your bike
In order to fit your bike in your bike bag or box, you'll need to partially disassemble it. How much you disassemble your bike depends on how big your dedicated bike bag is and how secure you want your bike to be.
In general, the more you take your bike apart, the better protected it will be. But also remember you'll need to put it back together on the other end!
If it's your first time packing up a bike, spend some time watching YouTube videos, and don't leave this packing job until the last minute. I typically reserve 1-2 hours to pack up my bike.
If you don't want to pack up your bike yourself, bike shops will do it for you for a small fee. Just give them a few days' heads up.
Get a Bike Bag Packing Checklist
Not sure how to pack your bike? Get a printable checklist when you join my newsletter.
2. Pad & protect your bike
To make sure your bike is well padded, use bubble wrap and light packing materials when packing it up. You can use masking tape to wrap packing material around the frame and components like the rear derailleur, handlebars, and cranks.
The more padding you have, the less likely you're bike will get damaged during transit.
I like to use the foam noodles that new bikes come with. If you didn't save any from your last bike purchase, ask your local bike shop for some.
You can also purchase reusable packing protection like the Orucase Frame Protection Kit.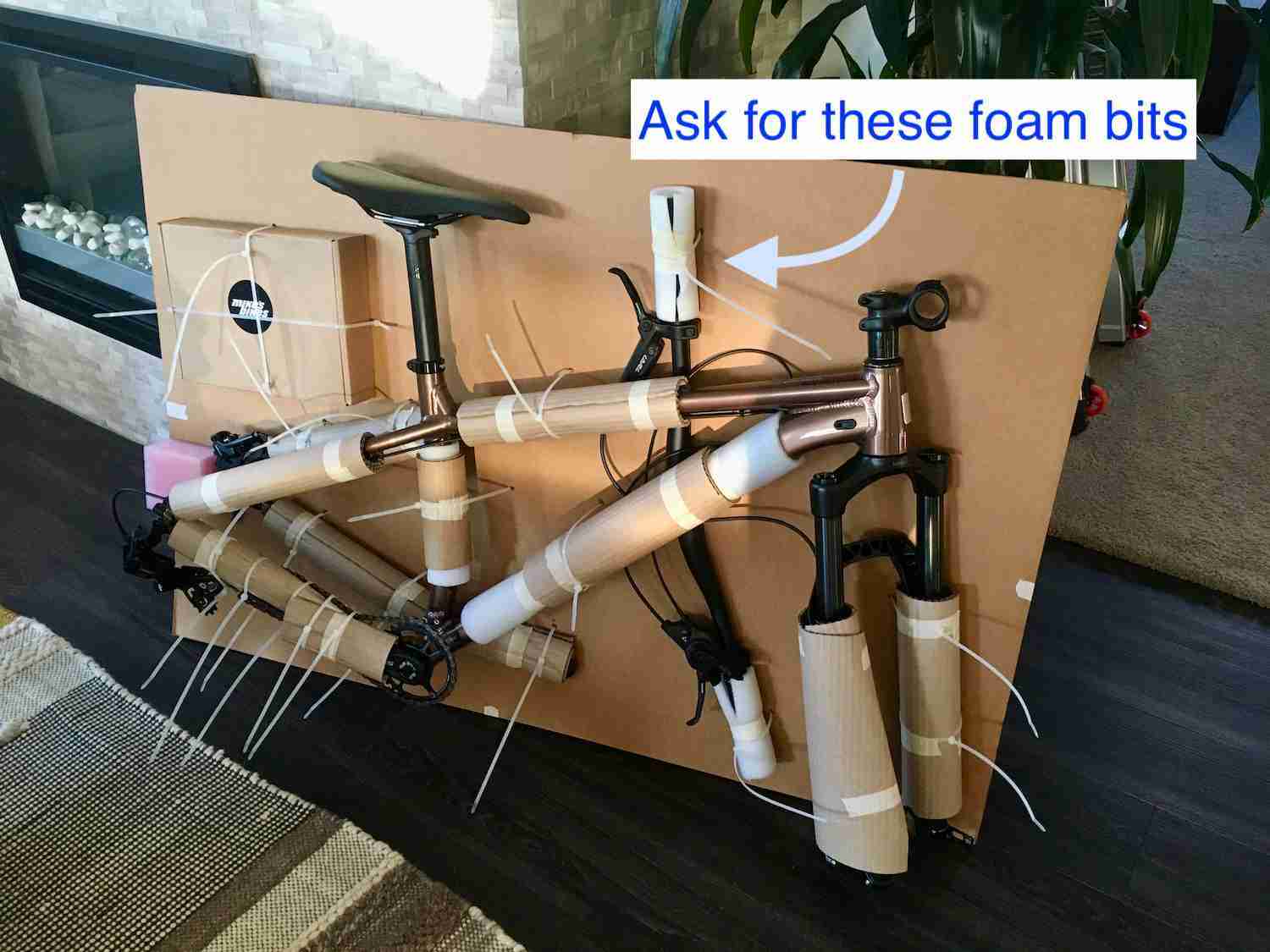 What if my bike gets damaged?
There is a chance that your bike will get damaged or lost during transit, just like any other piece of luggage.
When I fly with my bike I always purchase travelers insurance through World Nomad. The 'Explorer' tier includes $5,000 for damage to personal items, including sporting equipment. This may not cover the full cost of your bike, but it will cover some.
If you want full coverage, Sundays Insurance provides coverage for athletes' equipment in the US and abroad.
Airlines will also reimburse you for damage, but you typically have to submit a claim within just a few days of your flight, which is really annoying.
Major Airline Policies
To avoid getting hit with an outrageous bike fee or being denied a space for you bike on the plane, you want to do some research ahead of time so you know what the airline policies and rules are.
You can typically find bike policies under the 'special baggage' or 'sporting equipment' section on the airline's website. It's a good idea to print these out to make sure the airline honors them at the check-in counter.
Here are a few typical airline policies to keep in mind:
Prior reservations: Some airlines require you to make a reservation for your bike. I failed to do this on my way back from England and British Airways stuck me with a very hefty fine.
Weight and size limits: Bike fees are often based on weight and size (although some airlines have a flat bike fee). If you go over these weight and size limits you'll need to pay extra fees.
I will say that the dimension limits for several airlines are pretty outdated. If your bike is in a standard bike bag or cardboard bike box, I'd be surprised if these airlines charge you extra for being oversized.
Can I fly with an e-bike? No. Most passenger airlines will not accept a lithium battery over 100Wh as checked luggage or carry-on. Most e-bike batteries are at least 3x that or more.
So, unfortunately, most airlines will not allow you to travel with your e-bike.
Airline Bike Fee master guide
Airlines are not all equal when it comes to how bike-friendly they are. In fact, some are downright outrageous, charging and arm and a leg in bike fees.
Personally, my three favorite airlines to use when flying with a bike are Alaska Airlines (no bike fee!), American Airlines (no fee if under 50 lbs), and Delta (also no fee if under 50 lbs).
A note about these fees:
Fees are one-way
Linear inches = Length + Width + Height
e-bikes are not allowed on airplanes due to the lithium batteries
Airline
Bike Fee
Max Weight
Max Dimensions
Notes
Aero–mexico
$75 USD in Mexico
$150 USD Intern.
70 lbs
(32 kg)
80 – 115 linear in depending on plane size
(203-292 linear cm)
Bike bags may be exchanged for one piece of check-in baggage if under weight and length limits
Air
Canada
$50 USD
70 lbs
(32 kg)
115 linear in
(292 linear cm)
Must be pre-registered 24 hours (or more) in advance
Air France
$75-150 USD depending on dest.
50 lbs (23 kg)
118 linear in
(300 linear cm)
Can add bike to "my bookings" section
Air New Zealand
Standard checked bike bag fees
50 lbs (23 kg)
62 linear inches (158 linear cm). This seems very low for bike bags.
If over weight and size, excess bag fees apply, which vary depending on destination. Prepay before you fly for best rates.
Alaska Airlines
Standard checked bag fees
Waived
Waived
Best airline to fly with!
Allegiant Airlines
Standard checked bag fees
40 lbs (18 kg)
80 linear in (203 linear cm)
It'll be hard to get your bike under 40 lbs and 80 linear inches, so expect to pay overweight/size fees
American Airlines
Standard checked bag fees
50 lbs (23 kg)
126 linear in (320 linear cm)
$150 overweight fee if the bike bag is over 50 lbs
British Airways
Standard checked bag fees
50 lbs (23 kg)
138 linear in (350 linear cm)
Must call at least 72 hours before flight. Overweight fees may incur.
Delta Airlines
Standard checked bag fees
50 lbs (23 kg)
115 linear in (292 linear cm)
Extra fees will apply if over 50 lb weight limit
Emirates
Standard checked bag fees
44-110 lbs depending on class
(20-50 kg)
118 linear in (300 linear cm)
Must contact them at least 24 hours in advance
Frontier Airlines
$75 USD
100 lbs (45 kg)
110 linear in (279 linear cm)
Bikes over 100 lbs or 110 linear in will not be accepted
Hawaiian Airlines
$35-$150 USD
50 lbs (23 kg)
115 linear in (292 linear cm)
Extra fees will apply if bike bag is over the size and weight limits
JetBlue
Standard bag fee + $100 USD
99 lbs (45 kg)
Website says 80 linear in. I find that hard to believe
No overweight fees, but bikes over 99 lbs will not be accepted
Lufthansa
Varies depending on dest.
70 lbs (32 kg)
110 linear in (280 linear cm)
A bike reservation of 24 hours or more is strongly recommended
Qantas
Standard checked bag fees
70 lbs (23 kg)
99 linear in (250 linear cm)
Purchase extra baggage allowance ahead of time to save on fees
Southwest
$0-$75 USD
100 lbs (23 kg)
80 linear in (203 linear cm)
If bag is under 50 lbs and 62 linear inches, there is no charge. If bag is 50-100 lbs and 62-80 linear inches, bicycle fee is $75
Spirit
$75 USD
Waived
Waived
Must reserve bike after booking a ticket by visiting your reservation online
United Airlines
Standard checked bag fees
50 – 70 lbs (23-32 kg) depending on status
Waived
Overweight fees will apply if bike is over 50/70 lbs
Virgin Atlantic
Standard checked bag fees
50 lbs (23 kg)
Not specified
Overweight fees will apply if bike is over 50 lbs
WestJet
Standard Bag Fees + $50 Handling Fee
100 lbs (45 kg)
115 linear in (292 linear cm)
Weight is very generous
Pre- & post-flight transportation
One of the biggest hassles when flying with a bicycle is getting to and from the airport. Bike bags are heavy and bulky and they don't typically fit in a normal car. Before you head off on your adventure, be sure to arrange transportation to and from the airport to make your travel as smooth as possible.
Here are a few options for getting you and your bike to and from the airport:
Hotel shuttle: usually airport hotel shuttles are large enough to transport a bike bag/box. You may want to call ahead of time to confirm.
Uber or Lyft XL: If you use Uber or Lyft, be sure to request an XL
Rental cars and trucks: If you're renting a vehicle, reserve a hatchback or open-bed truck. Another option is SeaSucker Bike 'Racks'. These are essentially really strong vacuum cup bike racks that are easy to travel with and can attach to any car or vehicle.
Local transport: sometimes you just gotta go with the flow 🙂
Final Thoughts
Flying with your bike can be daunting and intimidating at first, but it really can open a lot of doors in terms of exploring the world on two wheels.
I've flown with my bike many times and they have (mostly) come out unscathed.
Just be sure to pack your bike well, remove as many components as you can (hello rotors), and maybe bring a few extra spares and tools.
Happy trails!
Looking for more tips on bike travel? Check out these resources:
Have you flown with a bike? Which airlines have you used and what was your experience? What other tips do you have for how to travel with a bike? Leave a comment below!