How To Ship A Bike: Services, Costs + More
Shipping a bike no longer needs to be a hassle or even cost an arm and a leg. There are a number of ways you can get a bike from point A to point B whether you're selling it to a new owner, traveling for a race, moving across the country, or something else.
There's a good chance that affiliate links are scattered throughout this post. If you click on one I may receive a small commission at no extra charge to you and I'll definitely be using it to buy bike gear.
One of the biggest questions people have is how much it will cost and how to pack a bike for transit. In this post, I help answer those question plus provide a few tips and tricks for shipping your bike safely and affordably.
Learn everything you need to know about shipping a bike including how much it will cost, tips for packing your bike, and more.
---
Bike shipping services
You can ship a bike with UPS and FedEx, but it's going to be expensive. I highly recommend using BikeFlights because they have worked out a deal with both carriers to ship bikes more affordably. All you need to do is:
Create a BikeFlights account online
Enter your shipping information (including bike dimensions and weight)
Pack your bike or have a bike shop do it for you
Either drop your bike off at the carrier's store location or arrange to have them pick your packed bike up. If you have a bike shop pack up your bike, they can ship it for you.
Another bike shipping service that I've heard about, but haven't used personally, is Ship Bikes. Due to high fuel costs, however, they are currently only selling bike boxes, not shipping bikes.
If you will be flying to your destination, you can check your bike as luggage on the airplane. This may be more affordable than shipping a bike, especially if you fly on Alaska Airlines, Delta, or American. For more information about flying with a bike, head over to this post.
---
How much does it cost to ship a bike?
The cost to ship a bike will vary depending on the shipping service you use. BikeFlights, which I'll talk about more below, has a helpful shipping calculator you can use to get a quote on how much it'll cost to ship your bike with them.
You'll need to know the dimensions and the weight of the bike box or bag you'll be shipping your bike in. I cover where to get a bike box in the "how to pack a bike for shipping" section below.
Shipping cost considerations
There are a number of variables that go into determining how much it will cost to ship a bike including:
Weight. The heavier your bike and shipping container, the more expensive it will be to ship.
Dimensions. The larger your packed bike is, the more expensive it will be to ship.
Distance shipped. Shipping your bike closer to home will be less expensive than shipping it all the way across the country.
Shipping internationally. BikeFlights does ship to over 60 countries, but it will be quite expensive. You will probably be better off checking your bike as luggage on the airplane.
Shipping an e-bike. BikeFlights does ship e-bikes, but because they are heavier and have to be classified differently due to the lithium batteries, it will be more expensive to ship an electric bike.
Added insurance. BikeFlights offers extra insurance. Each order comes with $200 of protection, but you can purchase additional Premium Protection for up to $20,000 of insurance. It's pretty cheap and definitley worth getting to cover the value of your bike.
cheapest way to ship a bike
According to BikeFlights, you will get the best shipping rates when your shipment length does not exceed 48 inches, height does not exceed 30 inches, and total shipment size is less than or equal to 130 inches.
Total Shipment size = Length + (2xWidth) + (2xHeight).
You'll also get the best rate when your shipment package is under 50 pounds.
Each shipping service will have its own rates, so it's hard to say exactly how much it will cost. I've shipped my bike from California to Vermont several times and the cost ranged from $150 to $180 one-way.
---
How to pack a bike for shipping
Packing your bike well is super important if you want your bike to arrive at its destination damage-free. You can take your bike to a local bike shop and they will pack it up for you for a fee, or you can do it yourself. Here's a simple guide to packing a bike for shipping:
1. Choose your shipping containtainer
Bikes can be transported in a bike box or a bike bag. Bike boxes are a great option if you're selling your bike or doing a one-way trip where you can pick up another bike box at the end.
Bike boxes will also be less expensive to ship since they weigh less than bike bags and are typically smaller in dimension. You can usually snag a bike box for free from your local bike shop (call ahead and have them save one for you) or you can buy one directly from BikeFlights.
Bike bags and travel cases will typically offer more protection for your bike. However, they will be more expensive to ship because they weigh more and are bigger in size.
2. Gather shipping supplies & tools
I like to use bubble wrap to protect my frame and components when I pack my bike. I also use styrofoam 'noodles' to wrap my frame with. These come on new bikes, so save them if you get a new bike or ask your local bike shop for some.
Other helpful supplies are zip ties, electrical tape or masking tape, small cardboard pieces or disc brake spacers, and a multi-tool or set of hex wrenches.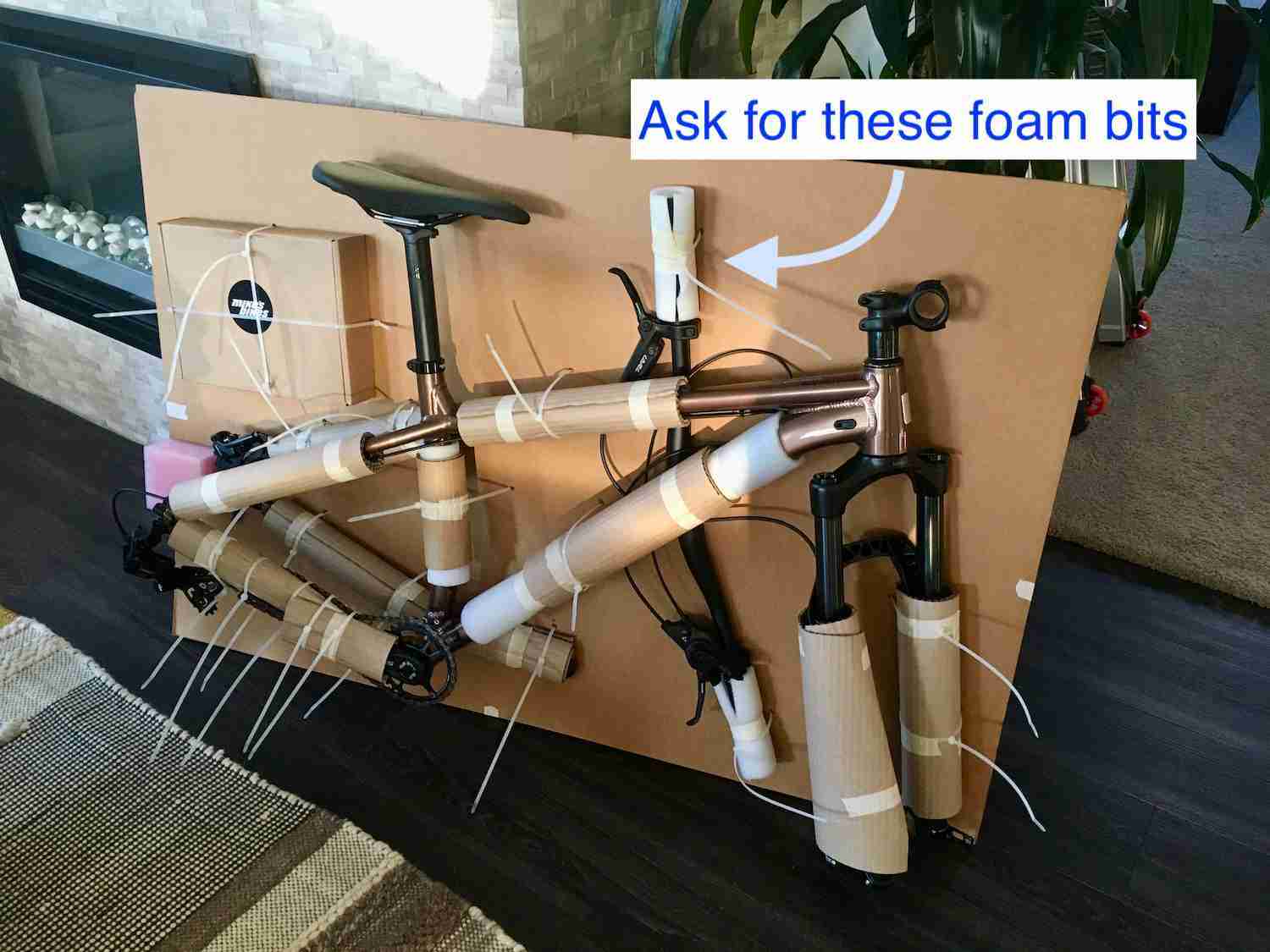 3. Review Shipping Policies
Before you pack up your bike, be sure to review BikeFlight's Shipping Policies so that you can avoid any Voids in Claim in case something happens in transit. For example, damage to a derailleur is not covered if the derailleur is not removed. It's also a really good idea to take photos of your packed bike so you have documentation.
4. Break down your bike
In order to get your bike to fit in a bike box or bike bag, you'll need to do some disassembly. It's not as scary as it sounds, but if you really don't want to do it yourself, you can take your bike to a bike shop and have them do it for you.
BikeFlights has great videos walking you through how to pack a bike for shipping, so be sure to take a look at those before you begin.
Here's a rough guide to breaking down your bike:
Shift your bike into the hardest gear so it's easier to remove the rear wheel. If you plan on leaving your derailleur on, you may want to shift into the easiest gear instead so the derailleur sticks out the least. (I always remove my derailleur – it's easy and can save you a lot of money).
Remove both pedals. If your pedals have pedal washers on them, be sure to keep them contained in a small bag.
Lower seat post all the way down. If you have a small box or bag, you may need to remove it completely.
Remove the handlebars by taking off the entire stem and cockpit (most road bikes) or the stem face plate (mountain bikes). Reattach the face plate or stem cap so you don't lose the small parts and then secure the handlebars to the frame of your bike with tape or straps. (Be sure to pad any areas where the handlebars and frame touch).
Remove both wheels and deflate the tires. Replace both axels. You don't want to fully deflate the tires because they can come off the rim and spill tire sealant over everything.
Optional: if you have a large mountain bike, you can remove the air from the front fork and rear shock to help it fit into a box or bag.
Add a bit of cardboard or disc brake spacers (you'll need two of them) between the brake pads to keep them from getting squeezed during transit.
Remove the derailleur. This is optional for some bike bags, but I always remove my derailleur when traveling with my bike. It's actually a Void in Claim for BikeFlights if you don't remove your derailleur and it gets damaged. You can secure it to your chainstay with some padding and zip ties.
Add protection everywhere. You can never have enough protection! Make sure the frame is nice and padded, all components like the derailleur, hub, and cassette are wrapped, and everything is secured with zip ties and/or tape.
Take photos. It's a really good idea to take photos of your packing job just in case something gets damaged during transit.
---
How to ship an electric bike
Ship an electric bike used to be prohibited because of the lithium batteries, which can explode or catch on fire during transit. However, BikeFlights does now ship electric bikes with a few extra steps that need to be followed. You can read more about shipping an electric bike in their e-bike shipping guide.
---
What questions do you still have about shipping a bike? Have you used BikeFlights before? What additional tips do you have? Leave your comment or advice below!
Pin it for later!