Dakine Bike Roller Bag Review (6 Years of Use & Counting!)
Looking for the best way to travel with your mountain bike on a plane? In this review, I share my thoughts on my Dakine Bike Roller Bag.
There's a good chance that affiliate links are scattered throughout this post. If you click on one I may receive a small commission at no extra charge to you and I'll definitely be using it to buy bike gear.
Whether you're traveling with your bike by plane, train, or automobile, having a bike travel bag can make the process a whole lot easier and less of a hassle.
Some people choose to use a cardboard bike box, which is fine if you're only planning on doing a few trips, but if you know you'll be flying with your bike multiple times in the coming years, a bike bag is definitely the way to go.
I've flown with my bike across the US and to a handful of international destinations using my Dakine Bike Roller Bag. It has kept my bike safe and secure and the only issues I've had are because I didn't take enough precautions packing it (hello bent rotors…)
In this post, I share my experience using my Dakine bag over the years including what I like about it, what I don't, how other bike bags stack up, and more.
Dakine Bike Roller Bag Quick Stats
Protection
The biggest concern for most travelers bringing their bikes on a plane is protection. Bikes are not cheap and the thought of trying to get any sort of compensation through the airlines if something gets damaged just sounds like such a headache.
Thankfully, the Dakine Bike Roller Bag has a lot of protective features to keep your bike secure and safe through transit.
I've flown with my bike over a dozen times with this bag and the only 'damage' I've had was bent rotors (because I should have taken them off in the first place…)
Padding
The Dakine bike bag is designed with "360° padded protection", which is honestly a bit of a stretch to say because there really isn't a whole lot of protection in the side panels. But, the exterior bag is made from really tough material that has yet to be ripped during my travels and there is a small amount of padding in the bag itself that does help against blunt force.
The protection really comes with how the bike is packed into the roller bag. The frame is protected on both sides by the wheels and secured to the actual bag with front fork and rear triangle straps, which keep it from shifting around. Once the bike is packed (correctly), it's very stable and secure.
There are several 'padded bags' and frame protectors that come with the Dakine bag including (again, the padding is very minimal):
A front fork sleeve
A derailleur bag
A top tube pad that also secures the handlebars to the frame
Two padded wheel bags that fit 27.5″ and 29″ wheels
A tool and pedal roll
The padding that comes with the bag is ok and it's probably enough to prevent damage, but I always add extra padding when I travel with my bike. I use foam 'noodles' around my frame to add a little bit of extra security.
They come on new bikes or you can go to your local bike shop and ask them to save a few for you.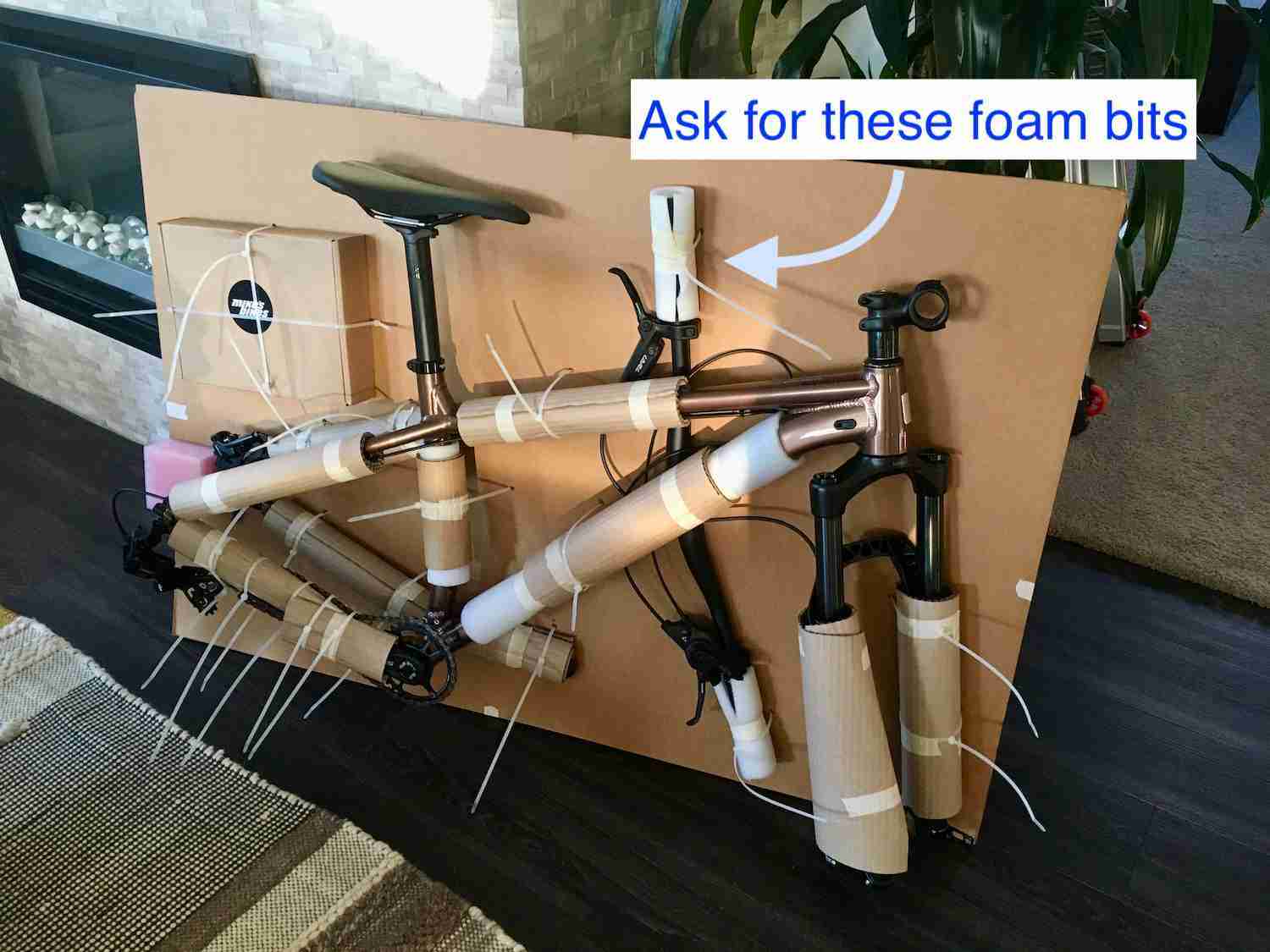 Rear triangle foam block
The foam block is designed to keep the weight off of your rear triangle. The upper part of the block fits between the two chainstays and allows your frame to just rest on the block. The block is secured to the bag by velcro, so it can be moved forward or back depending on the length of your frame.
I highly recommend removing your derailleur and securing it to the chainstay. It's quick and easy and will save you the headache of dealing with a bent broken derailleur hanger, or worse a broken derailleur.
Stabilizing straps
There are three different sets of straps and clips in the Dakine bike roller bag:
Two straps to secure the rear triangle
Two straps to secure the front fork sleeve to the floor of the bag
Two straps to secure each of the wheel bags to the side panels
These straps and clips really keep the bike nice and secure within the bag and prevent it from shifting around during travel.
The front fork and wheel clips are color-coded, which theoretically makes sense, but half the time I get them wrong and it doesn't make any difference.
Packing Process
Packing up a bike into the Dakine bike bag isn't as hard or complicated as it may seem. The first few times you do it it may take a while, but it gets a lot faster and easier.
You'll need:
A multi-tool or set of hex wrenches (bring them with you because you'll need them to put your bike back together!)
A bike stand (not necessary, but it makes packing a bike a lot easier. Of course you may not have a bike stand at your destination)
Zip ties (great for securing the derailleur to the chainstay among many other uses)
A T25 for removing the rotors (highly recommended)
2 small squares of cardboard or 2 plastic brake spacers (to insert into the brake calipers when the wheels are removed)
A shock pump (if you need to remove the air from your shocks to get your bike to fit into the bike bag. Large and XL frames may need to do this)
Extra padding like foam noodles or bubble wrap
Once you've gathered all of your supplies, here is a quick rundown of what you need to do to pack your bike into your Dakine bike bag:
Shift into the hardest/smallest gear. This makes it easier to remove/install the rear wheel
Put the dropper post all the way down
Remove the pedals. If you have pedal washers, make sure you keep them in a baggie or secure them somewhere.
Remove the front and rear wheels and replace the axles (do not forget the axles!)
Partially deflate both tires (not all the way or you'll lose sealant and need a compressor to pump them back up!)
Remove both rotors (this is not mandatory, but after dealing with one too many bent rotors I now always remove them)
Place a small piece of cardboard or plastic brake spacer between both the front and rear brake pads (this prevents the pistons from advancing if the brakes are accidentally squeezed when the wheels are removed)
Remove the derailleur from the derailleur hanger (I like to keep the derailleur fully open by engaging the lock 'button'. This makes it easy to secure the derailleur to the chainstay with zip ties)
Remove the face plate and handlebars (I screw the faceplate back on so I don't lose any of the small parts)
Slip the front fork sleeve over the front fork and secure it over the top cap (Optional: depending on the size of your bike, you may need to remove air from your front fork)
Place the top tube padding on the top tube and secure the handlebars to the side with the velcro straps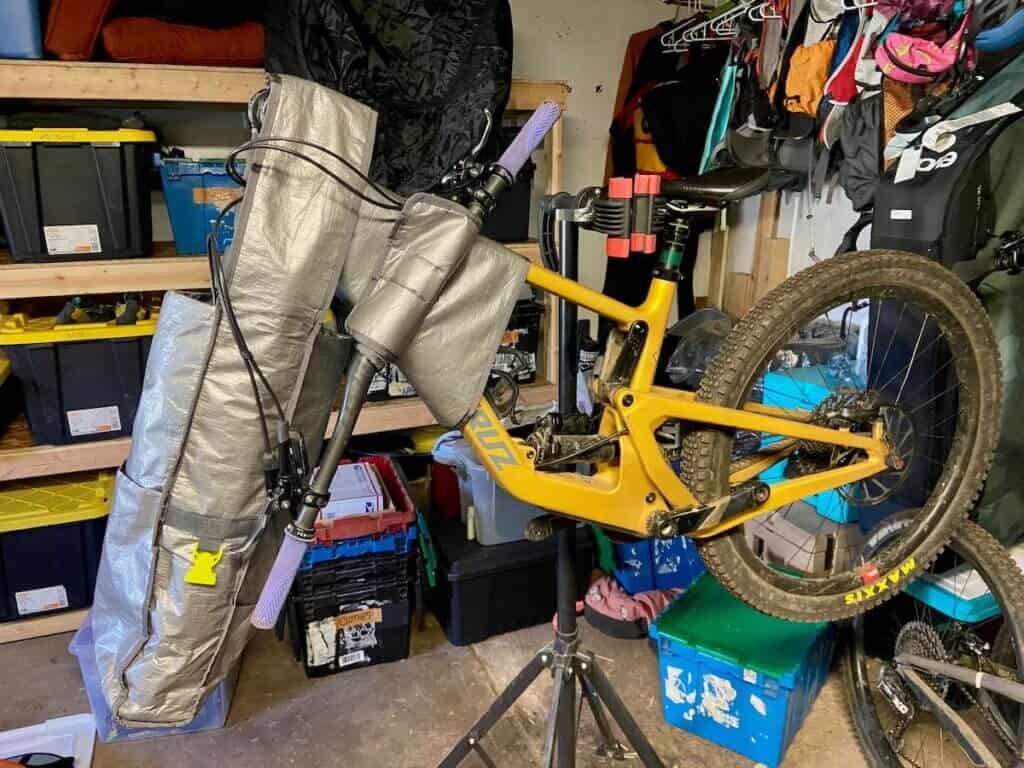 Place one of the wheels (doesn't matter which one) into the wheel bag that is attached to the interior of the bike bag. (If you didn't remove the rotors, to rotor should fit into the padded circle)
Place your bike into the bag. The rear triangle goes over the foam block.
Secure the red straps through your rear triangle
Secure the front fork with the two front fork straps and clips (if you got the colors wrong, it doesn't matter)
Place the second wheel in the removable wheel bag and secure both wheels with the blue/yellow clips
Zip up the bag and you're all done!
Download A Free Dakine Bike Bag Packing List
Ease of travel
At the airport
Traveling with the Dakine bike bag is, for the most part, pretty easy. It has two rolling wheels and a front grab handle so you can roll it along behind you at the airport. It also has three handles near the top to help load it into a car or maneuver it around when you need to.
I will say that it's best to not have to wheel the bag for long stretches, though. It is bulky and awkward and I definitely get forearm pump if I have to tow it for more than a few minutes.
If you do need to carry it a distance (say to walk to another terminal), I recommend getting one of those airport carts so you don't have to wheel it all the way. It'll make your life a lot easier!
If you do know you will need to wheel your bike bag for longer distances, you may want to check out the Evoc Pro bike bag. This bag has a removable front wheel that makes traveling with it a lot easier.
In the car
If you have a hatchback, the Dakine bike bag will (usually) fit nicely either upright or on its side. I have a Honda HR-V and I can fit my Dakine bag upright or on its side. If you have a lower-top hatchback like a Subaru, you may only be able to fit it on its side.
If you have a sedan-style car, it'll be really tight to fit a bike bag. I haven't tried it, so I can't say whether it's possible or not, but I have a feeling it would be a bit challeging. If you have a sedan, you may need to call a friend or get a ride to the airport.
Weight
Let's talk baggage fees. Traveling with a bike can be really expensive if your bike/bag is overweight. Most airlines charge several hundred dollars if your luggage is over the weight limit.
The Dakine bike bag weighs just under 18 lbs, so if the weight limit is 50 lbs, that means your bike must weigh ~32 lbs. If you have a gravel bike or a lightweight cross-country bike you should be fine, but if you have a burly Enduro bike it might be close.
Here are a few tips for making sure your bike is under the airline weight limits so you don't have to pay exorbitant fees:
Choose an airline with a 70lb weight limit or better yet, one (like Alaska Airlines) that waives overweight fees for bikes altogether. Check out my post on Flying with a Bike for more info on airline overweight fees.
Don't pack anything else in your bike bag. It may be tempting to fill all that empty space with clothes, gear, and other things but this may put you over the weight limit.
Pack parts and tools in another bag. It'll actually be cheaper for you to check another bag that contains your tools, pedals, rotors, etc… I typically always check two bags when I'm traveling with my bike and it's cheaper than paying overweight fees.
Check in and pay for your bags before you get to the airport. When I check in at home and pay for my bags before getting to the airport, I can usually print my own bag tags and then just drop them off at the bag drop, skipping the whole weighing step. This way, I don't have to worry about being a few pounds over the weight limit (I wouldn't attempt this strategy with a bag that is more than just a few lbs overweight, though).
If you're still shopping around for bike bags, keep in mind that the Dakine bike bag is one of the lightest ones. Evoc bags are great, but they are also several pounds heavier. See the comparison table below for stats
The Competition
There are a handful of other options when shopping around for a bike bag. Here's how the Dakine Bike Roller Bag stacks up against the competition.
Is the Dakine Bike Bag for you?
I have flown with my Dakine Bike Bag across the country multiple times and internationally a handful of times and I have not had any issues with damage to the bike or bag (don't worry, I just knocked on wood…).
The bag itself is very durable and the bike is secure when packed properly. It's also easy to get my bike(s) under airline weight limits so I don't have to pay hefty overweight fees, which is really appreciated.
Other bike bags may have nicer features like an integrated bike stand, more protection, or a front wheel, but they're also heavier which will make it harder to fly without paying extra fees.
Overall, I'm super happy with my Dakine bike roller bag and if you're looking for a simple but safe bag, I think you will be, too!
Where to buy
If you've found this review helpful and you're thinking about buying the Dakine Bike Roller Bag, consider supporting Two Wheeled Wanderer by purchasing it through the links in this post. The price stays the same for you, but I'll receive a small percentage of the transaction, which allows me to continue riding and writing Two Wheeled Wanderer. Thanks for your support!
Looking for some more two-wheeled inspiration? Check out these related biking blog posts:
Have you used the Dakine Bike Roller Bag for travel? What has been your experience with it? Have you tried a different bike bag? Leave a comment below!