Bike Travel Bags: How to Choose the Best One + 6 Top Contenders
Discover the best bike travel bags and bike travel cases to transport your bike safely and easily to destinations around the world.
There's a good chance that affiliate links are scattered throughout this post. If you click on one I may receive a small commission at no extra charge to you and I'll definitely be using it to buy bike gear.
I travel a lot with my bikes, so I know the worth of a good bike travel bag. Flying with a bike isn't exactly the easiest endeavor, so any extra feature or convenience to make it less of a hassle is a big plus in my book.
As bike travel has become more popular over the last few years, the options for bike travel bags and cases have grown. But how do you choose the right one for you?
If you are in the process of shopping around for one, I've got you covered. In this post, I share everything you need to know about the differences between bike bags and bike cases, what features to look for, and a few great options to consider.
Let's dive in!
Types of Bike Travel Bags & Cases
There are two main types of bike containers: soft-sided bike bags and hard-shell bike cases.
They both have their pros and cons:
Type
Pros
Cons
Soft-sided bike bags
– Typically fold or roll down to be stored when not in use
– Decent protection
– Have wheels for rolling
– Require more care and attention when packing
– Large or heavy bikes may still be overweight
Hard-sided bike cases
– Excellent protection and durability
– Can withstand rough baggage handlers
– Have wheels for rolling
– Will almost always be overweight why flying
– Heavy to lug around
– Don't fold or roll down when not in use
– Expensive
I can't answer the question of 'which one is better?' for you, but personally, I use a soft-sided Dakine Bike Roller Bag for my travels.
I've flown with it domestically and internationally and haven't had any problems or dealt with any damage. (That being said, I do take my time to pack it correctly and adequately).
A few considerations to think about when deciding whether you want a soft bag or a hard-shell case are:
How expensive is your bike? Traveling with a $15,000 bike is very different from traveling with a $2,000 bike. It might be worth paying the overweight fees that inevitably come with a hard-shell case to prevent any damage to your expensive frame.
What airline do you fly with? Some airlines – like Alaska Air – don't have any overweight fees for bikes. If you plan on only flying with such an airline, you can get away with having a heavier bag or case.
Storage at your destination: Soft-sided bags typically roll or fold down so you can kind of keep them out of the way at your hotel room or destination. Hard-sided cases, on the other hand, are big and bulky and take up a lot of space.
How long is your bike? Lengths differ across bike containers and manufacturers, but typically bike bags can accommodate longer wheelbases than bike cases. If you ride a large frame – particularly a mountain bike – you may need to go with a bike bag.
Wheel size: Most bike bags and cases can accommodate 29″ or 700c wheels, but you want to double-check before you buy.
Bike Travel Case Features
Surprisingly, there are actually quite a few features that bike travel bags and bike travel cases are designed with.
Some of these features are standard – like wheels – but others have to be sought out.
Here are the main features you can find across models and brands:
Wheels
Any bike case you get should have wheels. Hard stop. Don't buy one that doesn't or else you'll be sweating and swearing at the airport!
But some bike bags, like the EVOC Pro come with an extra wheel that you can attach to the front of the bike bag that allows you to simply roll the whole package with one hand instead of towing it behind you.
The Thule Roundtrip Road and Thule Roundtrip Mountain Bike bags also have a removable front wheel.
Extra consideration: the spare wheel will add weight to your luggage, so be sure to factor that in before opting for the EVOC Pro.
Internal frame & bike stand
Some bike bags and cases come with an internal frame that helps keep the bike secure and anchored inside the travel case.
If you travel a lot (or plan on traveling a lot) it might be a good idea to get a bike case that has an internal frame for extra security and protection.
Some internal frames can even turn into a bike stand to help you easily put your bike back together and break down at the end of your trip. The EVOC Bike Stand Pro is compatible with all EVOC bags and the Thule Roundtrip Road and Thule Roundtrip Mountain Bike bags also have internal frames that transform into bike stands.
Padding & Frame Protection
Most bike bags will come with some sort of frame protection and padding on the exterior. The Dakine Bike Roller Bag comes with several pieces of padding that you can use to protect your frame and components.
I always like to add extra foam and protection – it's lightweight and adds more bulk to prevent my bike from shifting around.
Length
Length isn't a 'feature' per se, but it's important to note because not all bike bags are the same length. Some bike bags are designed for road bikes and gravel bikes that have shorter wheelbases while others are made for mountain bikes with a longer wheelbase.
If you know you'll be traveling with several different bikes, you want to make sure that the bag you get is long enough to fit each bike.
Tip: To find the wheelbase of your bike, measure the horizontal distance between the center of the front and rear axles.
Best Bike travel Bags & Cases
I've already mentioned most of these bags and cases above, but here are the top options for the best bike bags:
1. Dakine Bike Roller Bag
Shop the Dakine Bike Roller Bag at:
I have the Dakine Bike Roller Bag and it works great for airline travel. I've flown with it internationally to Peru, Mexico, and Africa as well as many flights domestically. I haven't had any issues or problems with my bike getting damaged (knock on wood!).
This bag is durable, easy to pack and unpack, and has plenty of extra room to stuff additional pieces of gear and clothing if you're not worried about overweight fees.
A few features that are particularly nice include:
The only thing it doesn't have is an internal frame/bike stand.
The Dakine Bike Bag is designed for mountain bikes but it also fits road bikes, gravel bikes, and fat bikes.
Shop the EVOC Bike Bag at:
EVOC is a company based out of Munich, Germany that makes high-quality bags and gear.
The Evoc Bike Travel Bag is similar to the Dakine bag, but it has a longer rear triangle block that is removable for easy packing and unpacking. The bag is also a bit burlier, providing more protection. But that does come with a couple of pounds of added weight, which may put you over the weight limit at the airport.
If you decide that you want an internal frame/bike stand, this bag is compatible with the Evoc Bike Stand Pro, although you're better off just buying the Evoc Pro Bag below.
If you ride an XL or XXL mountain bike, the Evoc Bike Travel Bag XL fits bigger bikes.
Here are a few features of the EVOC bag:
What about a bike box? Bike boxes are another way to transport bikes. A bike box is essentially what new bikes are shipped in and you can easily pick one up at your local bike shop for free.
A bike box is a good option if you're doing a one-way bike trip or you only plan on doing the one-off adventure.
If you plan on traveling with your bike more frequently, though, I recommend investing in a dedicated bike case since they are more secure and protective than cardboard bike boxes.
3. EVOC Bike Travel Bag Pro
Shop the EVOC Bike Bag Pro at:
If you travel with your bike a lot, it may be worth investing in the Evoc Bike Travel Bag Pro. It has a few extra key features that the regular Evoc bag and the Dakine bag don't, namely the removable front wheel and internal frame that turns into a bike stand.
If you've traveled with a bike, you know how tiring and awkward it can be to haul your bike bag from one terminal to the next even though it has two rolling wheels. With the Evoc Pro Bag, the clip-on front wheel allows you to push it along without doing any work. Revolutionary.
It's also designed with an internal frame for maximum stabilization. You can actually secure your bike on the frame outside of the bag and then transfer it to the bike bag. This frame also doubles as a bike stand, making reassembly a lot easier.
The biggest downside to the Evoc Pro, though is that it's heavy. It may be really hard to get everything under the weight limit depending on what airline you fly, so be prepared to pay some overweight fees.
Here are the main features of the EVOC Pro:
Looking for a Road Bike Travel Bag?
I'm primarily a mountain biker, so I have mainly researched mountain bike travel bags (that can also be used for road and gravel bikes).
But if you're strictly a roadie (no judgment), there are several options for road-bike specific bike big bags:
4. Orucase B2 Bike Travel Case (Road & Mountain Bike Options)
The Orucase B2 bike travel case is an interesting concept. It's designed to make traveling with a bike as convenient and affordable as possible. With a compact design, a backpack harness, rolling wheels, and clever tool pockets, it's ideal for the traveler who wants to be as hassle-free as possible while en route.
Part of the allure of choosing an Orucase travel bag is that it's easier to get under the weight and size limits of most airlines. While they don't guarantee a fee-free trip, the relatively low weight of the bag and compact design do make it pretty likely that you'll be under most airlines' weight and size restrictions.
The downside to an Orucase bag is that you do need to break your bike down quite a bit more than other travel bags including completely removing the handlebars and removing the fork. But if compact and light is your goal, this could be a great option. Check out Loam Wolf's video on how to pack an Orucase bag.
The Orucase comes in two sizes. The B2-R is for road and gravel bikes and the B2-MTB is for mountain bikes.
If you're looking for extra protection, Orucase also sells a frame padding kit.
Here are some considerations before choosing an Orucase bag:
5. Thule Roundtrip MTB Travel Case
Shop the Thule Roundtrip MTB Case at:
You know the saying, "You pay for what you get"? Well, that's true for the Thule Roundtrip MTB Travel Case. This travel bag has all the bells and whistles like an internal frame that doubles as a bike stand, a clip-on front wheel, a ton of padding, and two side panels that fold down completely (which makes it much easier to pack and unpack).
However, this bag is also the heaviest on the list. If you choose the Thule Roundtrip, opt for an airline that waives overweight fees for bikes (like Alaska Airlines), or be prepared to pay overweight fees.
This bike bag is seriously impressive if you can swallow the price tag and weight. It also comes in a smaller road bike option.
Here are some pros and cons of the Thule Roundtrip:
6. Thule Roundtrip Transition bike Case
Shop the Thule Roundtrip Transition Case at:
The Thule Roundtrip Transition Bike Case is a burly beast and if you're really worried about protecting your multi-thousand dollar bike during transit, it could be a good option.
However, despite providing the most protection out of all the bags and cases on this list, it definitely has some downsides.
Because it's constructed with an ultra-protective hard shell, it comes with added weight. A lot of added weight. When fully packed with a mountain bike, the Thule RoundTrip Transition can easily be 70-80 lbs, which would be considered overweight for many airlines. Be sure to check overweight fees and weight restrictions on your airline carrier before choosing this case.
Another downside is that there is no front wheel. Do you want to lug a 70-80 lb bike down airport corridors? I don't.
It also can't accommodate longer wheelbases (46″ max), so some larger mountain bikes won't fit.
Lastly, the Thule Case doesn't come with any frame padding like the other bags on this list do. You'll need to get creative with packing materials or purchase a frame padding kit.
Take these points into consideration before opting for the Thule Roundtrip Transition:
Tips for packing your bike bag
Once you have a bike bag in hand and a trip planned, it's time to get packing! I know disassembling your bike can sound stressful and overwhelming, but it's really not that bad once you do it a couple of times.
Get a Bike Bag Packing Checklist
Not sure how to pack your bike? Get a printable checklist when you join my newsletter.
Here are a few tips to get you started:
Give yourself plenty of time: The first couple of times you pack and unpack your mountain bike will probably take a good 45 minutes to an hour (at least it should!). So give yourself plenty of time, go slow. I recommend watching some YouTube videos like this one by BKXC if you're not sure how to break down your bike.
Use extra padding: I always pad my bike as well as I can when packing my bike bag. Bubble wrap works really well or head to your local bike shop and ask if they have any soft foam frame protection that comes on new bikes.
If you're not worried about paying overweight fees, you can also pack your riding clothes in packing cubes and stuff them around your bike frame.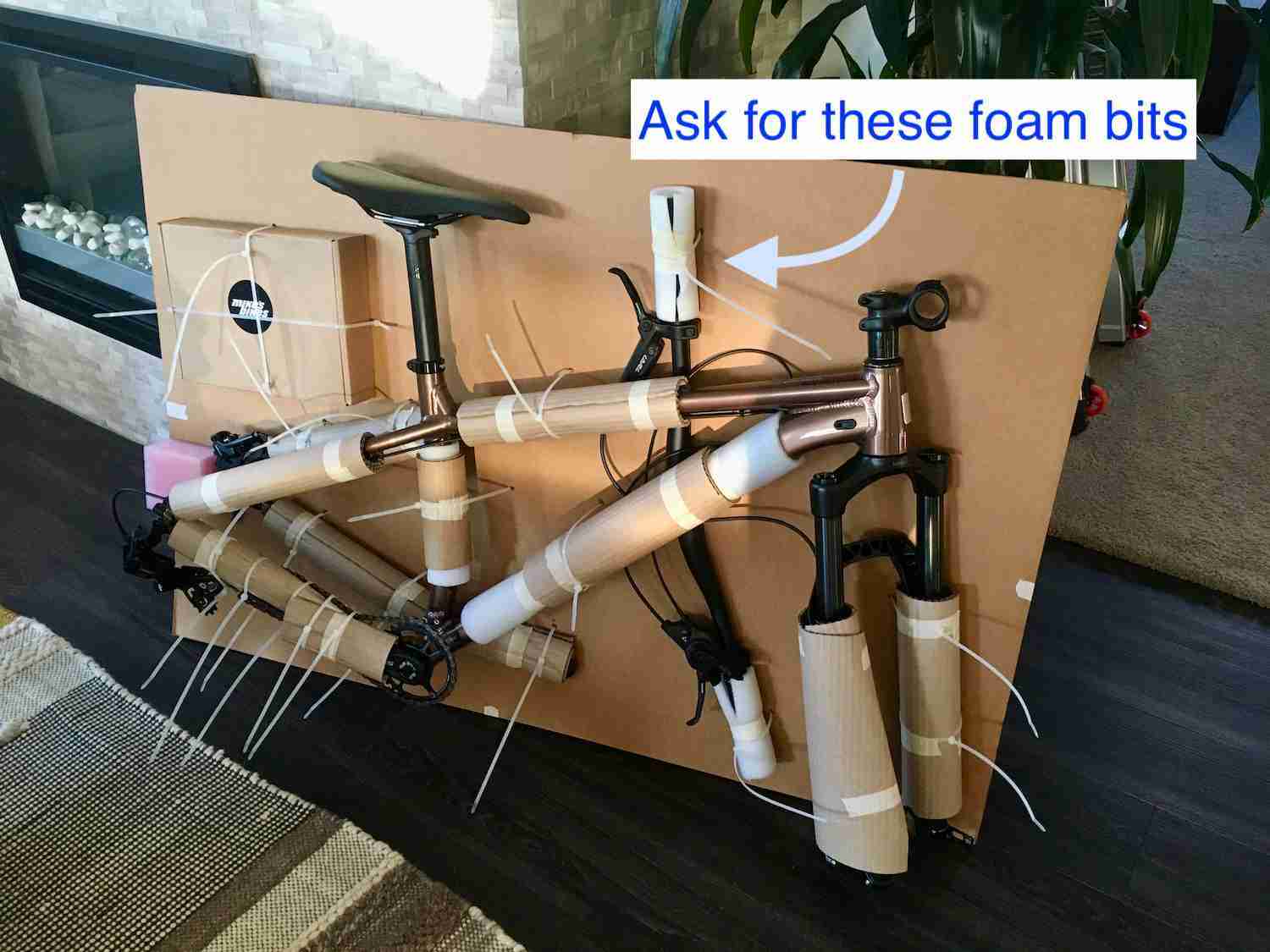 Use brake pad spacers: New bikes typically come with little plastic pieces between the brake pads to prevent them from getting damaged and/or prevent brake fluid from leaking out if the brake levers get squeezed.
It's a really good idea to do this for your bike when you pack it up into your bike bag as well. You can buy them online or simply use a small square of cardboard.
Zip-tie any loose parts: I always use and pack a handful of zip ties when I'm traveling with my bike because they are super handy. I zip-tie anything that is loose so that it doesn't rattle and cause damage (or break) en route.
For example, I wrap my chainstay with bubble wrap or a cloth and then zip-tie the chain tight onto the chainstay. I also remove the rear derailleur from the derailleur hanger and zip-tie it onto the chainstay as well.
Remove the rotors: I highly recommend removing both the front and rear rotors before packing your bike up.
Rotors can be easily bent during transit, even if the bike case has specific rotor pockets or padding.
Removing the rotors only takes a few minutes and it can save a ton of hassle and headache!
Pro-tip: remove both rotors and wrap in bubble wrap or a clean cloth. Screw the bolts back onto the wheels so you don't lose any during transit.
Final thoughts
If you plan on traveling regularly with your bike, I highly recommend investing in a good bike travel bag or case.
Not only will this make your travels easier, but a good bag (and a good packing job) will help ensure your bike doesn't suffer during transit.
There are lots of options out there, each with its own pros and cons, so be sure to do your due diligence before settling on a case.
If you have questions, drop them in the comments!
Looking for more tips on traveling with your bike? Check out these posts:
Do you own a bike travel bag? Which one and what are your thoughts? How does it perform on trips? Let us know in the comments!