Traveling with a mountain bike can be a pain. Mountain bike travel cases and mountain bike bags are heavy, awkward, and expensive to fly with (although thanks to Delta, American, and Alaska bringing a bike on board is getting cheaper!)
But even though traveling with a bike can be a headache, it's absolutely worth the hassle if you're heading to an exciting mountain bike destination or have a fun trip planned. Of course, you can rent or demo a bike, but if you're like me, you prefer having your own set of two wheels that you're tuned into and comfortable riding.
In order to get checked onto a plane, though, mountain bikes need to be partially disassembled and packed into a bike travel bag or box. If you in the process of shopping around for one, I've got you covered. In this post, I share a few of my best mountain bike travel cases and give a few pointers on how to choose the best one for you.
Headed to an awesome mountain bike destination, but need a mountain bike travel case? Here are the best ones on the market for safe & easy travel in 2021
---
Mountain Bike Travel Case Considerations
Dimensions & weight
Pretty much every airline will accept a mountain bike in a travel case, but not every airline will treat you equally when it comes to overweight and oversize fees. Some airlines – like Alaska Airlines – completely waive bike fees, but others – like American Airlines – will hit you hard.
So before you buy a mountain bike travel case, be sure to check out the fees and size/weight restrictions for the airlines you travel with the most so that you can avoid excessive charges.
(Pro tip: expect to pay something extra when you travel with a bike on an airplane).
Soft bike bag vs. hard-sided case
You have two options when it comes to choosing a mountain bike travel case: a soft bike bag and a hard-sided case:
Soft-sided bike bags
Pros:
Lighter in weight, so easier to stay under weight limits
Typically cheaper in price
Smaller and easier to transport to/from the airport
Cons:
Potenially more risk for damage
More specific procedures to follow when packing up your bike (ex. removing derailleur and rotors)
Hard-sided bike cases
Pros:
Maximum protection
Potentially don't have to break bike down as much compared to soft-sided cases
Cons:
Much heavier than soft-sided cases, so you may have to pay excessive overweight fees
Larger and may not fit in normal size taxis or vehicles
Typically more expensive
Long wheelbase accomodation
Another consideration to think about when buying a mountain bike travel case is whether it will fit your long wheelbase mountain bike. Most newer travel cases have been updated to fit longer bikes and newer mountain bike geometry, but if you're looking to buy a used bike bag or case, make sure your bike will fit in it before you go to pack it up for your trip.
Internal frame & bike stand
Some bike bags and cases come with an internal frame that helps keep the bike secure and anchored inside the travel case. If you travel a lot (or plan on traveling a lot) it's a good idea to get a bike case that has an internal frame for extra security and protection.
Some internal frames, like the one in the Evoc Pro, even turn into a bike stand to help you easily put your bike back together and break down at the end of your trip.
---
The Best Soft-Sided Mountain Bike Travel Bags
1. Dakine Bike Roller Bag
Dimensions: 55 x 13 x 34″ (140 x 33 x 86cm)
Linear inches: 102 linear inches
Weight: 17 lbs 12 oz (8 kg)
Fits: Most bikes including downhill bikes, long wheelbases, and fat bikes
Notable features:

360° padded protection
Replaceable urethane wheels
Rear triangle block for stabilization
Derailleur pocket
Tool and pedal pouch
Lockable zippers (lock not included)
Rolls up for compact storage when not in use

MSRP: $420.00
I have the Dakine Bike Roller Bag and it works great for airline travel. I've taken it across the country and back, to Peru, and to Mexico, and haven't had any issues. It's durable, easy to pack and unpack, and has plenty of extra room to pack additional pieces of gear and clothing. (Pro tip: buy some packing cubes and fill them with clothes. Then stuff them into your bike bag for added protection around your bike).
The Dakine Bike Roller Bag comes with a tool roll, an extra pouch for pedals, and plenty of high-quality padding to protect your bike from the jostles of airplane travel.
Lastly, the bag folds down for better storage when not in use.
Check price: Backcountry / Competitive Cyclist / REI / Amazon
2. EVOC Bike Travel Bag Pro
Dimensions: 58 x 14 x 34" (147 x 35 x 86 cm)
Linear inches: 106 linear inches
Weight: 22 lbs (10 kg)
Fits: Most bikes including downhill bikes, long wheelbases, and fat bikes
Notable features:

Internal bike frame that converts to a bike stand
Detachable front roller wheel (which is ahhhmazing!)
Collapasble when not in use
Mutiple straps for anchoring bike frame
Durable padding
Rigid rotor protection

MSRP: $900.00
EVOC, a company based out of Munich, Germany, manufactures some of the best bike travel bags out there as well as other high-quality bike packs and accessories.
Their bike travel bag Pro is similar to the Dakine bag, but the Pro version adds a bit more protection and is slightly bigger to accommodate longer wheelbases and larger tires. Yay!
The Evoc Bike Travel Bag Pro also includes an internal bike stand for easy packing and greater stability during transit and the bag folds down flat enough to store under a bed when not in use. If I wasn't already the proud owner of a Dakine bag, I would definitely choose the Evoc Pro!
Check price: Amazon
3. EVOC Travel Bag
Dimensions: 54.5 x 15.25 x 9″ (138.5 x 38.7 x 22.8 cm)
Linear inches: 78.75 linear inches
Weight: 20 lbs (0 kg)
Fits: Smaller mountain bikes with shorter wheelbases
Notable features:

Robust padding and rubber enforcements
Abrasion-resistant panels
Two padded sleeves for wheels
Replaceable skate wheels

MSRP: $575.00
If you don't need all the bells and whistles and extra protection of the EVOC Travel Bag Pro, they also make a simpler Bike Travel Bag that is a great option for lower budgets, less frequent travel, and smaller bikes.
This bag is quite a bit smaller than the Pro bag, so be sure to take measurements of your bike to make sure it'll fit.
Check price: Amazon
4. Thule Round Trip Pro XT Bike Travel Case
Dimensions: 49.5 x 35 x 11.8" (125 x 89 x 29.9 cm)
Linear inches: 96.3 linear inches
Weight: 19 lbs (4.1 kg)
Fits: Smaller mountain bikes with wheelbases up to 46 in. (116.8cm). Be sure to measure your bike's wheelbase before purchasing!
Notable features:

Integrated bike assembly stand
Aluminum 'click-rail' for extra security and stability
Durable side panels for added protection
Two nylon wheel bags
Collapsible frame for easy storage when not in use
Includes thru-axle adapters for 15 and 20mm axles

MSRP: $799.95
The Thule Round Trip Pro XT Bike Travel Case is a hybrid mountain bike travel case that has removable side panels for extra protection. It also comes with an integrated bike stand to make reassembly easy and efficient once you reach your destination and it has a built-in frame with a thru-axel to secure the front fork.
The length of this bag is slightly shorter than other mountain bike bags, so it's a better choice for smaller mountain bikes with shorter wheelbases.
Check price: REI
5. SciCon AeroComfort MTB TSA MY19
Dimensions: 57.8 x 9.8 x 37" (147 x 25 x 94 cm)
Linear inches: 104.6 inches
Weight: 14 lbs (6.4 kg)
Fits: most mountain bikes with up to 29" wheels and 3.5" tires
Notable features:

Internal mountain frame
Double frame attachmet for extra stability via front fork and rear dropouts
Two internal wheel pockets
Four wheels!
Folds down for easy storage
Constructed from durable ripstop nylon

MSRP: $899.00
SciCon has several different options when it comes to bike travel bags and one of them is a dedicated mountain bike case. The SciCon AeroComfort MTB TSA Bike Travel Bag is updated for larger wheels and longer wheelbases.
What I really like about this bag is that both sides zip down flat so you can actually see how the frame is situated on the mounts. Like the EVOC Pro Bag, the SciCon bag also has an internal frame system that uses the front axle to make sure the bike stays secure while en route and it's secured by the rear dropouts as well.
Check price: Trek / Competitive Cyclist
---
Hard-sided mountin bike travel cases
Thule RoundTrip Transition
Dimensions: 54 x 15.5 x 37" (137 x 40 x 94 cm)
Linear inches: 271 linear inches
Weight: 39 lbs (17.7 kg)
Fits: most mountain bikes with up to 46″ wheelbase
Notable features:

Ultra-protective hard shell
Integrated bike assembly stand
Included thru axle adapters for 15mm and 20mm axles
Two nylon wheel bags

MSRP: $699.95
The Thule RoundTrip Transition is one of the best hard-shell mountain bike travel cases available. However, it doesn't fit long wheelbases, so if your wheelbase is over 46″ then this isn't the case for you.
Constructed with an ultra-protective hard shell, it's almost bomb-proof, but it also does come with added weight. A lot of added weight. When fully packed, the Thule RoundTrip Transition can be 70-80 lbs, so be sure to check overweight fees and weight restrictions on your airline carrier before choosing this option.
Check price: Amazon
---
Tips for packing your mountain bike travel case
Give yourself plenty of time
The first couple of times you pack and unpack your mountain bike will probably take a good 45 minutes to an hour (at least it should!). So give yourself plenty of time, go slow, and watch some YouTube videos if you're not sure how to break down your bike.
Use extra padding
I always pad my bike as well as I can in addition to using the Dakine Bike Bag protection. Bubble wrap works really well or head to your local bike shop and ask if they have any soft foam frame protection that comes on new bikes.
Another thing I like to do is to pack my bike clothes in packing cubes, and stuff them around my bike frame.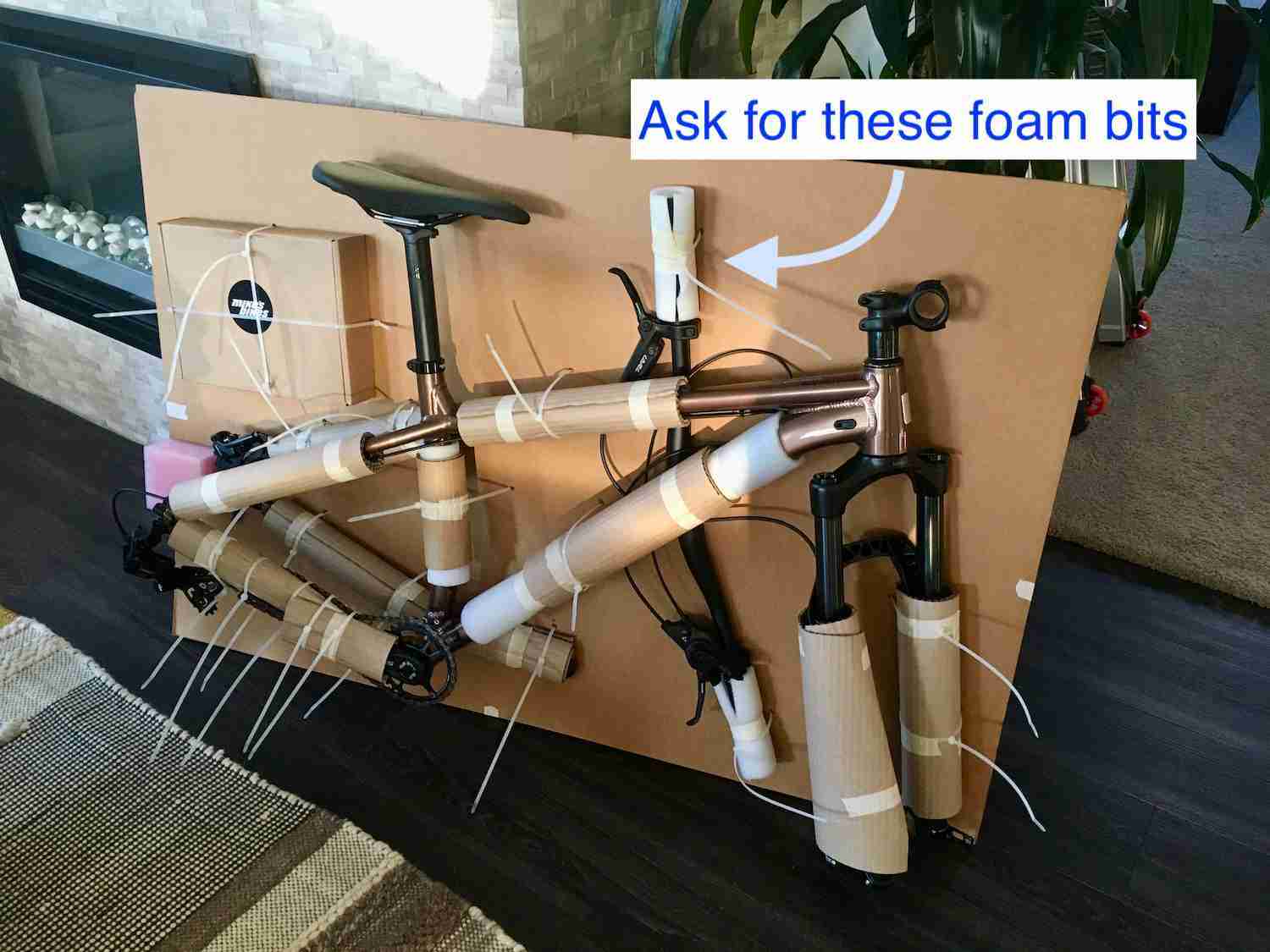 Use pad spacers between brake pads
New bikes typically come with little plastic pieces between the brake pads to prevent them from getting damaged and/or prevent brake fluid from leaking out of the brake levers get squeezed. It's a really good idea to do this for your bike when you pack it up into your bike bag as well. You can buy them online or simply use a small square of cardboard.
Zip tie any loose parts
I always use and pack a handful of zip ties when I'm traveling with my bike because they are super handy. I zip tie anything that is loose so that it doesn't rattle and cause damage (or break) en route. For example, I wrap my chainstay with bubble wrap or a cloth and then zip tie the chain tight onto the chainstay. I also remove the derailleur from the derailleur hanger and zip tie it onto the chainstay as well.
Remove the rotors
I highly recommend removing both the front and rear rotors before packing your bike up. Rotors can be easily bent during transit, even if the bike case has specific rotor pockets or padding. Removing the rotors only takes a few minutes and it can save a ton of hassle and headache!
Pro-tip: remove both rotors and wrap in bubble wrap or a clean cloth. Screw the bolts back onto the wheels so you don't lose any during transit.
---
Do you own a mountain bike travel case? Which one and what are your thoughts? How does it perform on trips?
Pin it for later!