How to Mountain Bike The Buffalo Creek IMBA Epic Loop
Discover the best Buffalo Creek Mountain Biking trails outside of Denver including the 24.5-mile IMBA Epic Loop as well as shorter options
There's a good chance that affiliate links are scattered throughout this post. If you click on one I may receive a small commission at no extra charge to you and I'll definitely be using it to buy bike gear.
Looking for some fun backcountry riding around Denver, Colorado? There is a lot to choose from, but mountain biking at Buffalo Creek is one of my favorites.
Buffalo Creek has a ton of great riding including a 24.5-mile IMBA Epic Ride. Of course, there are plenty of options for shorter rides if you don't want to do such a big day.
Buffalo Creek is located about an hour south of Denver and is a great escape from the hustle and bustle of city life.
In this post, I share everything you need to know about heading out to Buffalo Creek whether you're planning on doing an epic or looking to hit the best trails.
Important Things to Know
Mountain biking at Buffalo Creek is awesome, but there are a few things to know before hitting the trails: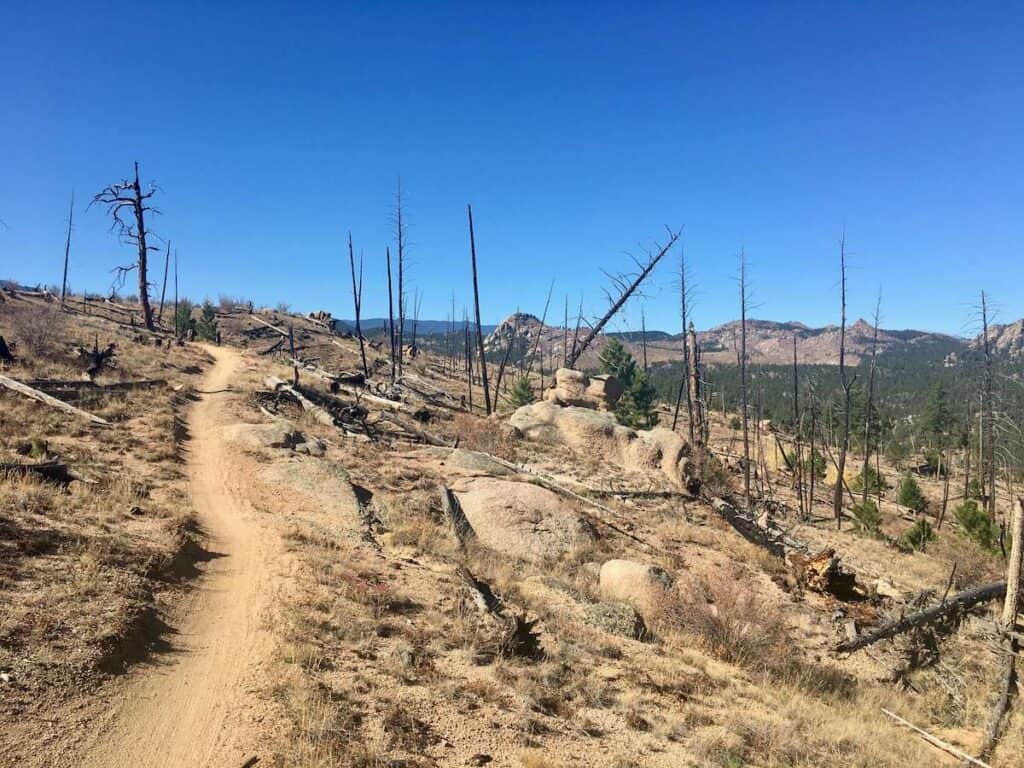 Getting There and Where to Park
Buffalo Creek is located in Pike National Forest about an hour southwest of Denver (depending on traffic…).
The Colorado Trail runs through it and even though it's not too far from the city, it feels like you've left it all behind (which makes it a very popular destination on weekends…).
To get there, take Route 285 to Pine Junction and then Route 126 to Buffalo Creek.
Here are the Google directions to the Buffalo Creek mountain bike parking area.
Buffalo Creek Trail Map
What to Expect
The mountain biking at Buffalo Creek is fun and unique. As someone who doesn't particularly love the tough climbs that Colorado is known for, I thought that the trails here were very well-built. They didn't require (too much) suffering for the downhill reward, unlike other places I've visited in Colorado.
Here are a few other things to expect when mountain biking at Buffalo Creek:
The Buffalo Creek Loop Trail Guide
I rode the 24.5-mile Buffalo Creek Big Loop IMBA Epic solo a few years ago and had a great time (although with an elevation high of over 8,000 feet I was definitely gasping for breath!).
It's a big ride, but you can certainly choose a shorter route (see shorter options below).
Route recommendation
>> Buffalo Creek Big Loop IMBA Epic
This ride is a cross-country loop that traverses through dense pine forests, down sandy washes, up switchbacked climbs, over granite boulders, and along smooth singletrack.
There's nothing really technical about this loop, but it's a nice pedal with several hefty climbs and a few bomber descents.
Route directions: Buffalo Creek Main Parking > Nice Kitty > Buffalo Burn > Colorado Trail > Redskin Creek > Gashouse > Charlie's Cutoff > Homestead > Sandy Wash
Route notes:
Do less:
Do more:
Where to start
There are several parking areas along the Buffalo Creek mountain biking loop, but the most popular starting point is the Buffalo Creek Main Parking Area off of Pine Valley Rd. Starting here will give you a good warm-up climb on Nice Kitty and a fun, fast, and long descent down Sandy Wash at the end.
Other possible starting points are Little Scraggy, Buffalo Creek Trailhead, or Gashouse Gulch parking area.
Trail breakdown
The Buffalo Creek loop starts off along a mellow fire road leading out of the main parking area. The road is flat and a good warm-up spin for the legs.
You'll pass by Sandy Wash on the right, which is the exit at the end of the loop. A bit further on, you'll see the entrance to Nice Kitty on the left.
Nice Kitty
Nice Kitty is the longest and steepest climb of the whole loop, but that being said, it's not that bad (unless you aren't yet adjusted to the elevation which starts at 6,700ft and ends at 7,600ft).
The first mile on Nice Kitty is the steepest and actually probably the most technical part of the ride with a few punchy boulders to get up and over and several steep pitches to grunt up.
From there, the trail mellows out and switchbacks up the mountain through a huge burned area. Be sure to look back the way you came for awesome views!
Buffalo Burn
After making it to the top of Nice Kitty, Buffalo Burn continues to the right at a slight incline to the Little Scraggy parking area.
After spending most of the Nice Kitty climb out in the open through a burn area, Buffalo Burn heads back into the forest for a rolling pedal among the trees.
Colorado Trail
By far the largest portion of the Buffalo Creek Loop is spent on the Colorado Trail. The full Colorado Trail traverses the state from Denver to Durango and sections of it are actually part of the larger Continental Divide Trail that spans the length of the US from north to south.
This portion of the Colorado Trail is mostly rolling as you head out from the Little Scraggy parking area. There is one big climb followed by a super fast and fun descent down a wash.
Like the rest of the loop, there are really no technical sections on the Colorado Trail. It's mostly smooth, buff singletrack with rolling terrain.
Redskin Creek & Gashouse
After about 8 miles on the Colorado Trail, the loop turns off onto Redskin Creek. There's an initial fun descent and then it's a pedal up to Gashouse Gulch parking area.
You can choose to stay on the trail or if you're feeling the miles and elevation, the road leads to the parking area as well.
Gashouse is the final climb of the route and while it's a 2.5-mile climb, the slope is very manageable and the pedaling is mellow (although there are a few rocky features that may cause your legs to groan).
Charlie's Cut, Homestead, & Sandy Wash
Once you reach the top of the Gashouse climb, it's time to descend! Don't get too excited though, because there's still a tiny bit more climbing throughout the descent, but for the most part, you can coast back to the car.
Charlie's Cut to Homestead to Sandy Wash is a super fun and fast descent through the forest with lots of granite rock rollers, sandy corners, and great views out over the peaks.
This is the reason you should ride the Buffalo Creek Big Loop clockwise. If you ride it counterclockwise you'll have to climb this bomber descent!
Everything on this section is made to be rideable, so there should be no surprises (unless someone didn't read this post and is riding the loop counterclockwise).
The trail will spit you out on the fire road you pedaled in on and then it's a quick, easy spin back to the parking area.
How challenging is the Buffalo Creek Loop?
Overall, Buffalo Creek and the full IMBA Epic loop feature mostly cross-country terrain with very little tech.
There are some punchy rock climbs at the start of the ride and the last descent has a few rock features that are all rollable but might need to be scoped out depending on your riding skills.
What makes this ride more challenging is the mileage and the altitude, not necessarily the technical features.
Shorter Buffalo Creek Mountain Biking Routes
There are lots of options to do shorter loops and rides in Buffalo Creek if you're not feeling this 24.5-mile route.
Little Scraggy Loop (12.5 miles): I haven't ridden this route, but one of the comments mentions that Little Scraggy is similar to my all-time favorite trail – Vitamin B in Buena Vista.
A Bit of Work and Lots of Fun (14.5 miles): This route climbs the fire road up to the top of Charlie's Cutoff so you can get the best descent of the Full Loop with fewer miles and elevation gain. I haven't ridden the fire road, so I don't know how hard it is.
What to pack
The biggest concern for mountain biking at Buffalo Creek is water, so make sure you bring plenty with you (at least 3 L).
Here's what I typically bring for big backcountry rides:
Mountain Bike Packing List
Below are a few of my favorite pieces of mountain biking gear and recommendations for your mountain bike trip or ride:
Final thoughts on Buffalo Creek Mountain Biking
The Buffalo Creek IMBA Epic loop and trails are super fun and scenic cross-country rides. As far as 'epicness' goes, I wouldn't say it's the most epic of IMBA epics. There's really nothing technical or difficult about this ride other than the miles and elevation.
I'm glad I did it once – and you should definitely ride it if you haven't already – but if and when I return to Buffalo Creek I think I'll choose to explore some of the other trails and loops in the area instead.
Looking for more great riding in Colorado? Check out these biking adventures:
Have you explored the Buffalo Creek mountain bike trails outside of Denver? Have you done the IMBA Epic Loop? What did you think? Leave a comment below!