Ride Concepts Livewire Mountain Bike Shoe Review
There's a good chance that affiliate links are scattered throughout this post. If you click on one I may receive a small commission at no extra charge to you and I'll definitely be using it to buy bike gear.
Are you shopping around for some new riding shoes? I've been wearing the Ride Concepts Livewire mountain bike shoes for a while now and I can say that they are hand's down my favorite pair of flat pedal shoes. They're comfortable, durable, and well-designed and the color choices keep getting better and better.
In this Ride Concepts Livewire review, I share why I like them so much as well a few tips to help you decide if these are the right mountain bike shoes for you.
I'm not being paid by Ride Concepts to write this, this is my honest review.
Why I switched from Five Tens
Before I get into my Ride Concepts Livewire review, I want to share why I switched from Five Tens. I wore and loved Five Tens for a number of years, but my last several pairs just didn't live up to my expectations. I found that the quality of Five Ten wasn't what it used to be and the Freerider Contacts didn't hold up to my (very) frequent riding.
So, I switched to Ride Concepts and immediately noticed a difference in quality and design. They have lasted longer, they feel more 'substantial' on my feet, and the grip is just as good if not better.
Review Summary
The Ride Concepts Livewire mountain bike shoes are a flat pedal shoe with excellent grip and comfort. They're definitely the most comfortable shoe I've ridden in to date.
For stiffness, these shoes do feel really stiff and bulky at first, but they break in nicely after a few rides.
Durability-wise, these have lasted way longer than any Five Ten shoe I've owned. The soles don't get chewed up as quickly and the outer material stays rip and tear-free no matter how many miles I pedal. The only issues I've had are the shoelaces fraying, but those are cheap replacements.
Price: $110
Weight (single): 13.8oz
Closure: Lace
Sole: Kinetics DST6.0 High Grip Rubber
Platform: Flat pedals
Pros
Cons
What I like
Comfort
The main thing I love about the Ride Concepts Livewire shoes is how comfortable they are. My rides range from quick laps to big backcountry rides to full-on bike park days.
No matter what type of adventure I'm heading out on, I've found that the Livewire's are super comfortable to pedal in and great for a wide range of adventures.
Grip
As anyone who rides on flat pedals would agree, grip is super important and the Ride Concepts Livewires deliver on that as well. These shoes stick to my Chromag Scarab pedals and I very rarely have my foot slip off (I also change my pedal pins once or twice a year).
Design
To be fully honest, when Ride Concepts released their first few designs when the brand was just getting started, I thought they were really ugly. But fast forward a few years and I think the Ride Concept Livewires are some of the best-looking and well-designed shoes on the market.
It never hurts to look good while you're out on the trails, right?
What I don't Like
Honestly, there's not a whole lot I don't like about the Ride Concept Livewire women's mountain bike shoes. If I was going to be nitpicky, I'd say:
They are a bit heavier than some other similar models by different brands
They don't breathe super well, which might cause sweaty feet in hot or humid climates
The metal eyelets cut into the shoelaces, causing them to fray after a few months. I needed to replace mine after 8 months of frequent wear. To be fair, I've never owned a pair of mountain bike shoes where this didn't happen.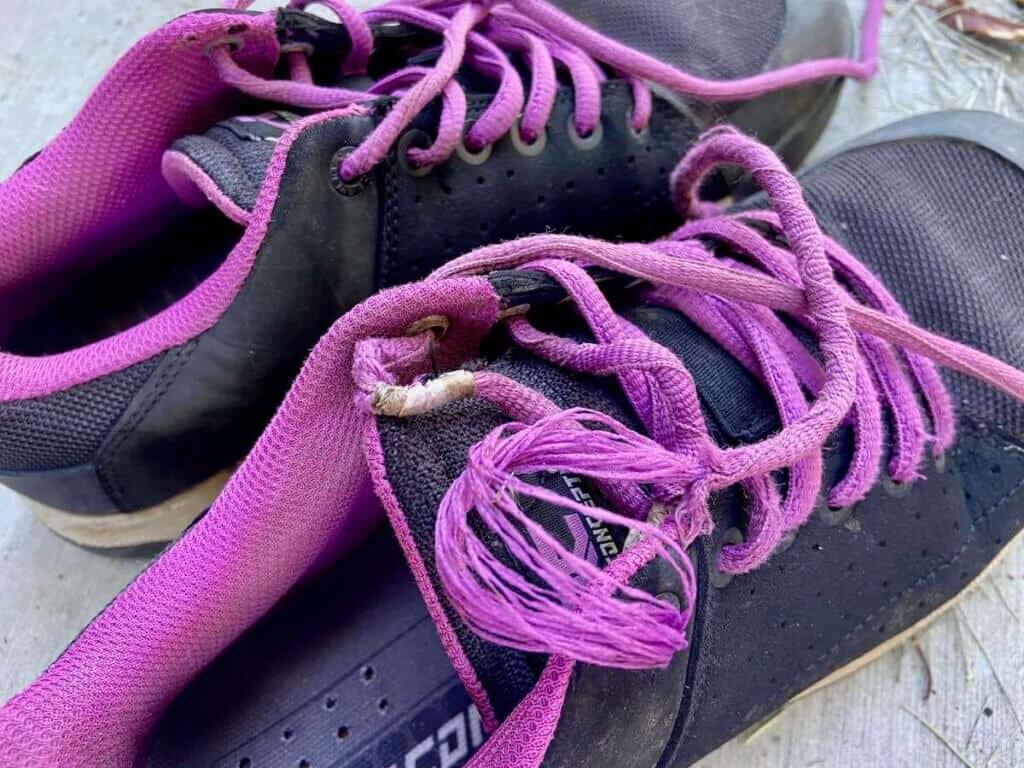 Comparison Chart
Here is how the Ride Concepts Livewire shoes stack up against a few other popular flat mountain bike shoe options.
Are these the shoes for you?
I would recommend the Ride Concepts Livewire mountain bike shoes to anyone who is looking for an all-around great riding shoe. It's the perfect option for people who do a little bit of everything from bike parks to big backcountry days.
If you're more of a 'specialized' rider who only rides at bike parks or only crushes cross-country trails, then there are better, more tailored options out there.
If you like what you've read about the Livewire's but want a lighter, more durable, and weather-resistant shoe, check out the Ride Concepts Hellion.
Related: Flat vs Clipless Mountain Bike Shoes
Have you tried the Ride Concepts Livewire shoes? What did you think about them? Would you add anything to this review? Leave a comment below!
Was this post helpful?
Consider 'buying me a coffee!'