2 Years & Counting: Ride Concepts Livewire Mountain Bike Shoe Review
Read an honest review about the Ride Concepts Livewire mountain bike shoe including pros and cons, what I love about them, and what I don't.
There's a good chance that affiliate links are scattered throughout this post. If you click on one I may receive a small commission at no extra charge to you and I'll definitely be using it to buy bike gear.
If you think about it, shoes are one of the most important pieces of mountain bike gear (aside from a helmet). They keep your feet attached to the bike, which is pretty important, don't you think? Your shoes are also usually the first line of defense against mean rocks, stumps, and other trail obstacles, so I think it's definitely worth researching and investing in a good pair of trail shoes.
I've tried a lot of different brands and models of mountain bike footwear over the years and after several seasons of wearing the Ride Concepts Livewire shoes, I have a pretty good grasp of their pros and cons, what I like about them, and what I don't.
Overall, I think the Ride Concept Livewires are a great option for everyday pedaling. They're comfortable, lightweight, and well-designed and the color choices keep getting better and better. But like most pieces of gear, there are a few things that could be improved, like durability.
If you're considering purchasing a pair of Ride Concepts Livewire shoes, read through this review to make sure they're a good fit (pun intended!)
Best for: Trail, all-mountain, enduro
Weight (single): 13.8 ounces
Platform: Flat pedals
Closure: Lace
Half sizes? Yes
MSRP: $110
Watch Kyle of April & Kyle MTB review The Livewire
Who are Ride Concepts & Why choose them over Five Tens?
A relative newcomer to the mountain bike footwear scene, Ride Concepts was founded in 2018 and is headquartered in Truckee, California.
They are a rider-designed, rider-owned company that has a clear purpose: to design shoes that offer the perfect blend of style, comfort, and durability for every type of rider.
Most mountain bikers are familiar with the tried and trusted brand Five Ten for mountain bike shoes, so why consider anything else? As someone who has tried numerous pairs of both brands, personally, I think Ride Concepts makes better shoes than Five Ten. I think Ride Concepts are more durable, more protective, more grippy, and more comfortable.
Design & Aesthetics
Ride Concepts Livewires are designed with a lot of great features – functional and aesthetic. Here's what stands out to me the most:
Color options & visual appeal
It never hurts to look good while you're out on the trails, right? I really like how the Livewire's look. They have a rugged yet sophisticated design that is a perfect blend of style and function.
To be fully honest, when Ride Concepts released their first few designs when the brand was just getting started, I thought they were really ugly. But fast forward a few years and I think the Ride Concept Livewires are some of the best-looking and well-designed shoes on the market.
They're also available in an array of colors that appeal to both the riders who favor a classic, subdued look (me) and those who gravitate towards a bolder, more vibrant style.
I do wish there were a few more colors to choose from each season, but Ride Concepts is still a relatively small company.
Upper Material
The uppers on the Livewires are lightweight, synthetic, and very durable. While they aren't weather-resistant, I have worn them in some pretty adverse riding conditions and they dry quickly and stand up to a lot of use and abuse. I'm almost a year in on my current pair and the uppers have no rips or tears.
The upper material is also fairly breathable, although they can get pretty warm on hot days.
shoe Closure
The Ride Concepts Livewire shoes are lace-up, which is what I prefer for mountain bike shoes. No velcro to come unstuck and no boa to break.
On my first pair of Livewires, the metal eyelets cut into the shoelaces, causing them to fray after a few months. I needed to replace the laces after 8 months of frequent wear.
For some reason, on my second pair of shoes, this hasn't happened, so maybe they have changed the design.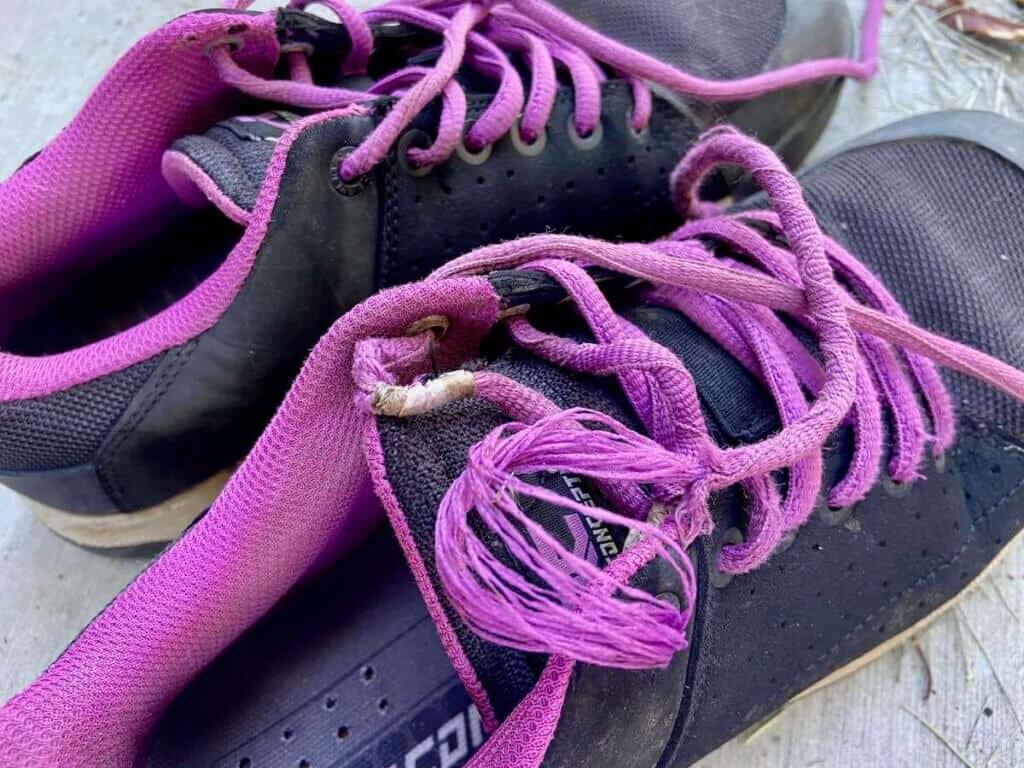 Sole Construction
One of the standout features of the Livewire is the grippy sole. Made from Ride Concepts' own DST 6.0 High Grip Rubber, the sole features a hexagonal pattern for superior traction and control. Compared to Five Ten's Stealth rubber, I think Ride Concepts is better.
These shoes stick to my Chromag Scarab pedals and I very rarely have my foot slip off (I also change my pedal pins once or twice a year).
I also think the soles on Ride Concept shoes last a lot longer than other brands and models of mountain bike shoes I've tried. I can usually get a year+ of very frequent riding out of a pair of Livewires.
Fit & Comfort
If a shoe isn't comfortable, it doesn't matter how well it sticks to your pedal. Here's how I rate the Livewire in terms of fit and comfort:
Sizing & fit
The Livewires do tend to run about half a size small. I usually wear an 8.5 women's shoe size and I wear a size 9 Livewire. Size up half a size when ordering yours.
As for fit, I like how these have a slightly wider toebox to keep my toes from going numb, but they are nice and snug in the heel. For me with average feet, the Livewire's fit great.
They also have moderate arch support, although if you have a super high arch, you might need to add an insert.
Comfort & Shock Absorption
Beyond just fitting well, the Livewire shoes are also really comfortable. The insoles are equipped with D3O technology, which offers enhanced shock absorption and cushioning, which comes in handy on those rough rock gardens.
I also like how the padded tongue ensures an even distribution of pressure from the laces so you don't feel them digging into the top of your feet while riding.
Ventilation & Breathability
Breathability is an important factor in any bike shoe, and the Livewire is no exception. Strategic mesh panels are incorporated into the shoe design to allow for airflow.
I wouldn't say these are the most ventilated shoe out there, but I think they strike a good balance between breathability, functionality, and durability.
Performance & Durability
Due to the rugged and rowdy nature of mountain biking, a mountain bike shoe should be high-performing and highly durable. Here's how the Livewire stacks up:
Grip & Traction
The Livewire shoes shine when it comes to performance, particularly regarding grip. The soles are built from Ride Concepts' proprietary DST 6.0 High Grip Rubber, which sticks to my pedal pins.
This rubber, coupled with a hexagonal tread pattern, provides really great traction on pedals.
I find that no matter whether I'm navigating steep, rugged, backcountry trails or bombing down the bike park in wet and slippery conditions, these shoes keep my feet stuck to the pedals.
TIP: Feet slipping off your pedals? It might be time to change out your pedal pins. Most brands sell pins so you don't have to buy a whole new set of pedals.
Performance in Various Conditions
Ride Concepts' Livewire shoes are designed to perform well across a variety of terrain and conditions. In fact, I only have one pair of riding shoes – the Livewires – for all of my riding from cross-country to bike parks, desert to the PNW.
The robust synthetic upper offers solid resistance against water, helping to keep your feet dry during unexpected splashes or light rain. For wetter weather, they're not completely waterproof, but they do dry quickly.
In warmer climates, the design of the shoe supports sufficient airflow, although as I said above, they're not the most lightweight and breathable shoe out there.
Durability & Lifespan
When it comes to durability, I've had mixed experiences with the Livewires. My first pair lasted about a year and a half before the sole became worn out. (I ride a lot, so a year and a half is great for me).
For my second pair, though, the rubber around the toe started to separate after about 4-5 months.
I'm not sure if this was due to not taking care of them (I didn't do anything differently from my first pair) or if it's a quality issue. I like Ride Concepts so I will be ordering another pair, but I do expect mountain bike shoes to last at least a year.
Protection Level
The Livewires aren't the most burly shoe Ride Concepts offers, but they still have quite a bit of protection inside and outside to keep your feet from getting banged up and bruised.
One of the best protective features of the Livewires is the D30 High Impact Zone insole. These D3O pads provide shock absorption during sudden impacts, which is helpful during rough rides or unexpected crashes.
The Livewires also have a robust outer toebox 'bumper' to keep your toes from getting bent or broken if your foot comes into contact with a mean rock or tree and plush padding around the ankles.
Compared to other brands like Five Ten, Ride Concepts definitely have the upper hand when it comes to better protection.
Price & Value
I'm a firm believer that you pay for what you get!
Price point
The Ride Concepts Livewire shoes are in the mid-range price category when it comes to mountain biking footwear. At $110, they're not super experience nor are they exactly 'cheap'.
Personally, I think the cost is reflective of Ride Concepts' commitment to quality and performance yet still being accessible for every rider. These shoes are in line with what I would expect to pay for a well-constructed, technologically advanced pair of mountain biking shoes.
Shop Ride Concepts Shoes at:
Comparison with similar products
When compared with other similar products in the market, the Livewire shoes are on point.
While there are less expensive options available, these often compromise on factors such as grip, durability, or comfort.
On the other hand, more expensive models may offer incremental improvements in these areas but at a significantly higher cost.
In my opinion, the Livewires strikes a balance, delivering a high level of performance and quality that is more than justifiable for its price.
Are These The Shoes For You?
I would recommend the Ride Concepts Livewires to anyone who is looking for an all-around great riding shoe. It's the perfect option for people who do a little bit of everything from bike parks to big backcountry days.
If you're more of a 'specialized' rider who only rides at bike parks or only crushes cross-country trails, then there are better, more tailored options out there.
If you like what you've read about the Livewire's but want a more durable and weather-resistant shoe, check out the Ride Concepts Hellion or Hellion Elite.
Looking for more in-depth reviews? Check out these gear posts:
Have you tried the Ride Concepts Livewire shoes? What did you think about them? Would you add anything to this review? Leave a comment below!