Mountain Bike Protective Gear: Pads, Body Armor, & More
There's a good chance that affiliate links are scattered throughout this post. If you click on one I may receive a small commission at no extra charge to you and I'll definitely be using it to buy bike gear.
Let's face it, mountain biking isn't the most gentle of sports. Regardless of how long you've been doing it or what type of mountain biking you enjoy, the risk of getting hurt or injured is there. It's simply par for the course. The good news, though, is that there is mountain bike protective gear we can use to minimize harm or even prevent injury from happening should we find ourselves sailing over the handlebars.
Mountain bike protective gear has come a long way over the past few decades and it's safe to say that wearing protection (especially a helmet!) has saved countless trips to the ER and even saved lives. But what mtb protective gear do you need? In this post, I outline the different types of protective gear and give some tips on what you should consider wearing some extra padding.
When to wear mountain bike protective Gear
The answer to this question is always. You should always wear a helmet, which is the most vital piece of mtb protective gear. Please do not ride without wearing a helmet. Seriously. Thank you.
Helmet aside, protective gear is a personal preference and personal choice. Below are a few instances that I think warrant some extra pieces of padding:
Bike park riding. If you'll be doing lift-served descending at a bike park, it's a good idea to wear some extra protection like a full-face helmet and knee pads.
Your job requires a functioning body. Will you be out of work if you break a bone? If so, pad up!
You don't have health insurance. I don't blame you for still wanting to ride bikes but do as much as you can to prevent a trip to the hospital to avoid exorbitant medical bills.
You're taking risks to improve your skills. This goes for kids and adults. If you're working on sending bigger drops or honing your jumping skills, chances are you're going to crash. Perhaps a lot. It's good to wear some extra protection until you feel comfortable with the features or skills you're working on.
You want more confidence on the bike. This is a tricky one because it can backfire, but if you feel like you want more confidence on the bike, some extra protective gear can help. Just be sure to ride within your abilities and don't get overly confident. Knee pads can only do so much.
Types of Mountain Bike Protective Gear
Now let's get into the different types and options for mountain bike safety gear:
A Helmet
I already mentioned the importance of wearing a helmet every time you ride, so I won't belabor the point. But if it's time for a new helmet (i.e. you've had a bad crash or it's been several years since you've purchased a new one), you have three options:
A half-lid helmet: basically a 'normal' helmet
A full-face helmet: one that has a chin guard for more protection around the face
A breakaway helmet: these can be used as a 'normal' helmet or as a full-face helmet by attaching a removable chin bar
Whichever option you choose, make sure it has MIPS technology or another technology that helps protect against rotational forces during a crash.
Half-lid Helmet
For most rides, you'll want a half-lid or 'normal' helmet. These are great for everyday rides that don't involve a lot of technical terrain or big features.
Budget Option: The Smith Convoy is a great budget-friendly mountain bike helmet option that has MIPS technology.
Two Wheeled Wanderer Pick: The MET Roam helmet has great coverage and sleek design.
Popular Choice: The POC Kortal Race MIPS helmet is very popular. I find that it slips down over my brows, but other riders don't have that issue.
Full-face helmet
If you plan on doing bike park riding or you simply want maximum protection on the trail, a full-face helmet will be your friend. These are engineered to protect all angles of your head as well as the front side of your face including your pearly whites.
The downside to full-face helmets is that they can be hot and heavy, so you probably won't want to be pedaling in one too much.
Budget Option: The Seven Protection Project .23 is a good budget-friendly full-face mountain bike helmet. It's on the heavier side and isn't ASTM-certified, but it's a good option if you aren't planning on sending it too hard at the bike park.
Two Wheeled Wanderer Pick: The Fox Proframe full-face helmet is the lightest of these options has a ton of other great features like large vents, a quick-release chin strap, and ASTM safety rating for downhill mountain biking.
Popular Choice: The Smith Mainline is a very popular choice for a full-face helmet. It's also ASTM rated for DH riding and it is still relatively lightweight and well-ventilated.
Breakaway helmet
Breakaway helmets provide the best of both worlds: you can use them as a 'normal' helmet for your everyday cross-countryesque rides and then you can strap on the chin bar to make it a full-face for bike park terrain or rowdier trails.
Budget Option: The Bell Super 3R is the 'lighter' version of the Bell Super DH below. It still has a removable chinbar, but isn't as burly.
Two Wheeled Wanderer Pick: The MET MCR Parachute has a magnetic chinbar release, which makes it really easy to switch between 'normal' and full-face. It's also ASTM downhill rated.
Popular Option: I used to have the Bell Super DH MIPS helmet and while I really liked it, Bell discontinued the replaceable pad liner kit, which is a deal-breaker for me.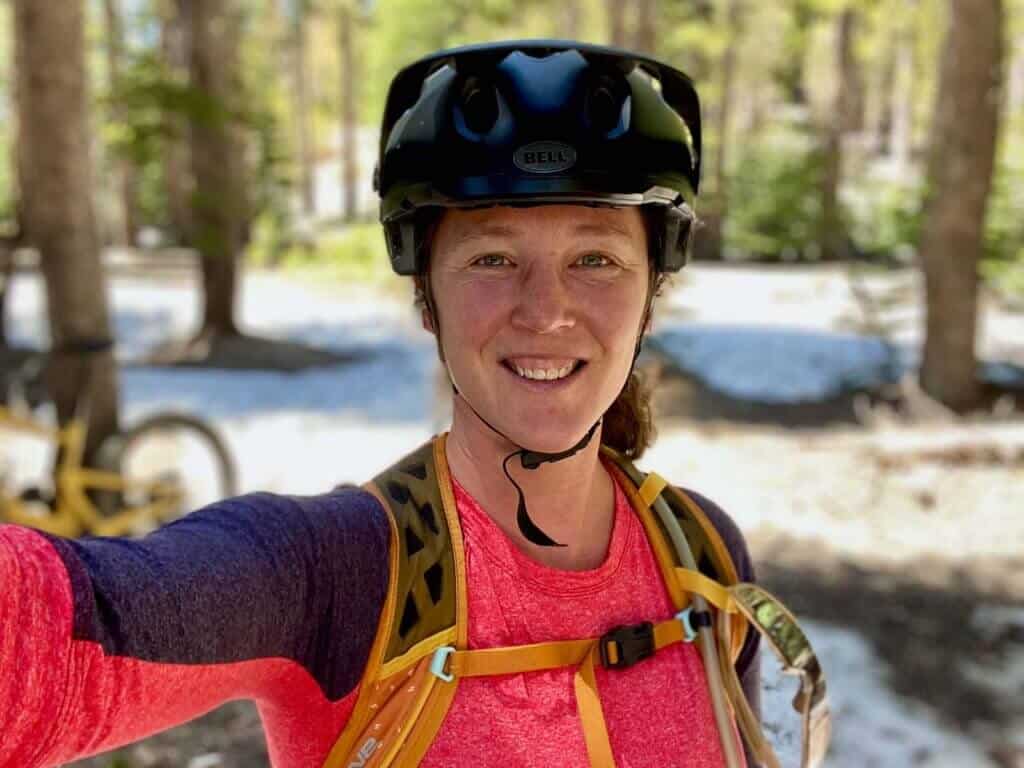 Glasses or Goggles
To protect your eyes from dirt, dust, or other flying objects, it's a good idea to wear eye protection when you're riding. You have two options: sunglasses or goggles. Any pair of sunglasses will work fine at first as long as they're polarized and easy to see in both full sun and shaded trail settings.
If you're at the bike park and wearing a full-face helmet, many riders opt to wear goggles because there's less risk of them slipping or falling off when on rowdier terrain. Plus, they make you look like a badass.
Knee pads
I pretty much always wear knee pads when I ride my mountain bike. I've had too many close calls (and a few stitches from my brother/ER doctor) not to. If you ride a lot (or plan on riding a lot) I highly recommend wearing knee pads for every outing.
Soft knee pad sleeves: these are great for pedally rides that don't have too much tech or high-stakes features. The downside to knee pad sleeves is that many of them tend to slip down when pedaling, which is really annoying. I really love the Fox Enduro Sleeves, which don't slip down (for me) and still provide a bit of protection. I wear these on almost every ride unless I'm at the bike park.
Hardshell knee pads: if you're heading the bike park or you plan on riding more technical terrain, it's good to have a pair of burlier knee pads that will protect you from sharper rocks and higher-speed crashes. These knee pads tend to have a thick hard plastic shell. They're often heavier and sweatier, but worth it if you crash.
Shin + knee coverage: for maximum protection, you could opt for a knee pad that covers the shins as well. There are a few options out there, but keep in mind that they tend to be bulky, hot, and perhaps even restrictive.
Elbow Pads
Elbow pads are not a necessary piece of mountain bike protective gear, but they can help prevent your elbows from getting all scraped up – or worse, a broken elbow or arm. I personally don't wear elbow pads, but I know plenty of people who do!
Padded Gloves
Even just wearing thin gloves provides a bit of protection for your hands, but if you want even more padding, some gloves come with hard or soft pads in strategic places like the knuckles in case you accidentally punch a tree.
The 100% Geomatic gloves have a bit of a punk rock look going on while the Fox Dirtpaw gloves are minimally padded while still providing extra protection in key areas.
Padded shorts
Some short liners (aka chamois) actually come with crash padding built-in. I've never tried them, but it's good to know that they're out there. Two worth looking into are the POC VPD Impact Shorts and 7 Protection Flex Short Liner.
Mountain Bike Pants
Mountain bike pants don't necessarily provide padded protection (although there are definitely a few options for that out there that do), but rather provide an extra layer of durable fabric to protect against scrapes and scratches. You'll still need to wear knee pads underneath to protect your legs from harder impacts.
Torso Armor
If you're really serious about maximizing protection on the trail, you'll want to look into torso armor. This type of mtb protection covers a varying degree of your torso from minimal protection to full-on body armor.
One consideration to think about before opting for torso armor is that it can restrict your body movement on the bike, making it harder to react to what's coming at you on the trail.
Neck Brace
Last, but not least, is a neck brace. Mountain bikers who do a lot of jumping or freeride-style of riding typically wear a neck brace to protect them from whiplash or – worst-case scenario – a broken neck. These braces help keep the neck stable in case of a crash, but the downside is that they're bulky and can be restrictive.
I don't think it's necessary to wear a neck brace unless you are planning on riding at very high speeds (i.e. downhill racing) or you are hitting big jumps and spending a lot of time in the air.
What mountain bike protective gear do you wear? What are your favorites? Leave a comment below!
pin it for later!
Was this post helpful?
Consider 'buying me a coffee!'