5 Best Winter Mountain Biking Destinations For Year-Round Riding
Looking for a winter mountain biking getaway? Check out these best places for cold-weather riding including Phoenix, Sedona, and more.
There's a good chance that affiliate links are scattered throughout this post. If you click on one I may receive a small commission at no extra charge to you and I'll definitely be using it to buy bike gear.
If you're anything like me, you consider mountain biking a year-round commitment. Sure, sliding on snow can be fun for a day or two, but skiing and snowboarding are no match for rowdy rock garden descents or perfectly bermed flow tracks. Right? Right.
Thankfully, there are a handful of awesome winter mountain biking destinations scattered throughout the US that are perfect getaways from the snow-covered singletrack and frigid temps hovering outside your door.
To help keep your two wheels rolling this winter season, I've rounded up five of the best winter mountain biking destinations across the United States that will hopefully help keep the winter mountain biking blues away.
1. Hurricane, Utah
When most mountain bikers think of Utah riding, Moab first comes to mind. There's no doubt that Moab is amazing when it comes to flowy slickrock trails and gut-dropping exposure, but Moab isn't the only rad winter mountain biking destination in Utah (and arguably it's not really a great winter mountain bike destination because Moab does get snow).
So enter Hurricane.
Hurricane is an amazing playground for stellar singletrack and it has the perfect climate for winter riding. There are a handful of trail networks above and around town including Gooseberry Mesa, Guacamole, and Wire Mesa.
There's also a huge variety of trails for all different levels of riders. For an easy spin, check out the Hurricane Cliffs area (aka JEM Trails), and for those seeking an adrenaline rush head over to Grafton Mesa.
If you're into IMBA Epics, the 24-mile Hurricane Rim Trail gives you a taste of everything the area has to offer.
But whatever you do, a beer and flatbread pizza at River Rock Roasting Company (also a coffee shop) is a must.
Read next: A Complete Guide to Mountain Biking Hurricane, Utah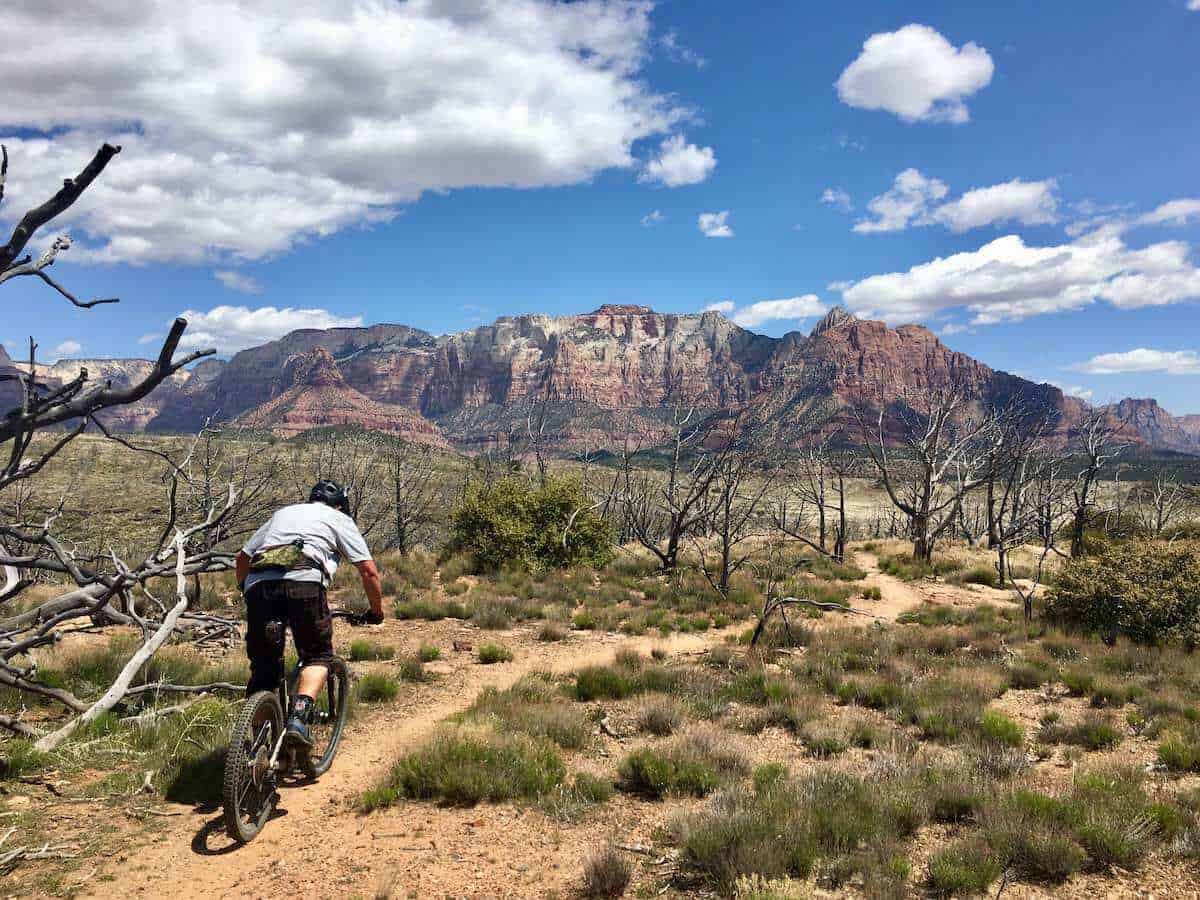 2. Phoenix, Arizona
Soaring summer temperatures make it almost impossible to ride in southern Arizona during warm months unless you wake up at the break of dawn to get a quick pedal in before the thermostat tops 100 degrees.
But mild winter temps make Phoenix (and Tucson below) perfect destinations for winter mountain biking. Between the two cities, which are just under two hours apart, there are hundreds of miles of singletrack to be explored.
In the Phoenix area, the Black Canyon Trail is a well-known 62-mile IMBA Epic that gets you out into the desert and among the cacti (literally and figuratively). It can be broken down into day-ride segments for every level of rider.
Lesser known, but just as epic, areas to explore include the challenging trails in South Mountain such as must-do National Trail, the purpose-built trails at Hawes, and the tamer cross-country trails of McDowell Mountain Park and Brown's Ranch.
Read next: The Best Mountain Biking in Phoenix, Arizona
3. Tucson, Arizona
In Tucson, Mount Lemmon is the epic (and rugged!) ride to do. The Full Lemmon Drop links up several techy trails that plunge down over 9,000 ft and encompass everything from high alpine to desert floor. It's not for the faint-hearted, though, so make sure you're up for the ride before setting out.
If you don't want to do the full drop, at least do Bug Springs to Prison Camp. For slightly mellower riding, head north to Catalina State Park. The iconic 50-Year Trail is fast and fun with lots of rock rollers and fun natural features to play off of. Timing it with sunset makes for an extra memorable ride!
Read next: A Complete Guide to Mountain Biking in Tuscon, Arizona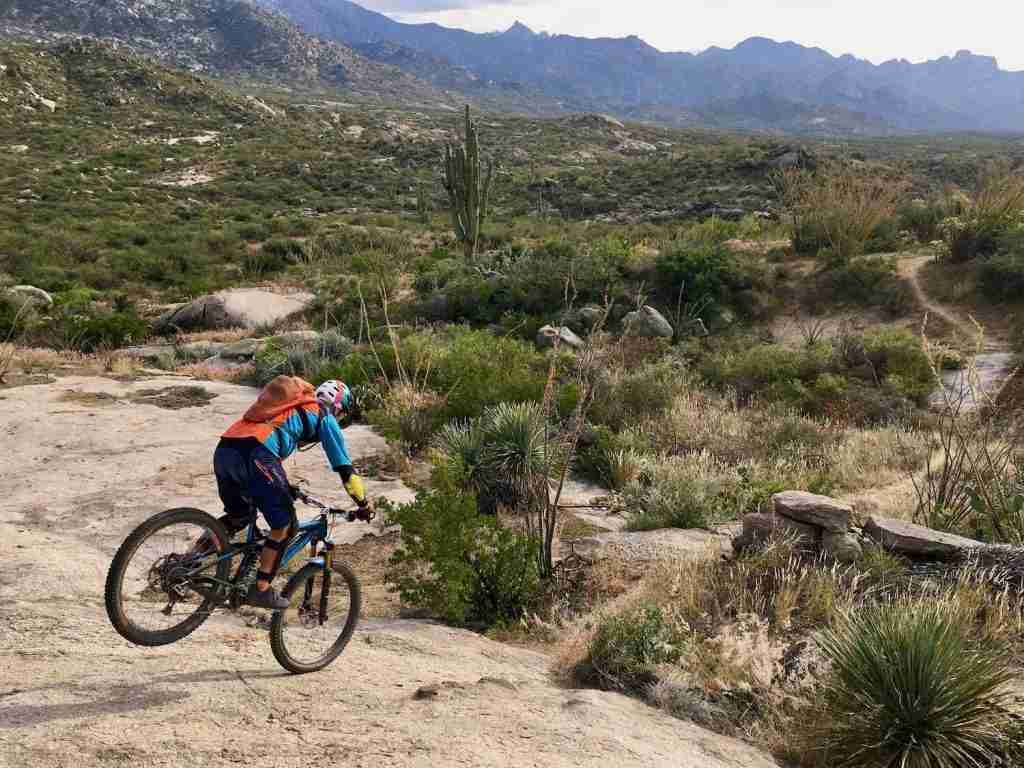 4. Las Vegas, Nevada
While best known for its glitz and glamor, Las Vegas isn't just about the shows and lights. In fact, Las Vegas has some pretty amazing singletrack riding right outside its door and winter is arguably the best time to explore the vast network due to mild temps.
Las Vegas terrain ranges from rocky and challenging to fast and flowy. Blue Diamond hosts the largest network of varied trails from 3 Mile Smile (its name says it all) to more rocky, technical, and steep riding. If you're just looking for mellow cross-country pedaling, check out Bears Best.
Head east to Boulder City and you'll find Bootleg Canyon, a spectacular display of sidehill riding, high-consequence downhill, and overall super fun enduro and cross-country tracks.
Looking for some designated downhill? Mt. Charleston, about 45 minutes outside of the city, is home to several whoop-worthy downhill lines including Tin Can Alley and Showgirl.
And the best part? There are wild donkeys everywhere!
Read next: A Complete Guide to Mountain Biking in Las Vegas, Nevada
5. Sedona, Arizona
Sedona is hands down one of my favorite winter mountain biking destinations. Why? Because everything… the beautiful views, the mild temps during the day (mid-day temps typically hover around 60°), great restaurants and bars and, of course, the trails. The red dirt singletrack around Sedona is unrivaled.
I usually start my trips to Sedona on the Broken Arrow trail, head out to Submarine Rock and Chicken Point, and then them come back on the Hog trails. Other favorites are Chuckwagon to Deadman's Pass, Aerie, and Cockscomb and for the advanced riders, Hiline and Hangover are musts.
The trails in Sedona can get busy with foot traffic, jeeps, and crystal gazers so watch your speed and remember that you're all out there to have fun. I also highly recommend going out of your way to hit up Indian Gardens for breakfast or lunch. It's the best spot to eat in Sedona!
Read next: A Complete Guide to Mountain Biking Sedona, Arizona
The southwest is a great place to head for some mountain biking fun as winter approaches, so hopefully, this post gives you some inspiration to start planning your next winter mountain biking trip.
Related posts:
Did I miss one? Where is your favorite winter mountain biking destination? Let me know in the comments below!
Was this post helpful?
buy me a coffee!