Trail Guide: The Full Lemmon Drop In Tucson, Arizona
There's a good chance that affiliate links are scattered throughout this post. If you click on one I may receive a small commission at no extra charge to you and I'll definitely be using it to buy bike gear.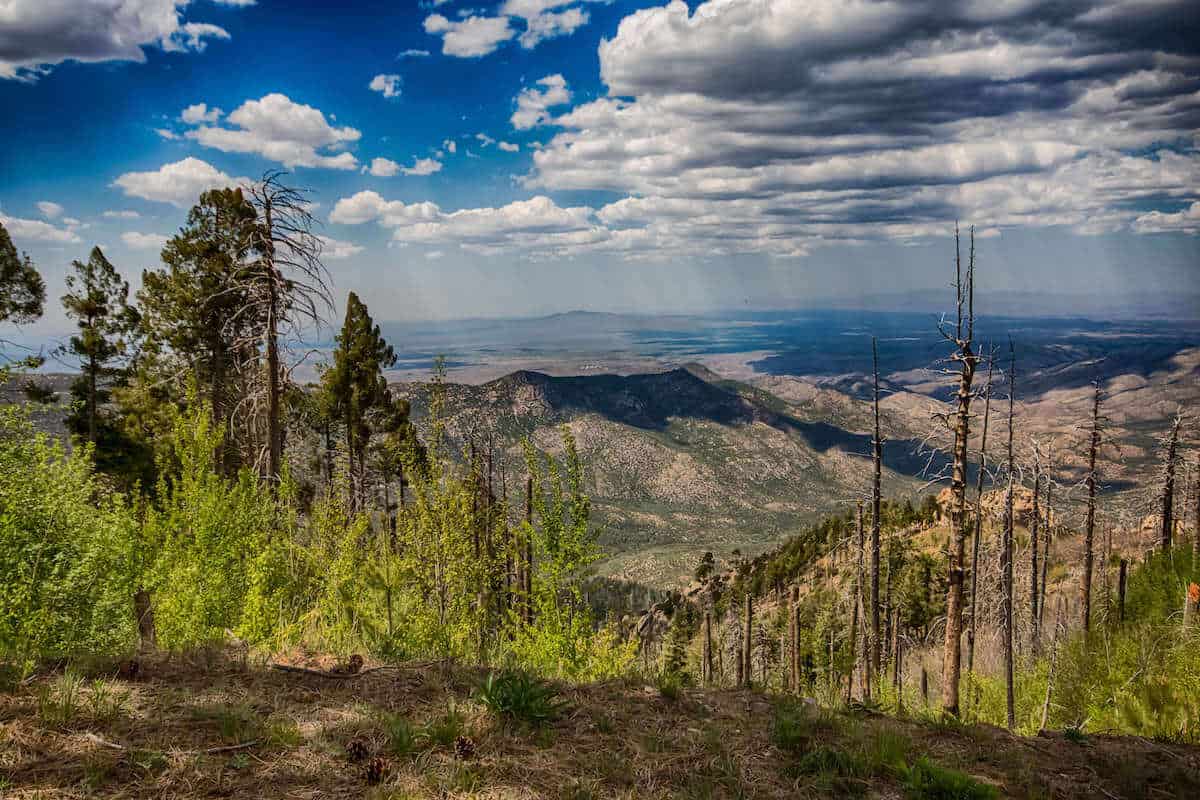 The Full Lemmon Drop in Tucson, Arizona is what The Whole Enchilada is to Moab: a long link-up of mountain bike trails that plunge down ridges and canyons, up steep climbs, over obstacles, and more. In short, an epic, all-day ride.
However, as you'll read about below, it's important to note that the Full Lemmon Drop is much more rugged and challenging than the Whole Enchilada and should only be attempted by experienced mountain bikers who are used to big days in the saddle and don't mind a bit of suffering. If that sounds like you, you're in for a treat!
Note: Mt. Lemmon took the brunt of the Bighorn wildfire in 2020. I haven't ridden the Lemmon Drop since then so I can't speak to the trail conditions post-fire. Some trail closures may still be in effect. Check trail status here.
Also, sorry about the lack of photos. I rode this before I started Two Wheeled Wanderer!
Learn everything you need to know about mountain biking the Lemmon Drop in Tucson, Arizona including shuttle options, where to start, and what to expect throughout your ride
---
What is The Full Lemmon Drop?
The Full Lemmon Drop is a 31-mile 'descent' down Mt. Lemmon from just below the summit all the way down to its base. I put 'descent' in quotation marks because there is still quite a bit of climbing, mostly along the lines of steep hike-a-bikes.
Riders can also expect super technical descending, high consequence rock gardens, extremely tight switchbacks, incredible views, rocky staircases, and a bit of hair-raising exposure. It's a full-day endeavor and should not be taken lightly!
But if you're up for everything this trail will throw at you, it's a must-ride for sure.
---
What to know before you go
Much of this trail was built for hikers
The trails on Mt. Lemmon were not built for mountain bikers, they were built for hikers. There are chunky rock steps, super tight switchbacks, steep pitches, etc… Don't expect the Full Lemmon Drop to be 'purpose-built'. This is partly what makes it so unique!
Bring more of… everything
More water than you think you'll need, more snacks, more spares, more patience.
Do not underestimate this ride
The Full Lemmon Drop is not for the fainthearted. Not only is it long (30 miles is a big day on a mountain bike in this terrain), but it's also very challenging technically, physically, and at times mentally.
As I mentioned above, most of these trails are not built for bikers, but rather they're multi-use hiking trails. Some sections – especially on Green Mountain (more about the trails below) – have huge rock steps to bumble down and steep, unswitchbacked climbs.
This trail is also not marked well, so you need to have good navigational skills and some sort of GPS like TrailForks downloaded to your phone.
All that being said, The Full Lemmon Drop is a blast if you take it for what it is: raw, old-school, gnarly in sections, and a full-day adventure.
---
The Full Lemmon Drop Trail Guide
Quick Stats
Mileage:

31 miles

if done in full
Elevation gain:

3,650 ft

Elevation loss:

9,953 ft

Time needed:

6-8 hours or more

Route difficulty: Expert with good fitness
Start: Mt. Lemmon Trailhead
Trail Breakdown
The Full Lemmon Drop is not super well marked and it can be easy to get turned around. A phone (or two) with TrailForks or MTB Project downloaded is a must!
Aspen Draw
Enjoy the fast, flowy dirt of Aspen Draw because there's nothing else like it on the rest of the ride. The trail starts at the top of Mt. Lemmon at about 9,000ft and descends down through pine forest with tight switchbacks and one rock garden that comes up fast.
To access Aspen Draw, you'll need to pedal a short way down a fire road and then the trail will be on your left. At the bottom of Aspen Draw, take the road into Summerhaven where you will then make your way to Sunset along North Sabino Canyon Park road.
Sunset
Sunset is a short one-mile connector trail with several pretty technical rocky sections to get you warmed up for Incinerator Ridge. The end of Sunset will bring you to a hiking trail that connects into Mt. Bigelow Road.
If you're not warmed up already, this three-mile climb will do the trick. Just before you get to the water tower, you'll see a trail to the left and that's the start of Incinerator Ridge.
Incinerator Ridge
Incinerator Ridge is where the real riding begins! It is steep, rocky, loose, and very raw with several tight switchbacks that require impressive bike handling skills to get around. If you have ridden Bug Springs and Molino Basin and found those trails challenging, you will be walking a lot of Incinerator Ridge.
Green Mountain
Green Mountain is a little bit more civilized (I say that in an endearing way) than Incinerator Ridge in that it's not as rocky and chunky, but it is still very steep in places with large rock steps to bounce down.
Green Mountain starts with a grunt of an up (aka a hike-a-bike) and then it gets right back into full-on DH. Both Incinerator Ridge and Green Mountain are good trails to stop and session features if you have time (and energy) to spare.
Bug Springs & Molino Basin
Now things start to get fast and flowy again. Bug Springs is one of the most popular trails in Tucson and for good reason. Most of the hardcore tech is left behind on Green Mountain and the trail opens up into hard, fast singletrack with a few rock gardens just because it's Mt. Lemmon.
You're now mostly below the tree line, so the views out over Tucson and Saguaro National Park are stunning. Molino Basin is a little less fun because it's not as fast 🙂 but still pretty darn fun.
La Milagrosa
Ok, now back to the rocky rowdy stuff. La Milagrosa is the final trail on the Full Lemmon Drop and since you're probably pretty knackered at this point it'll feel like the hardest. But it's so fun!
La Milagrosa is arguably Tucson's best technical descent. Where Incinerator Ridge and Green Mountain are more stop-and-go, La Milagrosa has flow and style. But there's definitely still the tech, so check your speed.
---
alternative Ride Option
If you still want to experience some Mt. Lemmon riding but don't want to do the rugged and demanding Full Lemmon Drop, a good alternative is to just do the Bug Springs/Molino Basic section. Both of these trails are super fun without the gnarly rock gardens. You'll still need to shuttle this route (unless you're up for a hefty pedal up General Hitchcock Highway), but Bug Springs and Molino Springs are far more accessible to intermediate (NOT beginner) riders.
If you want to add a few more miles and a bit more tech, you could also tack on Green Mountain above and/or La Milagrosa below, but keep in mind that both of these trails are very challenging.
---
Mt. Lemmon Shuttle Options
If you have two cars, you can set up your own shuttle or use the locally owned Home Grown to get you to the top of Mt. Lemmon. Home Grown offers shuttles to the top for the Full Lemmon Drop or you can opt for a shorter day by choosing their Middle Mountain Adventure which accesses Bug Springs.
You can also hire a guide for the day or get fitted with a rental bike.
---
The Best Time To Ride The Lemmon Drop
The Full Lemmon Drop is best ridden in the fall/early winter when the hot Tucson temps simmer down and the snow has yet to fly. I rode it in November and it was perfect. Of course, that depends on the year, but I'd say that October-November is prime and you may be able to get away with later winter months if it doesn't snow (yes, Arizona gets snow).
For the spring, it really depends on winter conditions. It could be super muddy up until April or March/April could be prime. If you're unsure about conditions, give Home Grown a call and they'll give the lowdown.
---
What to Bring on your ride
For a complete list of what mountain bike gear to pack for your trip to Tucson, head over to my Complete Mountain Bike Trip Packing List and Mountain Bike Pack Essentials posts.
Here are a few items specific to mountain biking The Full Lemmon Drop.
---
Have you ridden the Lemmon Drop in Tucson? What did you think? Would you do it again? Leave a comment below!
Pin it for later!