How to Bikepack The Black Canyon Trail in Arizona
Learn everything you need to know about bikepacking the BCT in Arizona including where to camp, water sources, & what to pack.
There's a good chance that affiliate links are scattered throughout this post. If you click on one I may receive a small commission at no extra charge to you and I'll definitely be using it to buy bike gear.
I'll never turn down the opportunity to spend a few nights in the desert. So when a friend asked if I wanted to bikepack the Black Canyon Trail in Arizona, of course I said "yes!"
The Black Canyon Trail (or BCT) is a 60+ mile mostly singletrack route through the beautiful Sonoran Desert between Prescott and Phoenix, Arizona. I say 60+ miles because the "official" National Recreation Trail is really 80 miles, but most people just do a 60-mile stretch of it.
While some crazies do this trail in a day, most people take 2-3 days to complete it as a bikepacking adventure. We opted to do it in 3 days/2 nights, which I thought was perfect for enjoying the incredible views, Saguaro forests, Sonoran desert landscape.
In this post, I share a recap of our trip and give a few pointers on how to plan your Black Canyon Trail Arizona bikepacking adventure.
Let's ride!
The Black Canyon Trail at a glance
These are the stats from my trip, which may differ from yours depending on where you stay and if you deviate from the route to get supplies.
*As measured by my Garmin Edge 830
**I always recommend having the route downloaded on the Ride With GPS app
A note about the mileage: there is quite a bit of discrepancy when it comes to the total mileage of the BCT. The actual total mileage of this National Recreation Trail is about 80 miles. It officially starts on the boundary of the Prescott National Forest and heads south to the Carefree Highway outside of Phoenix.
However, most people really only ride about 61 miles of the full route from Bug Springs Trail (not the Orme Road start on the map below) to Emery Henderson Trailhead.
See more about where to start and end in the planning section below.
The BCT Map
View the Black Canyon Trail on Bikepacking.com
What Makes the BCT Special?
The BCT has a lot going for it. I've spent a lot of time biking in the desert, and this is one of my favorite stretches of desert riding.
Here are a few reasons to plan a bikepacking trip on the Black Canyon Trail:
Looking for more Arizona riding? Check out my post on the Best Arizona Bike Trails.
Important Things to Know
The Black Canyon Trail is actually a pretty straightforward and simple bikepacking trip to plan.
You're never too far from Interstate 17 or civilization in case anything goes awry (or you want to bail) and there are relatively consistent sources of water along the way. There's also a resupply point in Black Canyon City about halfway through.
But don't make the mistake of thinking the BCT is easy. There are definitely some sufferfest moments along the way (be prepared for tough climbing on loose rocks!) and the potential for several deep river crossings.
Here are a few things to know before you set off:
This is a mountain biking trail
The majority of BCT is on singletrack mountain biking trail. Bikepackers who are not mountain bikers will probably find most of it quite challenging.
Even mountain bikers who aren't used to handling a loaded bike will likely need to walk some sections.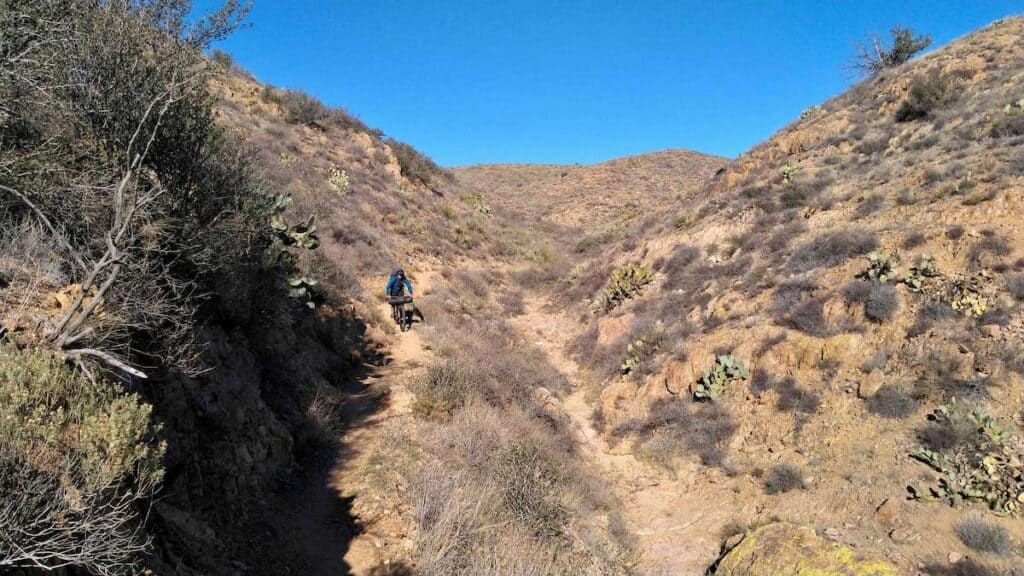 You'll cross the Agua Fria River Several times
There are several crossings of the Agua Fria River throughout the route.
Depending on what time of year it is and how much rain Arizona has gotten, this could mean simply stepping over a stream or wading through deep water. The Agua Fria River can get pretty deep in places, so if there is a big storm before your trip, the river may be unpassable.
Be sure to check water levels before heading out and keep an eye on the forecast.
Tubeless Tires are Necessary
Riding in the desert means encountering sharp pointy things like cactus spines and mean rocks. Tubeless tires are absolutely necessary. I recommend topping up your sealant before starting and bringing a small bottle of sealant with you.
Table Mesa shooting area
The route passes by (or maybe even through???) the Table Mesa shooting area as you get close to the finish.
It was quite unnerving to pedal through and hear gunshots echoing just a short ways away. I'm sure there are signs and safety measures in place, but I did not like it.
We did pass through on a weekend, so it's probably a little better during the week.
Planning your trip
Like any bikepacking trip, the BCT requires a bit of planning and thinking ahead to make sure you aren't left for the vultures out in the desert.
Here are some tips and resources to help you plan your trip.
Best time of year to ride the BCT
The Black Canyon Trail has a pretty narrow window for when it can (and should) be ridden. Winter is the best time of year to ride it since the temps are cooler. Attempting the BCT in the summer months without vehicle support can be dangerous due to super high temps (it can get well over 100° in the summer!).
I rode the BCT in late January and the days were in the 60s and the nights in the 40s, which felt perfect.
I'd recommend planning your trip between December and February.
Where to start & end
After completing this ride myself, I recommend starting at the Big Bug Trailhead and ending at the Emery Henderson Trailhead, which ends up being just over 61 miles if you take the detour into Rock Springs for pie (a must!).
You can start at the northernmost General Crook Trailhead, which would add the Osborne Spring Wash and Russian Well sections (as well as 21 miles and 1,800 ft of climbing). I haven't done these sections, so I can't speak to how they are.
I do know that the Black Canyon Trail Coalition has been working hard on cleaning up these trails, so there's that.
If you really want to add miles you could also do the Copper Mountain Loop off of Russian Well.
We left a car at the Hampton Inn in Anthem since we stayed there the night before we started. However, if I did the BCT again, I would leave a car at the Emery Henderson Trailhead off of New River Road instead. The riding past this trailhead is flat, rocky, horse-trodden, and not very scenic.
Water availability
Water is relatively scarce along the route, but there are some places to fill up. You'll definitely want to bring a water filter.
The route crosses the Agua Fria River several times, but when we rode it, there was barely any water in the river – only small pools of cow-flavored tea (that we did end up filtering). You can check water levels here.
Here are your options for filling up on water:
I didn't learn about this stop until after riding the BCT, but a fellow bikepacker noted that there is water at Hidden Treasure Mine, which is about 12.5 miles into the ride. I can't confirm this, though.
Bumblebee Ranch
Bumblebee Ranch is located about 19.5 miles into the Black Canyon Trail and some bikepackers choose to stay here for their first night.
If you want to use Bumblebee as a fill-up stop and not stay overnight, I still recommend reaching out to them to let them know you'll be rolling through and would like to fill up on water. Keep in mind that it's a working ranch.
Black Canyon Creek
Black Canyon Creek may have water in it. There were a few pools of water when we rode in January when water levels were way below average. If you ride after a storm or during a year with lots of rain, there will most likely be water here.
Black Canyon Creek is at mile 29 and we camped here our first night.
Agua Fria River
The BCT in Arizona crosses the Agua Fria River three times, however, you must check water levels ahead of time to make sure there will actually be water in the river. We rode the BCT in January and there were just a few small pockets of brown water in most of the river beds.
The first Agua Fria river crossing is at roughly mile 35 just before the detour into Rock Springs for pie!
The second river crossing comes shortly after leaving Rock Springs (about mile 41.75).
The third river crossing comes at about mile 49
Black Canyon City/Rock Springs
It's about a 2-mile (4-mile roundtrip) detour into the small town of Rock Springs where you can get a meal at Rock Springs Cafe, fill up on water, and grab extra supplies at the gas station or Rock Springs Cafe. The food at the cafe isn't great, but the pie is delicious!
There are several other restaurants, a campground, and resupply stores in Black Canyon City.
Caching water
If you're concerned about water, it's very easy to cache water along the route since there are lots of back roads to access the trail. Just remember to mark where you stashed your water jugs.
Camping & lodging options
Whether you want to camp or stay in a bed, there are numerous places to camp and stay along the Black Canyon Trail:
Camping
There is dispersed camping all along the BCT. I like to camp by water, so we chose to camp at Black Canyon Creek (mile 29) and the third Agua Fria River crossing (mile 49).
Bumblebee Ranch
Bumblebee Ranch is a working ranch along the BCT that allows bikepackers to camp or you can reserve one of their cabins (reservations required).
We initially planned to stay at Bumblebee Ranch for our first night, but then we realized that it's only 19.5 miles into the route and most of that is downhill.
If you want to stay at Bumblebee Ranch, I recommend starting your ride around 11 or 12pm. Know that this will make days 2 and 3 very long with a lot of climbing.
Alternatively, if you start at the General Crook Trailhead or Orme Road Trailhead, the Bumblebee Ranch could be a good place to stay on your first night.
Hotels/motels
If you don't want to carry all your camping gear, there are several hotel and motel options in Black Canyon City and Rock Springs.
You could spend your first night in a Bumblebee Ranch cabin and your second night in Black Canyon City or Rock Springs.
Navigating the route
For the most part, the Black Canyon Trail is pretty well marked with signs and bike tire tracks. However, there are a few unmarked turns and I was definitely glad to have my Garmin Edge 830. The battery lasted the whole trip, so I didn't have to drain my phone battery.
I also found TrailForks to be helpful, especially when looking at elevation gain.
Shop the Garmin Edge 830 at:
My 3-Day BCT Itinerary
There are numerous ways to plan out a bikepacking trip on the BCT. Below is what our trip ended up looking like.
The night before we started our ride, we stayed at the Hampton Inn in Anthem. We left my car there, although if I did this trip again, I'd leave a car at the Emery Henderson Trailhead instead. It was about a 50-minute drive from the hotel to the Big Bug Trailhead and we started riding around 9am.
There's an initial climb out of the parking area, but then the first dozen or so miles are flowy and downhill-trending with a super cool section through Antelope Canyon. There are also incredible views of the Bradshaw Mountains and super scenic Sonoran Desert riding.
We ended up camping at Black Canyon Creek, a big wash that had a bit of water and some nice green grass to set up our tents on.
I'm hesitant to recommend camping here because there's no guarantee there will be water. (And the water we filtered was pretty nasty) You could fill up at Bumblebee Ranch first, though.
It's another 15 miles from Black Canyon Creek to the first Agua Fria river crossing.
Day 2: Black Canyon Creek to Agua Fria
Day 2 was a big day with quite a bit of climbing. We did the mandatory detour into Rock Springs for some pie at Rock Springs Cafe (the food is meh, but the pie is really good). Keep in mind, though, that you have a five-mile climb post-meal! I definitely ate too much and felt the consequence grinding up that mountain….
We also encountered some crazy wind that bordered on ridiculous. Thankfully, it died down in the afternoon.
But once you make it to the top of the climb outside of Rock Springs, you're in for some fun, flowy, well-earned descending!
We decided to camp on the banks of the Agua Fria River, about 14 miles past Rock Springs. There were a few pools of water, but no 'river' crossing.
Day 3: Black Canyon Creek to Agua Fria
The final day had some of the worst riding of the whole trail, but also some of the best. You have to pass through a shooting range area near Table Mesa, which is quite unnerving. We rode through on a Saturday morning. A weekday would probably be a bit less 'hot'. I'm sure there are signs and precautions to prevent people from shooting in the direction of the trail, but it still honestly felt unsafe.
After passing through the shooting area, you are rewarded with a s*&@#% final big climb up a horse-trodden trail full of loose rocks. It's truly terrible. But know that the trail does get better and there are flowier miles ahead of you!
Then it's the final push to the Emery Henderson Trailhead and hopefully a hot shower and good meal!
What to pack for the BCT
For a complete bikepacking gear list, head over to my post Bikepacking Gear Checklist or browse my favorites below.
Bikepacking Gear List
Below are a few of my favorite pieces of bikepacking gear and recommendations:
Here are a few recommendations specific to the BCT in Arizona:
A full-suspension bike
The Black Canyon Trail is a mountain bike route with lots of rocks and bumps. I highly recommend doing this on a full-suspension mountain bike or a hardtail at the least.
It would be very uncomfortable/miserable on a fully rigid bike.
Wide tires
Opt for wider tires like 2.4's-2.6's. There are some sandy stretches and wider tires will be more comfortable on the many (many) rocky sections.
Tubeless tires!
You'll be riding through the desert and there are lots of sharp, pointy things. Tubeless tires are a must.
Windbreaker
We encountered some really strong winds on our second day and I was super glad to have my Patagonia Houdini jacket (men's). It's very lightweight (only 3.2 oz) and packs down small, so it's kind of a no-brainer.
Shop the Patagonia Houdini Jacket at:
Water Filter
If you're camping, you'll definitely need a water filter. I use the Platypus GravityWorks filter and it works great, even in questionable situations.
Shop the Platypus GravityWorks Filter at:
Looking for more two-wheeled adventures in Arizona? Check out these blog posts:
What questions do you still have about bikepacking the Black Canyon Trail in Arizona? Does this sound like a trip you'd be into? Have you completed it already? Let us know in the comments!