7 Must-Ride Arizona Mountain Biking Destinations
Arizona mountain biking is some of the best in the US from red rock riding in Sedona to beautiful desert trails in Phoenix. Learn more here!
There's a good chance that affiliate links are scattered throughout this post. If you click on one I may receive a small commission at no extra charge to you and I'll definitely be using it to buy bike gear.
Arizona is one of my top favorite places to mountain bike in the US. It's got so much going for it from the grippy red rock of Sedona to the legit downhill tracks down Mt. Lemmon in Tucson to the fast and flowy purpose-built trails in Phoenix.
And the views? Simply stunning. The first time I visited Sedona, I was blown away by its beauty. Phoenix and Tucson aren't ugly either.
So if you're anything like me, and are itching for a good road trip – especially to escape the winter blues – here's everything you need to know about mountain biking in Arizona.
What to expect
Glorious winter temperatures
The daytime winter temps in Arizona can range from a semi-chilly mid-40s all the way up to a glorious mid-'70s, making it a perfect winter escape, especially for those of you who (very perplexingly) live in a sub-0 arctic climate.
If you're looking for a winter mountain bike escape, definitely put Arizona at the top of your list.
Amazing trails
The mountain biking in Arizona is still pretty underrated. Sure, most people are clued into the amazing riding in Sedona, but what about Phoenix? And Tucson? And the Black Canyon Trail?
There are so many places to mountain bike in Arizona. You could ride for a week in Phoenix and not even explore every trail or zone. TrailForks says that Arizona is home to over 3,000 trails and 5,629 miles of riding!
Of course, not all of that is going to be fun singletrack, but trust me, a lot of it is.
Incredible scenery and landscape
One of the reasons I love mountain biking in Arizona so much is that the scenery and landscapes are absolutely stunning.
Arizona is home to some of the most beautiful vistas in the US. To be able to pedal through blooming desert landscapes and pause to look out over towering red rock bluffs is definitely a big reason why I think Arizona is one of the best states to mountain bike in.
Looking for more Arizona riding? Check out the Best Arizona Bike Trails for Every Type of Cyclist
Best Time to Mountain Bike in Arizona
Because of blistering summer temps throughout most of the state, early spring, winter, and late fall are the best times to plan a mountain bike trip to Arizona. Some places, like Prescott and Flagstaff, do typically get snow in the winter, so always check the weather and conditions before heading out.
The good news, though, is that if one place is covered in snow, there's usually some sunny and warm singletrack a few hours or less away.
Related: How to Survive Your First Mountain Bike Trip to the Desert
Where to ride
Ok, now that you're convinced that you need to get you and your two wheels to Arizona for some mountain bike action, where should you go?
Here are the 7 best mountain biking destinations around Arizona:
1. Sedona
Sedona is one of my favorite places to mountain bike in Arizona. It's beautiful, the dirt is tacky and grippy, the trails are challenging and engaging, and you get a lot for your efforts.
Sedona riding could be considered mostly cross-country, but for me – someone who loves a good technical descent – I find that Sedona trails are definitely more interesting than most cross-country destinations.
Expect a ton of rocky features, epic views, reasonable climbs, and a few rowdy descents.
Here are a few blog posts to help you start planning your mountain bike trip to Sedona:
2. Flagstaff
I've ridden in Flagstaff a few times and it has a great network of cross-country trails. Truthfully, Flagstaff riding is not my all-time favorite (I'd rather head down the hill to Sedona!), but it's still a great place to check out if you're in the area. There are lots of forested cross-country trails and the potential to lay down a lot of miles if you're up for it.
I haven't ridden Flagstaff enough to write up a complete guide, but I plan on returning soon!
3. Tucson
Perhaps you've heard of the Full Lemmon Drop, but if you haven't, here's what you need to know: 30 miles of rocky, technical, fast, and full-on DH with a few steep climbs and a whole lot of fun. It's not for the casual rider, though, so if mellow is more your scene Tucson is also home to some fantastic networks including Fantasy Island, Tucson Mountain Park, and Catalina State Park.
Definitely plan your mountain bike trip to Tucson in the winter, though. Summer temps are brutal!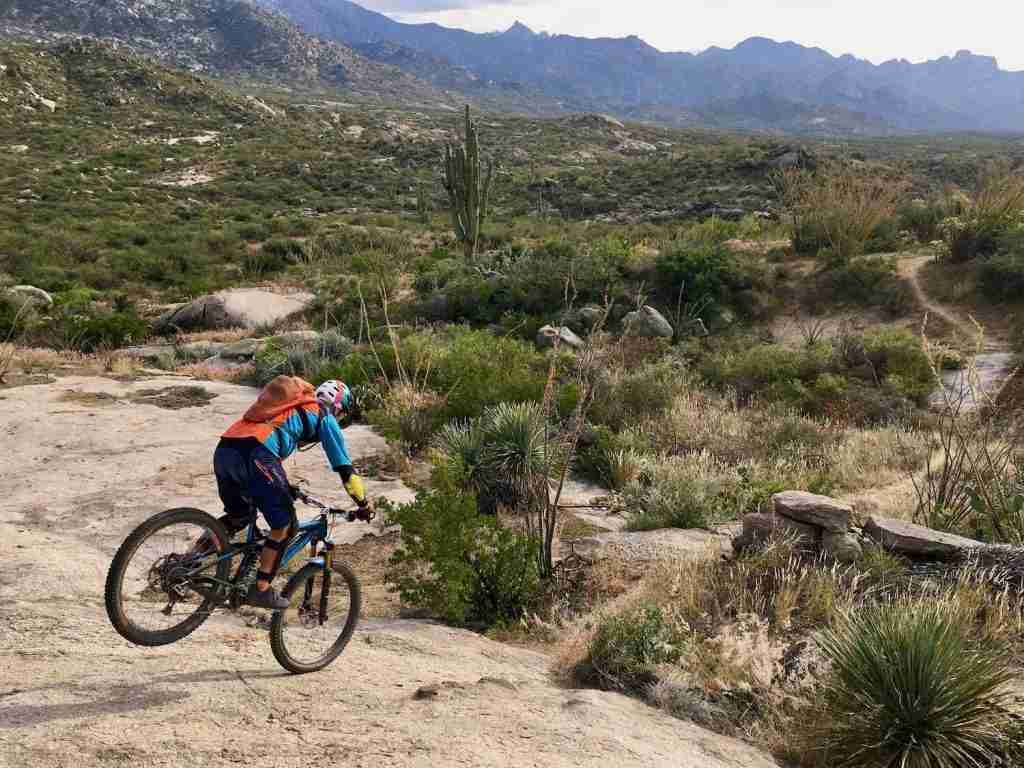 4. Phoenix
I love Phoenix riding and I think it has some of the best mountain biking in Arizona. There is SO much singletrack around the city and more is being developed every year.
Brown's Ranch has blown up with cross-country trails in recent years and South Mountain is home to the popular National Trail and other DH-oriented riding. A little farther outside of town – but highly worth the visit – is Gold Canyon with some cool rock riding with good flow.
Then there's Fantasy Island North and Hawes, both of which are little slices of purpose-built mountain biking heaven.
5. Lake Havasu
Lake Havasu is a popular winter destination for boaters and watersport enthusiasts, but there's also a network of cool singletrack around the town. It's not exactly extensive or diverse – there are about 60 miles of deserty singletrack – but if you're looking for a weekend mountain bike getaway to someplace warm and sunny with good food and drinks, Lake Havasu could be your answer!
Plus did you know that Lake Havasu is home to the actual world-famous London Bridge? So random! There's also some nice beach-front to relax on post-ride.
6. Black Canyon Trail
The Black Canyon Trail is a 60+ mile stretch of singletrack between Prescott and Phoenix. It can be ridden as a 1-2 night bikepacking trip or sections of it are also popular for day rides.
If you want to do a day ride, the uppermost four sections are the best: Hidden Treasure, Antelope Creek, Drinking Snake, and Bug Spring.
I recommend parking at Hidden Treasure Mine and pedaling north to the top of Drinking Snake then turning around. If you still have energy, descend Hidden Treasure and climb back up to your car.
7. Prescott
Prescott is another worthy mountain bike destination in Arizona with dozens of miles of trail and really cool terrain, especially around the Granite Dells. The city of Prescott is situated at around 5,400ft, so it does get a bit of snow during winter – about 13 inches per year – but the average winter day temps are in the 50's.
You can also ride throughout the summer, just be aware of the temps and bring plenty of water with you.
I haven't fully explored the mountain biking around Prescott, but I'm excited to check it out because I've heard great things!
I hope this post gives you some inspiration and tips for planning your next mountain bike adventure to Arizona. Arizona is one of my favorite places to ride and I think you'll love it, too.
Related Posts:
What are your favorite places to mountain bike in Arizona? Do you have a must-ride trail? Let us know in the comments below!