Galbraith Mountain: A Mountain Biker's Guide To Bellingham's Best Riding
Learn everything you need to know about mountain biking at Galbraith Mountain in Bellingham, Washington including the best trails and more
There's a good chance that affiliate links are scattered throughout this post. If you click on one I may receive a small commission at no extra charge to you and I'll definitely be using it to buy bike gear.
Galbraith Mountain is the epicenter of mountain biking in Bellingham, Washington and it draws riders from near and far. The trail network covers a vast majority of the mountain and depending on what trails you find yourself on, you may come to think of it as a mountain biker's playground or a house of horrors.
To be honest, I was pretty intimidated when I first pedaled in. Not only is Galbraith super popular with mountain bikers zooming left and right any day of the week, but there are some big and intimidating features in there. No wonder there are so many amazing riders that come out of Bellingham!
But that's not to scare you off. Galbraith Mountain is home to a variety of trails including (slightly) tamer cross-country singletrack and entry-level jump lines. I wasn't able to ride nearly all of it during my week and a half exploring Bellingham, but I also came to realize that this is the kind of place where you just need to get out there and explore on your own. There will be features you skip the first time around and probably some you will never even consider.
Important Things to Know
Mountain biking Galbraith Mountain is awesome, but there are a few things to know before hitting the trails:
Watch Nate Hills ride Galbraith with Harrison Ory
4 Tips for Riding Galbraith Mountain
Before hitting the trails, here are four tips to make your day at Galbraith easier and safer.
1. Pre-ride, re-ride, freeride
There are some big, intimidating features at Galbraith. Think long skinny bridges, steep roll-downs, tons of jumps, huge drops, etc…
Always look at a feature before you hit it, and don't just assume that something 'goes'!
2. Don't try to follow a pre-planned route
One of my biggest mistakes when I first got to Galbraith was to try and follow a pre-planned route. It's not possible unless you want to keep looking at your phone every 5 or 10 minutes.
Instead, my suggestion is to pick 1 or 2 trails you know you want to ride (see trail recommendations below) and then figure out how you're going to get to them with the least amount of suffering possible.
If the thought of trying to navigate Galbraith Mountain on your own sounds overwhelming, book a day tour with Dig Deep Tours.
3. Climb the road
Another mistake I made on my first ride at Galbraith was to insist I take singletrack all the way to the top. You'll come to appreciate that the road is so much easier and while it's still steep, you can just let your legs spin.
The climbing trails are nice for those who really like climbing, but if you're the other 99% do yourself a favor and take the road at least part of the way.
4. Stop and appreciate the trail signs
I don't know who makes the trail signs at Galbraith, but they are super fun and cool. It's worth stopping at each trailhead to check out the metalwork and designs!
Best trails on Galbraith
Galbraith can be broken into quarters: North, South, East, and West. I did my best to seek out the best trails and link-ups, but the mountain is huge. There are definitely trails I didn't ride, but I'm sure I'll be back!
North Side
The north side trails of Galbraith make up more of the old school downhill and cross-country trails. I definitely got the sense that this area isn't as popular as the south side, but it's still worth checking out if you have the time (and legs).
The climb up to the ridge is steeep but once you get up there, there are some fun options for descending.
North Galbraith trail recommendations:
SST: One of Galbraith's original trails. It's fast and flowy in sections, but also has some old-school ruggedness to it. It's also got great views out over Bellingham Bay.
Air Chair: Similar to SST, but quite a bit steeper in places (and arguably more fun).
Oriental Express: More rugged and natural than both SST and Air Chair
Bob's Trail: I didn't ride this one but it gets great reviews
South Side
Southside Galbraith is where most riders spend their time. It's where all the 'best' mountain biking on Galbraith is with tons of features and long descents.
It's a haul to get to the top either via the fire road or climbing trails (Three Pigs to Huff and Puff), but the descents are… mostly worth it.
There are a lot of things going on on the southside from huge jumps to elevated ramps and bridges to steep rollers and rock wall rides. It's a bit intense, especially the first couple of times you see and ride these trails.
At first, I really wasn't enjoying it – especially riding by myself – but after a couple of rides, the trails and features really started to grow on me.
South Galbraith trail recommendations:
Evolution: This is a local's favorite and probably my favorite trail at Galbraith. There are several big features that I skipped the first lap, but hit on the second. It's a pretty cool trail with lots of things happening. It's also a haul to get to.
Unemployment Line: This is one of the most popular trails at Galbraith. It's definitely a jump line, but there's nothing mandatory. The wooden roll-in is super fun and unique!
Atomic Dog: Even though they don't connect right into each other, Atomic Dog is pretty much an extension of Unemployment Line with jumps, drops, and natural features.
Das Auto Bahn: I really liked this trail. It's more old-school with steeper lines and fewer jumps and berms. This was also one of my favorites.
Irish Death: Very similar to Das Auto Bahn. Together they make a great link-up.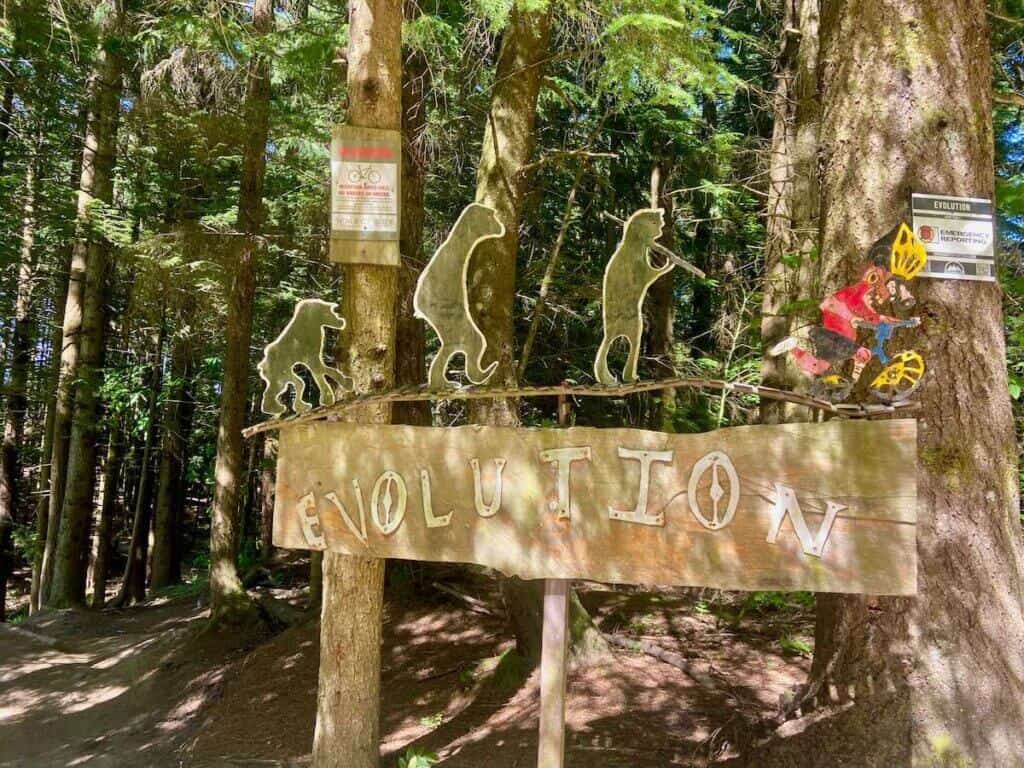 If you have more time
Mullet to Cheech and Chong's Wild Ride: This link-up was ok. I thought the above trails were better, but these are worth it if you have more time to explore.
Trails to skip:
Whoopsie Woodle: 100% not worth it unless you like to pedal downhill
Three Pigs and Huff & Puff: These are the two climbing trails that will take you to the top of south Galbraith. I did them on my first ride and then quickly opted for the fire road. If you enjoy climbing more than descending you'll dig them. If you're just looking for the adrenaline payoff, take the fire road.
East Side
I didn't get to ride the East Side of Galbraith Mountain, but there is one loop that I'm curious about: pedal up Rufus Creek or Baneberry and then take Cougar Mountain down. If you do this ride, tell me about it in the comments!
Mountain Bike Packing List
Below are a few of my favorite pieces of mountain biking gear and recommendations for your mountain bike trip or ride:
West Side
The west side of Galbraith Mountain has a few beginner-friendly, mellow cross-country trails like Kaya, Ursa Major, and Lost Giants.
These are good for newer rides or if want to take the kiddos out for a spin. I'd skip them if you're looking for more advanced trails.
There is also the Cedar Dust jump park on the west side, too, if you want to practice your skills before taking them to the trails.
Suggested Routes
It's really hard to follow a pre-planned route at Galbraith because there are so many trails and intersections. I recommend building your ride based on 1 or 2 trails you want to hit or else you're just going to get frustrated trying to follow an exact plan.
Use the below routes as guidelines for your first few days at Galbraith until you get a better sense of how everything links together.
Galbraith Mountain Route recommendation
>> Evolution – Unemployment Line – Atomic Dog
This route features one of the classic and most popular descents down south Galbraith: Evolution to Unemployment Line to Atomic Dog. It's super fun with a mix of old-school tech, man-made features, jumps, drops, and a bit of flow. There are some big features on this route, so always look before you ride.
To get to the top of Evolution, you can climb singletrack via Three Pigs and Huff and Puff or take the fire road (labeled Towers – south side approach on TrailForks).
Route directions: South Galbraith Parking > Dog Patch > Fire Road > Huf and Puff > Upper Scorpion > Das Autobahn > Irish Death > Radical Dragon > Gate and Switch
Do more: If you feel like climbing again, pedal back up the fire road and do another run down Unemployment Line and Atomic Dog. Or, try a different descent like Pump Track (which I didn't get to ride).
Galbraith Mountain Route recommendation
>> Das Autobahn & Irish Death
This is another great link-up of trails on the south side of Galbraith Mountain. I really liked Das Autobahn and Irish Death. They're rated black, but aren't terribly technical aside from a few features and steep sections.
I didn't do Radical Dragon, but instead finished the descent down Lair of the Bear, which is a really pretty trail through temperate rainforest. Radical Dragon is also supposed to be fun with steep rock rolls and narrow, steep, rooty sections.
Again, you can choose to climb up Three Pigs and Huff and Puff or pedal up the fire road.
Route directions: South Galbraith Parking > Pipeline Road > Dog Patch > Pony Express > Three Pigs > Huff and Puff > Wonderland > Evolution > Unemployment Line > Atomic Dog > Gate and Switch
Do more: Add a lap on one of the mid-mountain trails like Atomic Dog or Lair of the Bear.
Galbraith Mountain Route recommendation
>> SST Lap
This is a short northside loop that features SST. It's a climb to get up there, but the descent back down is pretty fun.
You can add as many miles onto this loop as you want. For a longer version, check out this route, which adds a descent down Mullet.
Radical Rippers Birch Falls Way route option
on
Trailforks.com
Route directions: Birch Street Parking (you can also park on the side of the road at the start of Backdoor) > Backdoor > Up 2 Something > Dos Copas (has a different trail sign name) > V Trail > SST
Do more: If you're up for another climb back up, take Air Chair down on your second lap. This trail is steeper and has bigger features than SST. Oriental Express is another good option.
Final Thoughts
Galbraith Mountain is a mecca for mountain bikers near and far for a reason. It's a giant playground with trails crisscrossing its slopes and features of every size and shape imaginable.
Galbraith can be a bit intimidating for first-time visitors (it was for me!), but hopefully with the information, tips, and trail/route recommendations in this post, you have a better idea of what to expect on your first visit.
For more information, check out these resources:
WMBC – The Whatcom Mountain Bike Coalition is the organization behind a lot of the trail work and building in Bellingham. They also host events and group rides. (Facebook page here)
Transition Outpost – Located at the base of Galbraith, this is Transition Bike's demo center, bike shop, and community gathering place where you can grab a drink and some food post-ride. They also organize group rides.
Joyriders – Women's group rides and events
Dig Deep Tours – Mountain bike tour operator in Bellingham
Have a blast! (And keep the rubber side down).
Planning a trip to the Pacific Northwest? Check out these other great places to ride:
Have you ridden at Galbraith Mountain bike Bellingham? What did you think? What are your favorite trails and link-ups? Leave a comment below!
Was this post helpful?
Consider 'buying me a coffee!'