Biking The Stowe Recreation Path in Vermont
There's a good chance that affiliate links are scattered throughout this post. If you click on one I may receive a small commission at no extra charge to you and I'll definitely be using it to buy bike gear.
Growing up in Vermont, a pedal along the Stowe Recreation Path was a regular outing for my family. We would meander along the river on our bikes and make our way to Stowe Village for an ice cream before pedaling back to the car.
The 11 miles roundtrip felt like 100 miles when I was 10, but I loved it! It's still a must-do when I come back to visit, especially with my niece and nephew. In this post, I share some tips for making the most of your day on the Stowe Bike Path including a few best places to stop along the way.
The Stowe Recreation Path At a Glance
Miles (one-way): 5.5 miles
Surface type: paved
Elevation gain/loss: 250 ft round trip
Start/end: Stowe Village
Start/end: Brook Road
The Stowe Recreation Path is an 11-mile roundtrip paved path that snakes its way along the banks of the quiet West Branch Little River in Stowe, Vermont.
Along its route, there are a dozen wooden footbridges that criss-cross the river and plenty of swimming holes to take a dip in. The path also winds through the outskirts of town and passes by a handful of great restaurants, cafes, and shops.
You can choose to ride the full path all the way out to Brook Road or turn around at any point along the way.
Stowe recreation path parking
There are several parking areas along the Stowe Recreation Path:
Stowe Village: There is a parking area at the start of the bike path in the Village behind the Stowe Community Church
Chase Park: This park is situated about halfway along the Stowe Recreation Path (~2.5 miles from the Village)
Thompson Park: Located just a short distance past Chase Park with great access to the river
Brook Road: This is the end of the bike path and there is a small dirt parking area as well as an old historic covered bridge.
Where to start
The paved Stowe Recreation Path path stretches 5.5-mile one-way from the town of Stowe to Brook Rd. There are several ways to ride the path:
Brook Road to Stowe
The western terminus of the Stowe Bike Path is right off of Route 108 on Brook Road. There's a small parking area with a port-a-potty. If you pedal all the way to Stowe, this will be 11 miles round trip.
Stowe to Brook Road
Starting in the Village of Stowe, you can pedal out to Brook Road. Again, this will be 11 miles round trip.
Start in the middle
You can also start your ride somewhere in the middle of the bike path. There are several places to park, which are marked as P on the map to the right. Just remember where you parked your car!
Stowe Recreation Path Bike Rentals
There are several places to rent bikes along the Stowe Bike Path:
The outdoor gear store MountainOps is located close to the Brook Road parking area and they rent cruiser bikes or e-bikes by the hour.
In the Village of Stowe, Ranch Camp or AJ's Ski and Sports both have bike rentals suitable for the bike path.
Looking for some dirt? Check out my guide on Mountain Biking in Stowe, Vermont
Best Stops Along the Stowe Recreation Path
Now for the fun part! There are some great places to stop along the Stowe Bike Path for food, shopping, swimming, and more. Here are my favorite spots.
1. Stowe Sweets
Stowe Sweets is Stowe's best ice cream shop and it's located right in the village at the start of the Stowe Recreation Path. They serve handmade ice cream in a dozen different flavors (my fave is the sea salt truffle) as well as creemees (Vermont soft-serve), milkshakes, sundaes, and more.
Whether you're starting and ending your bike ride at Lintilhac Park or the Village is your halfway point, an ice cream at Stowe Sweets is a must!
2. Piecasso Pizzaria & Lounge
Situated about halfway down the bike path, Piecasso Pizzaria is a great stop for lunch or dinner. They serve delicious artisan pizza along with other Italian standards like pasta and salads.
Piecasso has a full bar with craft beers and hard ciders and outdoor seating just a few pedal strokes away from the bike path.
3. Idlethyme Brewing Co.
Idlethyme Brewing Co. is right next to Piecasso Pizza and is another great place to stop for a meal or snack along the Stowe Recreation Path. Along with their own craft beers brewed onsite, Idlethyme serves simple and seasonal fare like burgers and salads.
They also have a beautiful outdoor seating patio with twinkling lights and picnic tables just steps from the bike path.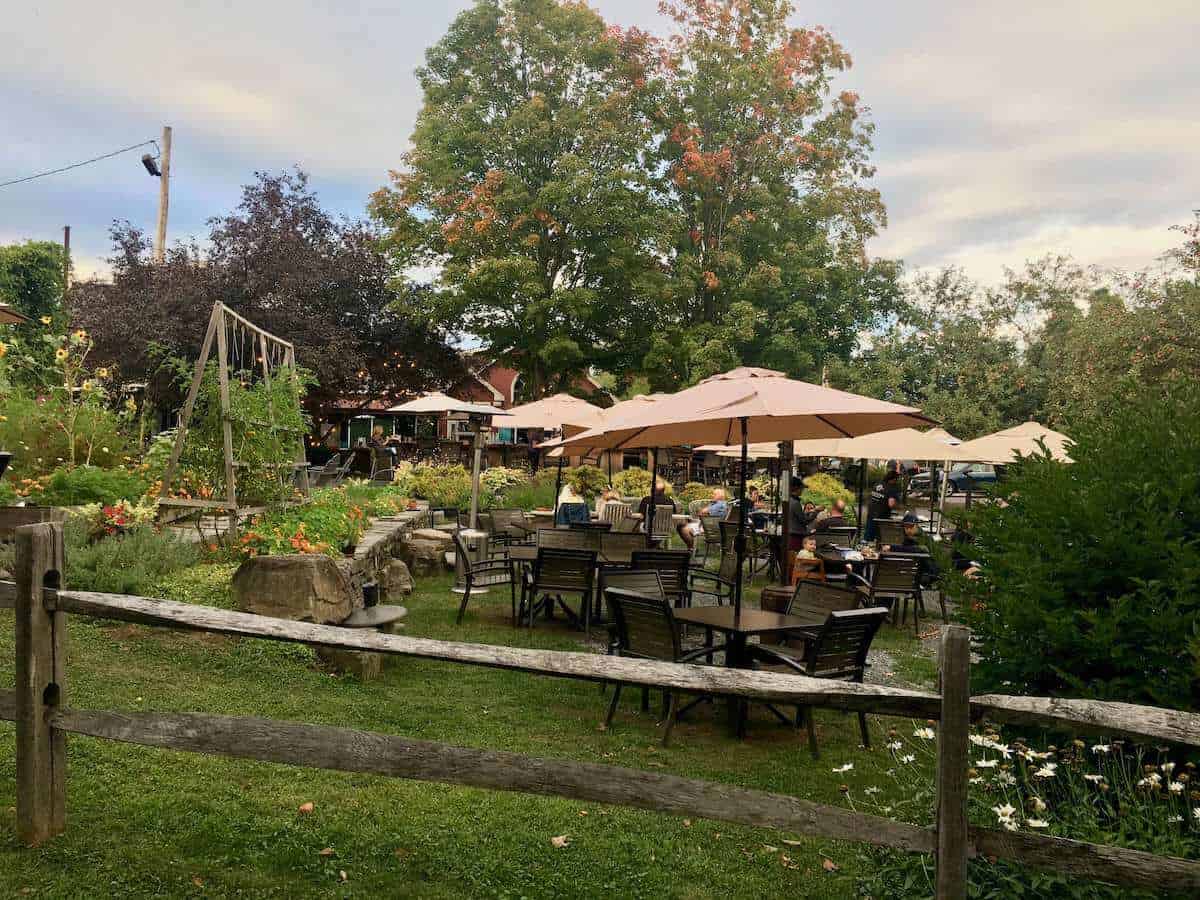 4. Swimming holes
There are many opportunities to take a dip in the river along the Stowe Bike Path. The paved path meanders along the West Branch Little River and you'll see multiple places to jump off the bikes and into the river.
Some of the swimming holes are built up with small rock dams and others are deep, natural pools. Find one that looks appealing to you and jump on in!
5. Percy Farm Corn Maze
Every year, farmer Paul Percy mows a maze through his Bouchard Farm corn field and lets visitors navigate their way through it. The corn maze is located right off the bike path and it's a super fun stop for kids.
They also have a few farm animals out front like baby cows and goats, that you can feed for ¢.25.
The maze typically opens in August, so check their Facebook page for updates.
6. Stowe Bee Bakery & Cafe
Need a little sweet treat to keep your energy up? Stowe Bee Bakery & Cafe serves up beautiful and delicious treats like cupcakes, brownies, cookies, and a wide assortment of pastries. They also have a savory breakfast and lunch menu filled with comfort foods like mac & cheese and pot pies and a full-service coffee bar.
Stowe Bee Bakery & Cafe is just a few steps off the Stowe Bike Path near Town Farm Ln. and definitely worth a stop!
7. Stowe Cider
I'm a huge cider fan and Vermont brewers make some of the best hard cider around. Stowe Cider was founded in 2013 with the mission to 'keep cider dry' (just the way I like it!) All of their ciders range from dry and preservative-free to others that contain local fruits, hops, and unique barrel-aged flavors like peach-habanero or pineapple, lemon, blood orange with gin botanicals
If you're feeling extra adventurous, try their Gummy Bear cider – a dry cider co-fermented and aged on blue raspberry gummies.
Stowe Cider is located behind Tres Amigos Mexican restaurant. They have a large green space with picnic tables and stone sculptures. They also occasionally have a food truck parked out front and a few snacks available for purchase. If you enjoy live music, check out their summer schedule line-up.
8. The Alchemist
You may have heard of the craft beer Heady Topper, which has a bit of a cult following in Vermont, similar to California's Pliny The Elder. Heady Topper and their other popular brew – Focal Banger – are made by The Alchemist Brewing which specializes in fresh, unfiltered IPA's.
The Alchemist Brewery and Visitor's Center in Stowe (they also have a brewery in Waterbury which isn't open to the public) is situated slightly off the bike path, but it's worth a visit. They provide samples of beer for tasting, retail beer sales, merchandise, and a fun, educational experience.
If you like beer – especially hoppy IPA's – The Alchemist is a must!
9. Stowe Farmer's Market
If you happen to bike riding the Stowe Bike Path on a summer Sunday, be sure to stop at the Stowe Farmer's Market to browse fresh produce and locally-made crafts and goods.
You'll find everything from homemade cheese to spicy pickles to wood-fired pizza, samosas, thirst-quenching beverages, pottery, glasswork, and more.
The market is set up every Sunday on the green between the Stowe Motel and Edelweiss Mountain Deli, right off the bike path!
10. Northwood Gallery
Northwood Gallery, located in Stowe Village, hosts a collection of art and gifts from a wide variety of Vermont artisans. Here you can find everything from pottery to jewelry to paintings to molded wax candles. Everything at Northwood Gallery is made or crafted by artists that live in Vermont, so if you're looking for a gift or memento this is the place to shop.
Northwood Gallery is just a few steps from the eastern end of the Stowe Bike Path near Lintilhac Park.
Have you biked along the Stowe Recreation Path? What are your favorite places to stop along the way? Leave a comment below!
Was this post helpful?
Consider 'buying me a coffee!'