Bikepacking Backpack Review: Osprey Mira 32 & Osprey Manta 34
Looking for the one bikepacking backpack that will do it all? Enter the Osprey Mira 32 and Osprey Manta 34. These packs were designed for hut-to-hut adventures and they're perfect for multi-day bikepacking trips. Read on to learn more!
There's a good chance that affiliate links are scattered throughout this post. If you click on one I may receive a small commission at no extra charge to you and I'll definitely be using it to buy bike gear.
Finding the right gear-carrying setup for a bikepacking trip can be a challenge. Do you go with a frame bag, handlebar roll, and a seat post bag or do you carry everything on your back in a large bikepacking backpack like the Osprey Mira and Osprey Manta?
While there's no one right answer to this question – and honestly every bikepacking trip requires a different gear setup – I recently tested out the Osprey Mira 32 pack on my Telluride to Moab Hut-to-Hut trip and thought it worked great.
In this post, I share my thoughts on what I loved and what I didn't. (My boyfriend at the time tested out the men's version – the Osprey Manta 34 – and also loved it for this type of adventure).
The Packs At A glance
The Osprey Mira and Osprey Manta packs were designed specifically for overnight backcountry hut-to-hut trips, which was one of the biggest appeals to me. I wouldn't recommend these packs for every bikepacking adventure, but if you don't need to carry a ton of gear and you want to keep your bikepacking bike light and agile, a backpack setup could be a great choice.
Capacity: 32 liters (W), 34 liters (M)
Weight: 2 lbs. 15.5 oz. (W), 3 lbs. 1.4 oz. (M)
Fits torso length: 14-19 inches (W), 17-22 inches (M)
Fits waist/hips: 25-50 inches (W & M)
Price: $215.00
Pros:
Cons:
What I Love
Comfort and fit
To get the best fit, the Osprey Mira and Manta have multiple adjustment straps on the shoulders, back, sternum, and waist. It took me a few minutes of adjusting all the straps to get a good fit, but with a little patience and testing these packs are really comfortable, even when fully packed and loaded.
I actually couldn't believe how comfortable the Mira was while pedaling 200 miles on the Telluride to Moab Hut-to-Hut trip and the 60 miles on Black Canyon Trail in Arizona. My shoulders never got sore!
That being said, if you have heavier gear, I recommend packing that stuff in a frame bag or saddle bag and keeping your Osprey pack as light as possible.
Variety of interior & exterior pockets
Another favorite feature of the Osprey Mira is the variety of pockets on the inside and outside. There are 7 exterior pockets including two side mesh pockets for water bottles (or flip-flops on my hut-to-hut trip), one large cavity compartment, and several smaller pockets for miscellaneous organization.
Good organization is especially important for bikepacking trips when you need to keep track of small things like tools and spares. To stay even more organized, you can buy the separate Osprey Tool Roll.
3D-tensioned open mesh AirSpeed back panel
One of the biggest key features of these packs that I love is the open mesh back panel. If you're in the saddle all day, you'll want a pack that allows for optimal airflow across your back, and the Mira and Manta deliver.
The mesh panel is designed to keep the pack a few inches away from your body so you don't have to suffer through a sweaty, itchy ride.
Another bonus to this feature is that most of the pack weight is also kept off your back.
Integrated rain cover
When the skies open up and start dumping rain down on your adventure, the Mira and Manta have an integrated waterproof rain cover to keep your pack and gear nice and dry. The rain cover tucks into a small pocket at the bottom of the pack and can easily be accessed or stashed depending on the weather.
Dedicated hydration pocket with included reservoir
The Osprey Mira 32 and Osprey Manta 34 were designed with a designated hydration pocket and they each come with a 2.5-liter hydration reservoir. If you need to carry more water, you could easily swap it out for a 3-liter reservoir.
I was a little worried that the extra water weight would make the pack sit heavy on my shoulders, but I really didn't notice the extra pounds at all. The packs are designed to distribute weight well and they sit comfortably on the shoulders and waist.
What I don't like
Ok exterior compression straps
The Mira and Manta are designed with upper and lower compression straps to keep the packs tight and compact on your back. This is particularly helpful when bouncing down rough singletrack sections.
However, they don't work super well, especially if you're carrying gear in the front zippered pockets and stash pocket where the compression straps don't reach.
Hydration hose design
The only thing I don't love about the hydration system is the way the hose exits the top of the pack. It's a little awkward and the hose got kinked on me several times during my hut-to-hut trip, stopping the water flow.
But with a bit of adjustment, this is easily fixed. This system also makes it easy and convenient to refill your bladder without taking the whole thing out.
Is the Mira or Manta Right For your Bikepacking trip?
I have really liked the Osprey Mira 32 as bikepacking backpack for short or light gear trips. For my Telluride to Moab Hut-to-Hut trip, I didn't need to pack a lot of gear – basically just clothes, a sleeping bag, and toiletries – so the pack was never super heavy and it allowed for more fun on the technical singletrack sections (I also used this pack on my two-night Black Canyon Trail trip for the same reasons).
I'd say that if you're packing light and want to keep your bike agile and nimble, the Osprey Mira 32 or Osprey Manta 34 could be a great fit. Or, if your bike is an odd fit for bikepacking bags due to its suspension design or frame shape, a backpack might be your only option.
On the flip side, if you have a lot of gear and are sticking mainly to roads or doubletrack, loading your bike with bikepacking bags (like a frame bag, handlebar roll, and seat post bag) is probably the better way to go.
Read next: Ultimate guide to bikepacking bags plus tips on how to load your bike
Other bikepacking backpack options
If you're looking for a smaller pack, the Osprey Mira and Manta also come in 22L and 24L respectively. These packs still have all the great features of the larger versions, but just in a smaller package.
Mira 22
Capacity: 22 liters
Weight: 2 lbs 13.2 oz.
Fits torso length: 14-19 inches
Fits waist/hips: 25-50 inches
Price: $180.00
Manta 24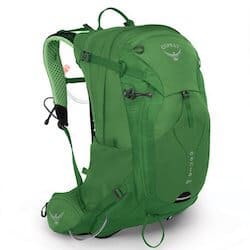 Capacity: 24 liters
Weight: 2 lbs. 14.3 oz.
Fits torso length: 17-22 inches
Fits waist/hips: 25-50 inches
Price: $180.00
More gear reviews
If you found this review helpful, you might also like these posts:
Which do you prefer – carrying your bikepacking gear on your back or on your bike frame? Have you tested out the Osprey Mira 32 or Osprey Manta 34? What are your thoughts? Leave a comment below!