Clipless vs flat pedals: which is better for mountain biking?
Clipless vs flat pedals, which is better for mountain biking? Learn the pros and cons for each and decide which is best for your riding.
There's a good chance that affiliate links are scattered throughout this post. If you click on one I may receive a small commission at no extra charge to you and I'll definitely be using it to buy bike gear.
One of the most hotly debated topics among mountain bikers is which is better: clipless vs flat pedals? The debate is intense with each side arguing that one platform produces better results than the other whether that's speed, power, skills, or other. So which one IS better?
To be honest, both flat pedals and clipless pedals have their pros and cons and ultimately the answer as to which one is best comes down to you as a rider. I personally ride flats while my boyfriend rides clipless. It all depends on what pedal system you feel comfortable with, what kind of riding you're doing, and what your mountain biking goals are.
All that being said, there are a few general points that can help you decide which type of pedal is best for you.
Clipless Mountain Bike Pedals
Clipless refers to a pedal/shoe system that uses cleats on the bottom of your mountain bike shoe to clip into a receiver on your pedal. With this system, your feet are connected to the bike and that means you need to twist your foot out of the receiver to release it from the pedal.
There are a number of different variations of clipless pedals. For example, Crank Brothers Eggbeaters make clipping-in fast and easy but they require you to clip-in in order to ride. On the other hand, the Crank Brothers Mallet clipless platform pedals can be used as either a flat pedal (-ish, it's not going to be as comfortable and secure as a true flat pedal) or as a clipless pedal and they provide much more support than the eggbeater style.
Another interesting clipless pedal consideration is how much float a pedal allows. "Float" refers to the degree of side-to-side movement your feet have on the pedal without actually clipping out. Float can help prevent knee injuries if you crash and can also provide more mobility and flexibility on the pedal while riding, especially for downhill riders.
So when should a rider choose a clipless pedal system? There's no 'right' answer, but below are a few considerations.
Pros of clipless pedals
Better efficiency and power. With your feet attached to the bike, each pedal stroke – up and down – translates into propelling your bike forward. This is especially true for steep climbing. With a clipped-in shoe, you can pull on the upstroke and push down on the downstroke, giving you more power and efficiency as you climb.
Reduced fatigue. Since a clipless system allows you to pull up on the pedal rather than just relying on the downstroke, they can be more efficient and energy-saving, especially on longer cross-country rides.
Foot stability. If your feet are clipped into the bike, they are not going to move around on the pedals like they might with flats when you're riding over rough and bumpy terrain.
Easier in the air. Jumping and hopping your bike over features on the trail is easier with clipless pedals since you don't have to worry about your feet disconnecting from your bike in the air.
Cons of clipless pedals
You're clipped in. Therefore, falling or putting your foot down to catch yourself can be a lot higher stakes if don't clip out in time.
You can cheat going over jumps and drops. With your feet clipped in, you may not learn good technique when catching air if you rely on your clipped in feet to bring the bike with you.
Clipless pedals are best for:
Enduro riders or racers who need a lot of power and efficiency for speed
Cross-country riders who looking for efficient and energy-saving pedal strokes
Long-distance rides (such as bikepacking) on mellow terrain (although be sure to find clipless shoes with a deep recess for the cleat that allow you to easily walk when off the bike).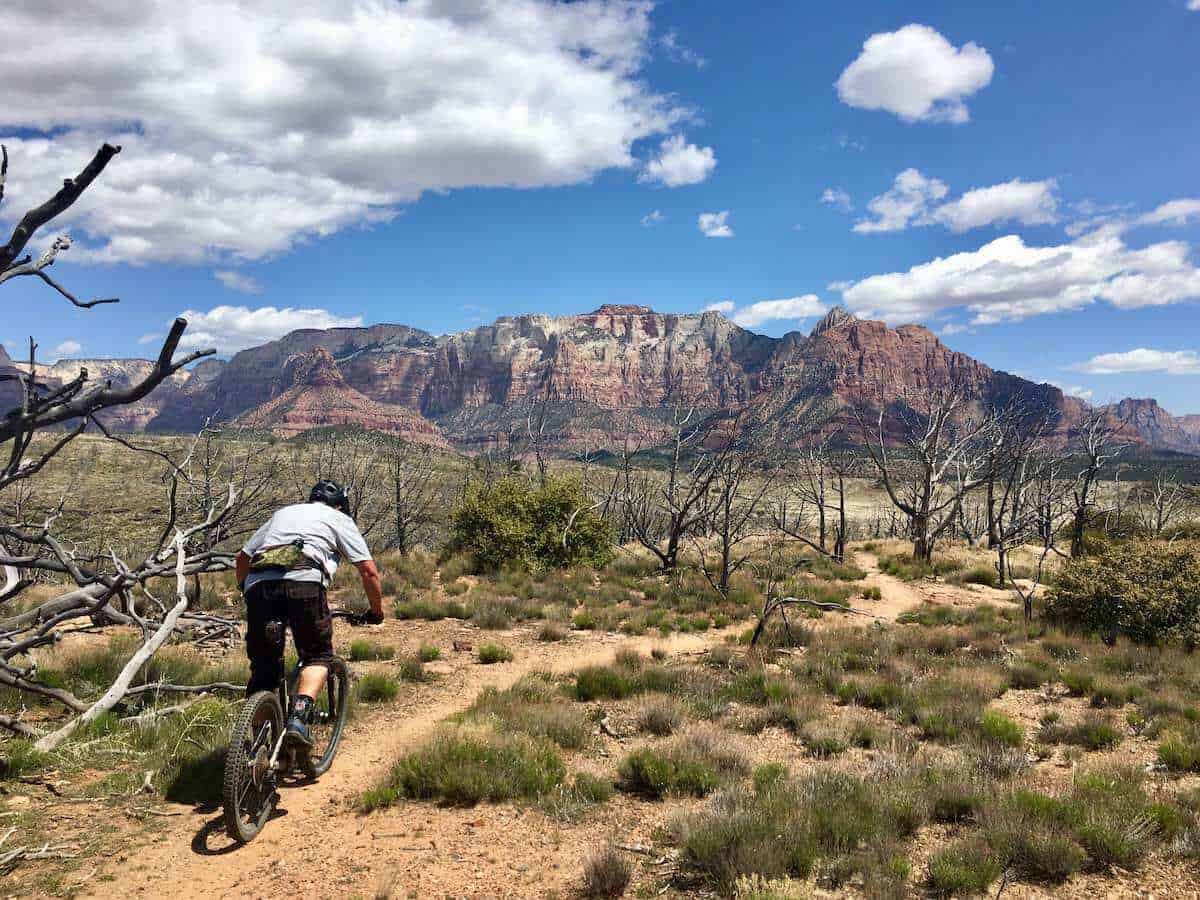 Flat Mountain Bike Pedals
Flats are, well, flat pedals. Usually, they come with little replaceable pins that help the sole of your shoe grip the pedal. Flat pedals don't have as much variation as clipless pedals, but you do still have some options, mainly in terms of material.
Most flat pedals are either made of composite or metal. Composite pedals are typically lightweight but aren't as durable. Metal pedals are heavier, but usually have better grip and last longer.
Some flat pedals also have a concave shape like the Chromag Scarab Pedals (my personal faves!). The concave middle allows you to really press your foot into the pedal for maximum grip and stability.
Pros of flat pedals
Easier to bail. If your feet aren't clipped into your pedals, it's easier to gracefully (or maybe not so gracefully) dismount on a tricky feature or put a foot down if you feel yourself sliding out on a corner.
Learn better technique. This is especially true for jumping and one of the main reasons I switched from clipless to flats. You simply don't learn good technique if you rely on your clips to lift the bike up on a jump or hop. With flats, you have to learn how to push into the suspension before a jump to get the bike to rebound into your feet as you take air.
Adjust foot position as you ride. Flats allow you to modify your foot position on the pedal depending on what you're riding.
More confidence when trying new skills or features. This is another huge benefit for flats. When you're trying to learn new skills, flats can give you more confidence because it's easier to put a foot down.
Cons of flat pedals
Nasty shin scrapes and punctures from the pins. Yeah…
Easier for feet to come off pedals. If you don't have jumping down, it can be scary to go into the air and have your feet fly off the pedals. But the only way to learn is to try and try again!
Not as much power and efficiency for uphills or pedally sections. Flat pedals can be more tiring because they don't provide the power and efficiency that you get when clipped in.
Trail conditions matter. Riding on flats in super wet or muddy conditions can make your feet feel like they're on a slip-and-slide.
Flat pedals are best for…
Beginner riders who are nervous about clipping in
Downhill or bike park riding with higher stakes features
Freeriders who do tricks in the air
Mountain bikers trying to learn new skills or improve technique
Clipless vs flat pedals: which one wins?
So the conclusion? Which one is better, flats or clipless? What it really comes down to is what you feel comfortable with and what kind of riding you're doing. Even that is not a given. Pro racer Sam Hill won the 2018 World Enduro Series on flat pedals while pretty much everyone else in the Enduro World Series rode clipless. That just goes to show how pedal choice isn't a huge game-changer in terms of skill and ability (although the vast majority of racers are on clipless pedals).
For me? I prefer flats. I actually started out mountain biking on clipless pedals and then changed to flats a few years in. I do feel like flats have made me a better, more confident rider and I encourage everyone who wants to improve their mountain biking skills to try out flats. But that being said, I often wish my feet were clipped in, especially when I'm struggling up those hard climbs or on a long cross-country ride.
Try both!
So the best thing to do is play around with both pedal types and maybe even having two pedal/shoe set-ups for different riding days. Wrench on clipless pedals if you're heading out on a long cross-country ride and then swap them out for flats when you're heading to the bike park for some lift-served DH fun!
The video below gives a great comparison for clipless vs flat pedals including a final verdict!
Related Posts:
Do you have a hard stance on clipless vs flat pedals? Which ones do you prefer and why? Leave a comment below!